Get the perfect christmas gift – the bsh t-shirt 2015!
SUBSCRIBE today!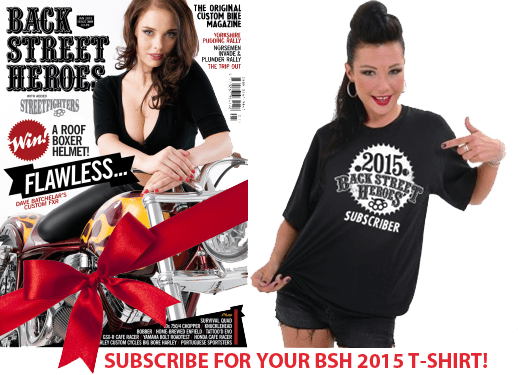 The new BSH 2015 T-shirt is an EXCLUSIVE GIFT for for you when you subscribe to Back Street Heroes – you can't get it any other way, except by subscribing to the one and only custom bike magazine. Please note that the T-shirt design may vary.
Wear it with pride!! Give the best gift this Christmas, to your loved ones or even to yourself!
A 12 month subscription starts at £36, just £3 an issue.
Or pay £10 a quarter by Direct Debit.
OPTION 1: Pay by direct debit
Fill out the form below, remember to include your T-shirt size in the notes section of the form and send it back to us at the address: Back Street Heroes, Ocean Media Subscriptions, Abacus e-Media, 3rd Floor Chancery Exchange, 10 Furnival Street, London EC4A 1JQ
DOWNLOAD FORM:  SUBSCRIPTION UK ONLY ORDER FORM -BSHMAS14

OPTION 2: Subscribe online
CLICK HERE TO SUBSCRIBE ONLINE
and enter the correct size code to receive your FREE T-shirt
Size codes:
M code: BSHMAS14M
L code: BSHMAS14L
XL code: BSHMAS14XL
XXL code: BSHMAS14XXL