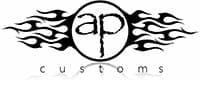 AP Customs
We are a cutting edge team of artists specialising in custom paintwork. We can take your pride and joy and turn it into a show winner and a head turner. Pride is taken in every project we have and we love what we do. Our passion is translated through our work. With your vision and our expertise coupled with our knowledge, and a passion for old and new styles, anything is possible. With over 20 years' experience, AP Customs are regarded as a leading force within the Airbrush and Customs scene. Our work can be seen at most Bike Shows and custom events. With our expanding team, we can offer the full Custom experience under one roof. Email sam@apcustoms.co.uk Tel 07789 711225
W11723
Bandero (Hertfordshire)
Bandero biker masks combine and comfort in an attention-grabbing range of design for both men and woman. You can buy a biker mask from our shop or from selected dealers worldwide.
Beaky's Motorcycles
Motorcycle maintenance for Surrey and Sussex. Based in Beare Green Dorking Surrey. Your local motorcycle MoT station and tyre centre. Punctures, wheel balancing, diagnostics. Also suppliers of ultrasonic cleaning to carburettors. Authorised dealers for Custom chrome, Zodiac and Motorcycle Storehouse. Host of the Harley Boot Fair Dorking Surrey. Servicing to most brands of motorcycles. Includes popular makes of Chinese bikes. Insurance repairs and quotations undertaken. Suppliers of oil, air filters, brake pads and consumables. Light custom work undertaken. Open Monday to Friday 9am to 6pm and Saturdays 9am to 4pm. For all enquiries please call us on 01306712297 or email us from our contact page. Please note MoT's are only supplied on a pre booked service. Honda. Suzuki. Yamaha. Kawasaki. Triumph. Harley davidson. Peugeot. Ducati. Victory. Call 01306 712297. info@beakysmotorcycles.com
W11963
Buckskin Leathercraft
Buckskin Leather started in 1991.Gordon was first taught leather craft in 1979 by George Pemberton, a master saddler who lives locally. He has built his business up to work on quality custom seats, saddle bags and tool rolls. and his work is of a high standard using only the best quality leather and materials. Gordon will always try to meet the customer's wishes with their ideas and designs. Email buckskin44@hotmail.co.uk Tel: 01904791557
W12003
Chester Harley-Davidson (Cheshire)
Chester Harley-Davidson was founded in August 2004. Initially, we started out as the first fully authorised Harley-Davidson Service Centre in the UK, based out of a small industrial estate.
The Copdock Classic Motorcycle Club
The Copdock Classic Motorcycle Club's sole purpose is to stage its Annual show and to organise motorcycle fun runs. The Club has no members other than its Committee, which at present consists of 16 dedicated souls, but to actually run our events we rely on a whole army of volunteer helpers and other organisations to whom we are eternally grateful. Principal amongst these organisations are the Suffolk Advanced Motorcylists who run the bike park, the TA and Suffolk RoSPA Advanced Motorcyclists who run the car park and the East Anglian Childrens' Hospice who for the last 16 years have looked after the helmet park. A measure of the success of our events is that we now average over 8,000 visitors to our show and 300 plus bikes take part in our fun runs. For more info on our forthcoming 26th Copdock Motorcycle Show visit our website.
Devitt Insurance
Established in 1936, Devitt Insurance is a trusted provider of a wide range of motorcycle insurance plans.
Harris Cartier Solicitors
We are a niche litigation and corporate law firm based in London's Lincoln's Inn Fields and supported by a thriving Thames Valley office.
Hogparts
We are the UK's leading specialist supplier of aftermarket parts and accessories for Harley-Davidson motorcycles. Our on-line database contains over 160,000 part numbers from all of the leading manufacturers and distributors. We are your one-stop shop for all your Harley needs. If we can't supply it then it's probably not available. We specialise in mail order but we also have a well stocked showroom at our Hednesford, Cannock site. If you need to speak to us we can be reached on 01543 426968. Email sales@hogparts.co.uk Tel 01543426968
W11991
Motorcycle McAms
If an accident is not your fault, you don't have to use your own insurance company. We replace your helmet and kit and also provide a suitable hire bike, delivered when and where you want it.
Shark Vancore Helmet Review
hark Vancore Helmet Review by Nik… Just done me first 100 miles or so in one o' these and, yeah, quite impressed. Little bit chilly round the edges of the goggles, but apart from that all good. Looks cool too!. Shark Vancore helmet from Nevis.uk.com is available in XS to XL sizes and in 10 design and colour options.
So-Low Choppers
So-Low Choppers owes its success and charm to the dedication and skill of Clive, the owner of the shop. Motorcycles have always been a major part of his life and from an early age he has been chopping, modding and building them. In 1984 he founded Suffolk Cycle and Custom, based in Stowmarket, building old school custom motorcycles, three of which featured in 'Back Street Heroes'. The business grew and was moved to bigger premises in Stanton in 2008, re-branded as So-Low Choppers. 35 years of expertise in bike building and the help of a fantastic team bring to life wonderful bike creations, many of which are winning prizes at bike shows and are regularly featured in motorcycle magazines like BSH and 100% Biker. We dont just specialise in building choppers here at so low. we turn our hand to almost any challenge being a cafe racer, trike build, engineering and welding jobs too. We do basic paint work in house. Just give us a call or pop on in for a cuppa.
Stormin' the Castle
Stormin' is run independently and voluntarily and is one of the main fund raising events for the Motorcycle Action Group and over the last 27 years has been a major donator to support the ongoing fight for rider's rights. The rally has played host to many popular bands including Levellers, UFO, Hayseed Dixie, Stranglers and Terrorvision. Usually, there are some cover bands as well. Entertainment is spread across 2 stages, Main stage, and the smaller Iris tent. The Iris tent has a more laid back atmosphere with a mixture of Blues, R&B, Folk and Prog. As well as the fairground, traders and caterers stalls across the site. And of course, the highlight of the weekend is the Custom Bike show! So come along this year and see what it is all about.
Tracy Tools Ltd.
Tracy Tools Ltd. is a family business which has been supplying the engineering trades for over 50 years, in 2007 we merged with our parent company R. E. Cotes Ltd (London) and now based in Torquay, south Devon we have one of the largest stock of special size taps, dies and cutting tools probably anywhere. R. E. Cotes ltd. has supplied the manufacturing industry with only the best cutting tools available since the 1940's and has always had a name for quality, now tracy tools can supply a 1mm tap to a 100mm tap with all the sizes in-between with a caring personal service that's second to none. With longstanding dedicated and experience staff from both the companies we pride ourselves on giving the best possible service with the highest quality products at the lowest prices. For many years we have enjoyed taking part in various model engineering and classic motorcycles shows throughout the UK, a list of up and coming shows can be found on our homepage, please do come along and see us.
The Trike Shop
1st class motorcycle trike conversions for all makes of bike, shaft, belt or chain drive. Probably one of the largest bike showrooms in the country, with a large selection of trikes always in stock.