INTRODUCING THE BACK STREET HEROES YEARBOOK 2014!
ORDER YOURS NOW!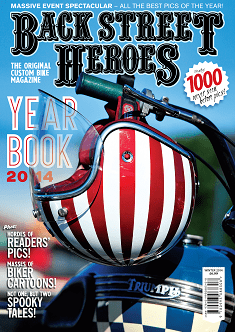 Banish those winter blues with the BSH Yearbook!  It's been too many years since we did a proper Yearbook, a proper celebration of the British biker culture – a grand and glorious look back at the best of the year, just like we used to do back in the 1990s when the sun shone, the roads were empty and the beer was four pence ha'penny a pint.
So what we've got for you is this:
– A massive summer event round-up from the best biker bashes the length and breadth of the land (and a couple of choice foreign ones too)
– Not one but two stonking fiction stories

– Our pick of the best shots taken this year
– A humungous Readers Lives' section with the best of your pics
All this for just £6.99 plus p&p
Click here to order your copy

It's going to be a Yearbook in the old style – masses and masses of pictures for you to dip in and out of during the depths of winter to remind you of the glories of the summer past and to keep your spirits and give you something to look forward to for the summer of 2015 too.
So don't let the wind and the rain of the winter get you down, get yourself a BSH Yearbook and say sod the bad weather!
Click here to order your copy now for just £6.99 plus p&p