Back Street Heroes magazine is widely recognised as Europe's leading custom bike magazine. For more than 25 years, Back Street Heroes' unconventional pages have reflected contemporary custom bike-building styles, as well as documenting the associated subculture and lifestyle.
So don't miss out – claim your free digital issue today!
[optinlocker]Thanks! Click here to claim your free issue:
You will need to sign up for a pocketmags account. Then, either read online in your browser or download the Back Street Heroes app for iOS or Android and log in with your Pocketmags account.[/optinlocker]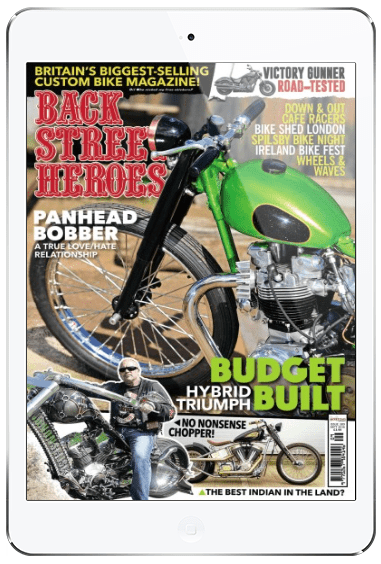 In your free September 2016 issue:  INDIAN BOBBER – the best Indian in the land? DOWN & OUT CAFE RACERS' OPEN DAY – sunshine, cool kids and cool bikes. H-D SPORTSTER – sunning in the sunshine by the sea. HYBRID TRIUMPH – the cover bike in all its glory. BIKE SHED LONDON – the big bunfight at Tobacco Dock. 1450 S&S – stunning No Nonsense monster chopper. SPILSBY BIKE NIGHT – smaller than Barton and Boston, but still a good craic. IRELAND BIKE FEST – a bike festival in Killarney, to be sure! H-D PANHEAD – built by a scooterist? Really? TRIUMPH BONNEVILLE – a friend of Lucifer's, not quite the
same as a friend of Dorothy's… WHEELS & WAVES – sunshine and sexiness in Biarritz. SR250 & XV535 YAMS – budget built bikes from the land of sun, sea and Sagres.
Plus: OPENFACED – all that's new and happening in the custom bike world. LETTERS – have your say about … well, owt really! (ALMOST A) ROAD TEST – Victory's entry-level big bobber, the Gunner. MAG NEWS – our regular column by the MAG chairman. PROJECT STREET MUTANT – part two of our new Yamaha XSR900 project. PROJECT RAT ROD – forks n' 'bars n' stuff! MR BRIDGES' MOTORCYCLE DIARIES – an idiot's guide to idiot lights. PROJECT DESERT RACER – making the front numberboard. EVENTS – our guide to the best rallies, shows, parties and runs! READERS' LIVES – four pages of your pictures and our silly captions … yeah, sorry about that. SMALLS – sell your bike here for free! RICK HULSE – the musings of one of the most eloquent thinkers in bikerdom!