Christmas gift ideas ~ suggestions from FD
First off I've got to suggest our very own Year Book 2014. I'm dead proud of this one, not only because it's got the pictures in it from the very first event I was sent to when I started this job (Wimbotsham – it rained .. LOTS!) but also because it's just got So Much in it to look at. It's a great tribute to all that's going on in the biking world and I never tire of looking through it.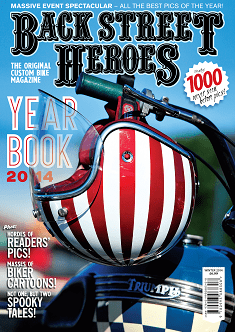 Next, if your nearest and dearest is a Harley Davidson lover then you can't go far wrong with a Harley logo'd mobile phone. This Windows OS mobile phone with 5″ display, 3G, Wi-Fi & Bluetooth is available from Global Mobile Communications via The Phone Trader at http://www.thephonetrader.co.uk/ngm/ngm-harley-davidson.html
Another book ~ this time a photographic portrait collection called 'Bikershot'. Cedric Lefebvre is a photographer based in Brussels, who has used his training in psychology to inspire this collection of photographs that he sees as reflecting the relationship between different riders with their machines across Europe, America and Australia. The idea of using a portrait to express the personality and the relationship that rider has with the biking world is an adventurous one, but I for one am intrigued to see how he does this. If you know someone who is in to, or studying either psychology or photography, or maybe like me you are just curious, then this might make an interesting gift this Christmas.
The book is available from Amazon for £34.99
Article continues below…
Advert
If you'd rather give a gift that can be looked forward to, then of course there is Rally Tickets ~ one of the biggest events for the coming year is going to be the FH-DCE Super Rally, hosted by West-London Harley Riders. It is going to be a huge event, almost a holiday in itself, lasting from 21st through to 25th May 2015 and held at the Lincolnshire Showground. Tickets available from http://www.superrally2015england.com/tickets/ This event promises good food, great ride outs, fantastic entertainment, and beautiful local area to explore, of course the only thing we can't guarantee is the weather ..
So my final suggestion for today is a gift you don't even have to go out for . . .
Up there ^ ^ ^ at the top of the page ^ ^ ^ is the Subscription Button. Click on that to sign your nearest and dearest up to get his/her favourite magazine delivered to their door every month … and you even get it cheaper than buying it in the shops!  And if you're really lucky, you'll get thanked 12 times between now and next Christmas, so you can't go wrong! 🙂
Article continues below…
Advert
'Blog post by FD'