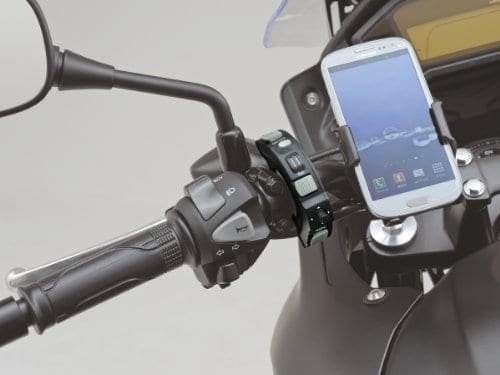 We saw this smartphone and tablet remote control for motorcycles recently at a trade show, and if you can't bear to be disconnected from your technology while on the move, this new product from Daytona is exclusively available through www.digital-speedos.co.uk  enabling the rider to remotely (via Bluetooth) control iphones, ipads (ios 6.7.8.upwards) including models of smartphones and tablets (android Ver 4 upwards)  that installs "Bluetooth" wirelessly, and enables the user to control it remotely – no additional wiring is needed.
Remote answering to receive calls without removing your hands from the handlebars,
Have your text read out to you (must have voice over application installed)
Control lap timers and map software (functionality of some phones vary)
The unit can be directly mounted onto 22.2mm and 25.4mm handlebars or directly onto a 38mm handlebar grip.
The standalone unit has a battery life of approximately 40 hours from the user replaceable SR44 batteries (available almost everywhere).
This compact, waterproof & easy to use product retails at £59.95 inc vat
To find out more about this product, you can telephone 01564 775522,   email , Facebook  or visit their stand at one of the various shows across the UK to see a fully working demo. (Dealer enquiries are welcomed).