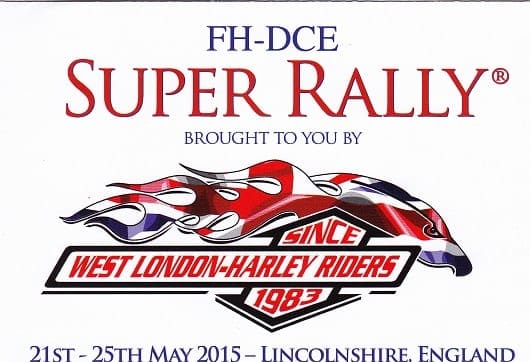 With Christmas over and hopefully the worst of the winter weather too, it's time to look forward to the next Rally Season and  one of the biggest events for the coming year is going to be the Federation of Harley-Davidson Clubs Europe Super Rally, which is returning to England this year for the first time in 26 years! This is a truly international rally with club members coming from all over the world to be a part of it 😀
A group of Harley riders got together back in 1981 and settled a couple of years later on The West London Harley Riders as their club name.
In '91 they joined the 'Federation of Harley-Davidson Clubs Europe' and under that umbrella they submitted a bid (just like the Olympics!) to bring the rally to the UK . . . and won! Since they won the bid I doubt they've had 5 minutes peace between them as organising an event of this size is a massive undertaking.
Back Street Heroes are going to be there with trophies for the winners amongst the lovely machines in the custom show. Well we couldn't miss such a huge event, and we'll have our merchandise stand there so you can stock up on your favourite T shirts or get a hoodie if it turns out to be chilly – though from the size of this event I'm sure you'll be spoilt for choice! 🙂
This really is going to be a huge event – almost a holiday in itself lasting from 21st through to 25th May 2015, and because it moves around Europe year on year it could be a long time before we see it on home turf again so don't miss out!
Tickets are available from www.superrally2015england.com and Back Street Heroes has two pairs of tickets to offer in a Lucky Draw Competition. So if you want to be in with a chance of winning, look over to the right of the screen —–> and click the Super Rally Tickets button, then answer a few dead easy questions and you're in the draw! 😀
'Blog post by FD'