Over 200 Vintage motorcycles on display at South-West's largest festival of transport
The 41st Annual Gloucestershire Vintage & Country Extravaganza
July 31st, 1st & 2nd August 2015
South Cerney Airfield, Cirencester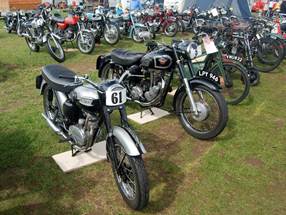 July 31st, August 1st & 2nd 2015 will see the Stroud Vintage Transport & Engine Club (SVTEC) stage their 41st Annual Show at South Cerney Airfield in Cirencester, Gloucestershire. The show is widely regarded as one of the biggest and best Steam, Vintage and Countryside events in the UK and attracts thousands of exhibitors and visitors from across the county and actively raises money for both national and regional charities.
This year the Gloucestershire Vintage and Country Extravaganza will include the popular Steam Arena, with non-stop steam demonstrations, and the opportunity to drive a steam engine and see the spectacular Showman's Engines. The Main Arena which features parades and commentary of all the vintage vehicles on site from classic cars, tractors, commercial vehicles, vintage bus and coaches, motorcycles, scooters, traction engines, miniature steam, industrial trucks, military vehicles, caravans to emergency vehicles. Plus the Countryside Arena featuring dog agility, ferret racing, rare breeds, animal conservation, alpaca's, shire horses, horse logging, falconry displays and children's pony rides.
One of the largest displays is the Motorcycle section which will feature over 200 entries representing manufacturers from England, Italy, Japan, India, the USA and other countries. Among the marques on display are Honda, Yamaha, Harley Davidson, Moto Guzzi, HRD, AGS, James, Triumph, Royal Enfield, Rudge, Baker, BMW, Norton, Velocette, BSA, Panther, Francis Barnett, Matchless and Greeves. There will also be an abundance of Lambretta's to celebrate the mods and rockers era. Section leader John Grange said 'we always try to bring something of interest to all ages and interests, from Veteran to Vintage and Classic. From the smallest Brockhouse Corgi 'Para' bike to the HRD Vincent Meteor series B, from the Yamaha FS1E (my first bike!) to the Suzuki GT750, there will be something to suit everyone's motorcycling interests'.
The classic car section alone features over 600 vehicles, from the dawn of motoring to veteran, pre-war, post-war, Pre-72 American, supercars to modern classics. Alongside regular exhibits are remarkable stories of barn finds, restoration projects and histories to be told. All the owners are knowledgeable and proud to show off their splendid vehicles.
Aside from all the vehicles, there are literally thousands of exhibits, curiosity stalls, trade stands, models tents, craft marques to keep the whole family entertained. Children always love the vintage fairground with the popular Fairground Organs, 'electric yachts', waltzers, big wheel, steam-driven 'gallopers' and traditional penny arcade games, and this year they can even have a ride on a model stream train.
The showground site is sprawling, with plenty of food and drink 'pit stops', a firm favourite is the vintage tea room with regular music and entertainment from  1940s inspired Lindy Hopper dancers, this year you can even get your hair done at the vintage hair salon!
Taking to the skies above, will be a thrilling aerobatic display by local Oaksey pilot, Lauren Richardson (Sat) and the return of Richard Goodwin (Sun) with the Muscle Biplane Air Display, both will puts their Pits Special biplanes through its paces in an aerobatic display (weather permitting).Plus Jump4Heroes – The Royal British Legion Extreme Human Flight Team, will skydive into the arena to see us.
Chairman of the Stroud Vintage Transport and Engine Club (S.V.T.E.C) Martyn Slater, said: 'Our goal has always been to give the best value for money family day out in Gloucestershire, with something for all of the family to enjoy, whilst providing a safe environment for people to celebrate our unique transport history and the preservation of historical vehicles. We actively encourage interaction between exhibitors and visitors, and have recently instated a nifty on-site Wi-Fi which enables visitors to find out more history and information about specific vehicles displayed. The dedicated Wi-Fi code can be obtained from the show program, and available for use on phones, tablets and laptops'.
The Extravaganza is organised by the Stroud Vintage Transport and Engine Club. This non-profit making organisation raises money for national and local charities and up to 30 will be represented on site raising money and awareness of their respective causes. The rally is one of the largest events of its kind run entirely by volunteers. All section leaders strive to bring something different to this year's event.
With so much to see and do, one day just isn't long enough.
For further information or to purchase advance tickets please visit:
www.glosvintageextravaganza.co.uk
Advance discounted tickets are currently available priced £8, or can be purchased on the gate for £10
Advance junior tickets (aged 5–15years) are priced £4, or can be purchased on the gate for £5
Children under five years old go free
The show opens daily at 10.00am and finished at 5.00pm
A free vintage bus service will be operating around the perimeter of the show site, and to and from Kemble railway station throughout the show to connect with selected First Great Western Trains.
All profits from the 2015 Gloucestershire Vintage & Country Extravaganza will be donated to the Cobalt Appeal Fund and Diabetes UK.