Wemoto support the Manx Grand Prix Helicopter Fund and so can you!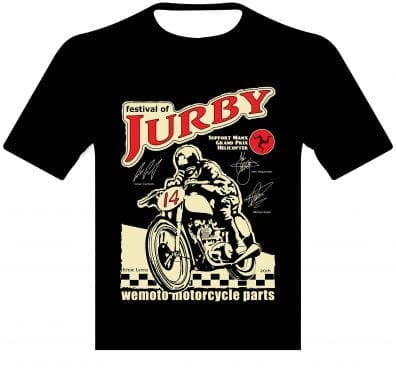 Last year, through the sale of its Festival of Jurby T-shirts, Wemoto raised over £10,000 for the MGP Supporters' Club to assist in funding its life-saving helicopter ambulance on the Isle of Man. This year, Wemoto wants to raise more! Wemoto's 2016 T-shirt design sports the Triumph T100GP ridden by Ernie Lyons in his famous 1946 Manx Grand Prix win. It's endorsed and signed by John McGuinness and other racing legends, and is available to buy from wemoto.com. All profits raised will go to the Manx Grand Prix Supporters' Club to help fund the vital helicopter ambulance which is used during practice weeks and race days at the Isle of Man. In the event of an incident, it provides an essential rescue service, which is able to access otherwise hard to reach parts of the TT course in a matter of minutes complete with medical staff and equipment – this can make all the difference to TT racers.
The 2016 Festival of Jurby T-shirts are now available to buy from the Wemoto website, and for just £10, they are a simple and stylish way of supporting this essential charity.
Site: www.wemoto.com
Email: [email protected]
Tel: 01273 597072
Article continues below…
Advert