Bombadier Recreational Products unveiled its first Can-Am Spyder F3 models in 2015 with the base Spyder F3 and the Spyder F3-S. In 2016, BRP added
the Spyder F3-T to the family along with the first generation F3 Limited. The Spyder F3 model family is expanding again for
2017 with the introduction of a new Spyder F3 Limited. Now there is a Spyder F3 for everyone:
· The base Spyder F3 model now starts at a more affordable price
· The Spyder F3-S, which is designed for sportier riders, now features the exhilarating SPORT Mode that unleashes a whole
new level of adrenaline
· The Spyder F3-T is aimed at "bagger" enthusiasts who enjoy weekend getaways
· New for 2017, the Spyder F3 Limited is designed for ultimate, two-up cruiser touring
Answer the call of the open road with the new Spyder F3 Limited. The self-adjusting air suspension is ultra plush. The
6-speaker audio system lets riders go to the beat of their own music. Add heated grips and footboards, and road trips and
passenger experience have been enhanced like never before.
The new Spyder F3 Limited also features a removable top case with integrated passenger backrest. It has enough storage for
two full-face helmets and is easily removable within 10 minutes, providing the option of bagger or full touring depending on
the journey. The removable top case is also available as an optional accessory for F3-T owners wishing to upgrade their unit for
ultimate 2-up cruising comfort.
2017 Can-Am Spyder F3 Limited: For Unlimited Adventures.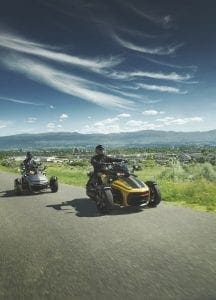 KEY FEATURES for the Can-Am Spyder F3
Rotax 1330 ACE in-line 3 cylinders, high torque engine with 115 hp
Vehicle Stability System with ABS, traction control and stability control
High-performance Brembo† braking system
SACHS Big-Bore front shocks
SACHS rear shock with automatic air preload adjustment
ECO mode smart assist
Electronic Cruise Control
UFit custom fitting system (rider footpegs and handlebars)
Dynamic Power Steering
Anti-theft system
Premium color digital gauge
Convenience console including windshield, integrated rear view mirror and glove box
Integrated hard side luggage (53.4 L)
Removable top case with integrated passenger backrest and 55 L of storage
Total storage capacity of 133 L
Refined front fenders with integrated LED lights
6-speaker audio system with AM/FM, USB and 1/8" (3.5 mm) audio inputs located in the glovebox
Rider and passenger heated grips
Rider and passenger footboards
Rider and passenger black embossed suede seat with a "Limited" ingot
Fat 6 Chrome front wheels
Chrome trims
AVAILABLE COLORS
Intense Red Pearl andPure Magnesium Metallic
More information
@BombardierRecreationalProductsUK