FOLLOW THE SUN WITH HARLEY-DAVIDSON
Harley-Davidson launches test ride competition to win dream riding experience in South Africa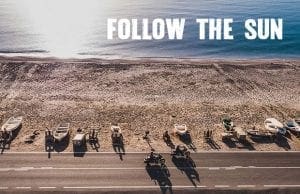 Harley-Davidson® UK & Ireland is giving riders the chance to escape the European chill and embark on a dream riding experience to South Africa. One lucky winner and a friend will win £4,500 (€5,000 ROI) to jet off to one of the most diverse landscapes in the world for a week.
The winning pair will receive £4,500 (€5,000 ROI) to customise their trip to South Africa to suit their travel, Harley-Davidson® Authorized Rentals, hotel and spending needs. The winners will take in the sights and sounds of South Africa's bustling cities, stunning wildlife and picturesque terrain in the sunshine of South Africa.
To enter Harley-Davidson's 'Follow the Sun' competition it all starts with a simple test ride. Riders must book and take a test ride on any Harley-Davidson model between 1st October and 30th November 2016 by visiting their local Harley-Davidson dealership or booking online at www.h-d.com/testride. A test ride of a Harley-Davidson between the above dates could then turn into a dream week away in early 2017, meandering through the stunning views of the Cape Route 62 or across South Africa's Indian Ocean coastline.
Steven Colling, Marketing Manager, Harley-Davidson UK & Ireland said: "There's never been a better reason to book a test ride with Harley-Davidson. Although the riding days are getting shorter, that shouldn't stop riders from enjoying the open road. Taking a test ride with Harley-Davidson could transform into a dream holiday to South Africa, home to some of the world's finest riding locations."
The trip to South Africa must be taken between 1st January and 30th April 2017. The competition winner will be announced on 12th December 2016. Terms & Conditions apply. 
Article continues below…
Advert