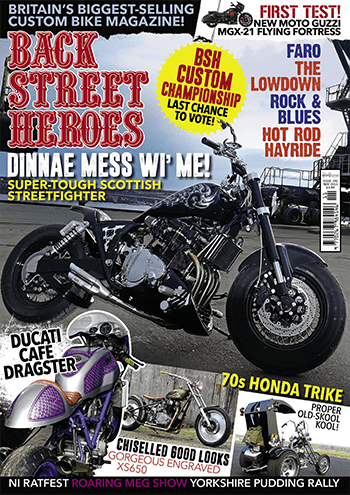 Fed up with American politics, Brexit, the Great Kardashian Jewellery Heist Mystery and lacklustre England football performances?
Then skip the shallow celebrity nonsense and all that other stuff you can't do anything about and wallow in some serious custom bike gorgeousness instead.
Home-built beauties, rallies, news, readers' cool 'n' amazin' bikes and a Moto Guzzi road test through some of Italy's mountain roads… just some of the goodies we have lined up for you in the November issue of Back Street Heroes.
Our intrepid wordsmiths have been out and about over the summer crafting their reports on a host of events both home and away. MC Faro's 35th Concentracion, The Lowdown, Rock & Blues, Hot Rod Hayride and the Yorkshire Pudding are just some of the gatherings where memories of those never-ending days are brought back to life and delivered in glorious print for your delight. We've got three bike-building projects on the go, and you've still got time to vote for your favourites in the BSH Custom Bike Building Championship.
Rick Hulse delivers another verbal verdict on an important biking issue and there are letters galore from you, the reader, on topics ranging from the rise of MC clubs to the bitter struggle against the bolt-on menace. Enjoy! With a mug of tea, of course….