18th October 2016 – Öhlins Racing AB are celebrating a hard won 17th British Superbike Championship as Shane Byrne took his fifth title at Brands Hatch this weekend. It was an especially successful weekend for the Swedish suspension company as they won three other important British titles, in the 40th Anniversary year for the brand.  
The MCE British Superbike (BSB) is held in high regard by manufacturers as one of the most prestigious motorcycle racing series in the world, with star names and factory supported efforts. Öhlins was therefore extremely pleased to not only win the blue riband Superbike class but also three support classes.
Byrne and his PBM squad switched to Ducati power for this season and along with Öhlins suspension they turned their Panigale R machine into a perfectly balanced handling machine, also well recognised for conserving tyre life. The team utilised RVP 25 front forks and a RSP 40 rear shock along with support in the paddock from Öhlins to take the title.
In the more technologically and budget restricted support classes Öhlins products also won through with the soon to be released for 2017 'FKR' cartridge kits in the forks and TTX GP rear shocks being the favoured set-up for the other three Champions.
Tarran Mackenzie battled to a popular British Supersport title in his rookie year on his Stauff Connect Academy Kawasaki, following in the footsteps of his famous father Niall, who took three BSB titles in the 90's for Yamaha and Öhlins!
South African sensation Jordan Weaving (NMT No Limits Kawasaki) took the Superstock 600 title with support from long time Öhlins Centre KAIS. In fact KAIS owner Andy White collected the team award on the podium, illustrating the regard the team had for his efforts.
Leon Morris won the Ducati Trioptions Cup on his Ducati 899, run out of Öhlins Centre P&H Motorcycles, with backing from international DJ Carl Cox.
All in all I has been a rewarding season for Öhlins as they increased their paddock support structure to enable them to help more teams across the 200+ rider paddock.
Öhlins DTC General Manager and area sales manager for the UK Chris Witter was on hand to award each Champion with a special 40th Anniversary Öhlins watch, saying; "This is a fitting end to another great season of racing in the British Superbike Championship. The series continues to attract top level riders and teams throughout the paddock and competition is fierce from manufacturers and aftermarket suppliers such as ourselves. Huge congratulations to Shane, Tarran, Jordan and Leon alongside the Öhlins Centres and technicians who have supported them. We also had some very exciting conversations with teams wishing to run our products for next season, so it's been a great weekend!"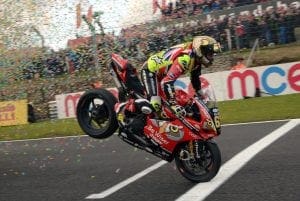 Öhlins British Superbike Championship Successes
1996 – Niall Mackenzie – Cadbury's Boost Yamaha YZF750- Öhlins
1997 – Niall Mackenzie – Cadbury's Boost Yamaha YZF750- Öhlins
1998 – Niall Mackenzie – Cadbury's Boost Yamaha YZF750- Öhlins
1999- Troy Bayliss – INS GSE Ducati 996 – Öhlins
2000- Neil Hodgson – INS GSE Ducati 996 – Öhlins
2001- John Reynolds – Reve Red Bull Ducati 996 – Öhlins
2002- Steve Hislop – MonsterMob Ducati 998 – Öhlins
2003- Shane Byrne – MonsterMob Ducati 998 – Öhlins
2004- John Reynolds – Rizla Crescent Suzuki GSXR1000 – Öhlins
2005- Gregorio Lavilla – GSE Airwaves Ducati 999 – Öhlins
2008- Shane Byrne – GSE Airwaves Ducati 1098 – Öhlins
2009- Leon Camier – GSE Airwaves Yamaha YZF-R1 – Öhlins
2010- Ryuichi Kiyonari – HM Plant Honda CBR1000RR – Öhlins
2011- Tommy Hill – Swan Yamaha – Öhlins
2013- Alex Lowes – Samsung Honda – Öhlins
2015- Josh Brookes – Milwaukee Yamaha – Öhlins
2016- Shane Byrne – Be Wiser Ducati Panigale R – Öhlins
For more info on the full line-up of Ohlins products visit
www.ohlins.com