ADVENTURE THROUGH THE PAST AT 2017 CAROLE NASH MCN LONDON MOTORCYCLE SHOW!
 Alongside the very latest new models from the world's leading manufactures, the 2017 Carole Nash MCN London Motorcycle Show has a stellar line-up for the Adventure Zone, alongside a rare collection of historic motorcycles from the David Silver Museum. With discounted tickets on sale now, the 2017 Show makes the ideal Christmas present for any two-wheel fan.
Always one of the most popular areas of the Show, the Adventure Zone returns in 2017 with a vast array of displays to inspire motorcyclists onto their next big trip. The special area will showcase riders and motorcycles with incredible stories, from an ex-policeman's epic 70,000 mile trip on a GSX-R1000 to a middle-aged mum's seven year around the world adventure on a Royal Enfield.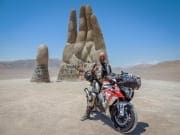 The Adventure Stage is also returning and will be curated and presented by Nathan Millward, author of 'Sydney to London…The Long Ride Home'. Eight of the UK's most inspirational travellers will be taking to the stage to talk through their incredible stories, including Bruce Smart, Johanna Clark, Rhys Lawrey, Melanie and Sofia Cowpland, Rob Archibald, Jacqui Furneaux, Alex Jackson and Zoe Cano. As always, the stands surrounding the Adventure Zone provide would be explorers with everything they need; from experts to help you book your own trip, an area to meet the stars to discuss tips and retailers to purchase explorer ready kit.
Away from the Adventure Zone, the London Motorcycle Show is excited to confirm that legendary Honda collector, David Silver, will be bringing some of the rarest and most spectacular machines from his Museum to display. These include some of the earliest models such as the 1950's Benly and Dream motorcycles, the CB750 (the world's first 'Superbike'), an ex-James May SS50 from 1976 and even a rare 1961 CE71; a 250cc sport machine that was only available in a limited run in Japan. The full list of machines is: 1950 – Benly, 1950 – Dream, 1961 – CE71, 1963 – C100, 1968 – CB450D, 1969 – CB750 KO , 1974 – TR1 LTD, 1976 – SS50 (ex James May), 1977 – CB750F (road rep), 1982 – CB900F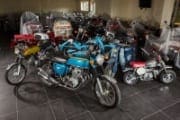 Tickets for the 2017 Carole Nash MCN London Motorcycle Show are on sale now, with fans able to purchase discounted standard adult tickets online from £17. Kids under 15 go free. New for the 2017 is the Paddock Pass, giving ticket holders exclusive access to the Slide Live Action stars, including former World Superbike Champions Troy Corser and Neil Hodgson, TT legend John McGuinness and fan favourite Chris Walker alongside a private bar area and tiered seating, these cost £40 (which includes general admission). 
Rob Aherne Managing Director of Motorcycling at Bauer Media added, "We're really excited to confirm our line-up for the Adventure Zone at the 2017 Show. It is always one of our most popular areas, with every star and stand able to tell an incredible story of travelling the world. It's also fantastic to be having some exotic machines from the David Silver museum on display – these are some of the rarest models in the UK so it is a real treat for motorcycle fans." 
To find out more about the 2017 Carole Nash MCN London Motorcycle Show and book tickets, visit www.mcnmotorcycleshow.com or call 0844 873 7346
Sponsored by www.carolenash.com