FREE with the March issue of the best custom bike mag in the world, in our humble opinion (and for your information, Mr President/the Donald, it's not written, designed or printed in America) is our latest foray into the world of cafe racers. No exclusion orders or travel bans in these pages – we've got a Harley-Davidson that takes pride of place in the US Hard Rock Cafe in Krakow, Poland, so it really can claim to be a cafe racer that's transcended barriers and borders.
Our Cafe Culture supplement is a 32-page feast for the senses, with six of the best to whet your appetite to retreat into the shed or workshop and emerge with your own cafe creation.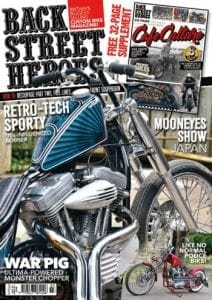 But that's just part of our bulging package. Check out the amazing builds in the main mag, too – The Naked Truth from Dutch Harley and custom parts suppliers Zodiac; the incredible War Pig from the deepest recesses of the mind of Ben, of Hairy Bush Bike Builders; the has-to-be-seen-to-be-believed steamroller of a bike and its Grim Reaper Hourglass airbrushing; Bristol Bobber (insert your own humour here) and much more… news, shows, techy stuff, and editor Nik's last few days in Bonnie Scotland as well as the second and final part of how to create a decoupage paint scheme.
And there's Rick Hulse, of course, who's giving hope to bikers who may have had their licences revoked in the past due to disabilities. The good news is – the DVLA, says Rick, are more enlightened these days and he knows of some riders whose licences were revoked in the 1970s who have successfully regained their motorcycle entitlement.
Selina Lavender keeps us up to speed with MAG news and of course there are letters from you. So don't bother with any of that fake news… get your copy of BSH and catch up with what's really going on!
Article continues below…
Advert