The Black Douglas Motorcycle Co. "Milan to Bristol, Expedition No. 2", May 2016: the awaited Official Video….
And for 2017, an update of the range and new adventures on the road, and maybe a new Expedition … No. 3?


Milan, February 2017.  Some figures regarding the Expedition No. 2: a trip on "two wheels" from Milan (Italy) to Bristol (UK); total km 1.632; average speed 70 km/h; maximum speed 121 km/h; 13 riders: Fabio Cardoni, Matthew Randall, Peter Noble, Nicholas Uglow, Ian Furey-King, Marc Michon, Christopher and Julie Bodelot, Diego Zichittella, Aurelian Ionus, Melvyn Bonaffe, Edwin Bonaffè and Rémi Desclaux; 6 days of emotions from 17th of May to 22nd of May 2016.
And the main protagonist, the Sterling (Countryman and Deluxe Limited Edition models), hand-built classic 1920's style flat tank motorcycle manufactured by The Black Douglas Motorcycle Co.: British elegance, retro style and mechanical cutting-edge; totally Made in Italy.
During the Expedition No. 2 we saw many versions of this model:
59 Limited Edition, Sterling Iarna Limited Edition, Army Green custom pinstriping, Silver Arrow Imperial Blue bi-colour, original Drayton, Full Army Green. Accessories, colours, equipment… there is a special Sterlingfor each rider. Customization 100%.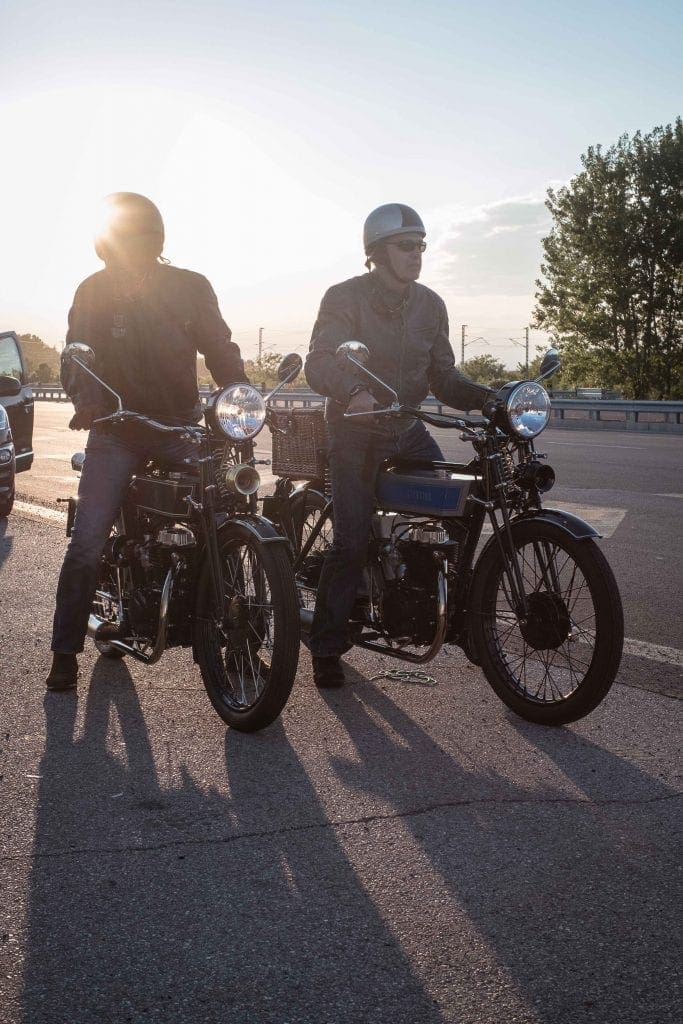 The Expedition No. 2 road book has "touched" highways, countryside landscapes and cities. A variety of conditions, a great motorcycle experience riding the Sterling.
Day 1: from Vignate to Aosta – About 186 km
Day 2: from Aosta, through Montblanc tunnel to France, Besancon
– Totally 409 km
Day 3: from Besancon to Reims avoiding highways – 336 km
Day 4: from Reims to Lille. "Only" 206 km without highways
Day 5: from Lille to Dieppe, ferry to Newhaven – 214 km
Day 6: from Newhaven to Bristol, final destination – About 281 km
Fabio Cardoni, founder and creative director of The Black Douglas Motor Co, comments the Expedition No. 2: "Mostly country roads, a bit of highway. We are truly enjoying it. The fun and fascinating part is that even though they are all Sterling, they feel different from each other. It's like each has its own soul. We have different people working on different bikes. It's like each person signs each sterling with his own passion and feelings. I think this is one of the most important characteristic of the sterling".
Comments from the other riders: "The trip, for me, was a great experience to be able to see for myself where the bike was made"
Nicholas Uglow.
"You've got to ride a Sterling to understand the joy of the bike"
Doug McGarvie.
"The trip not only provided an opportunity to thoroughly test the reliability of the Sterling but was also a chance to form new friendships with a group of people from diverse backgrounds" Matthew Randall. "This is not a fast, quick, noisy, complicated heavy motorcycle but a transport to dreams: of riding in the great motorcycle period of yesteryear, the 1920s: every ride is a holiday" Peter Noble.
"Travelling from Milano to Bristol aboard a Black Douglas Sterling at human speed was a marvellous experience" Marc Michon