PRINCIPAL INSURANCE OFFERS FREE SUBSCRIPTIONS TO 999-CERTIFIED CRASH DETECTION APP
From today (February 17th) Principal Insurance is to offer bikers free subscriptions to REALRIDER's crash-detection technology, which automatically alerts the emergency services when an accident occurs.
Being launched at the London Motorcycle Show, the promotion is open to any UK rider renewing or taking out a policy with the specialist insurance group. Subscriptions to the crash detection technology will be valid for three months with the REALRIDER® app also including a range of free-to-use features such as route recording and bike data storage services.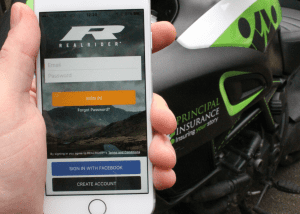 "REALRIDER® is a potentially life-saving technology which monitors key sensors in a smartphone to detect crashes," explains Principal's managing director Dave Bowcock. "It then harnesses GPS and mobile signals to automatically alert the emergency services of the incident and its location so an ambulance may be swiftly despatched,"
"Proven effective and reliable in trials and approved by the Government's 999 Liaison Committee, it's a potential life-saver which we're delighted to now offer free to our motorcycle insurance policyholders."
REALRIDER® is the first app to be approved by and integrated with the BT-managed 999 emergency system. Once a crash has been detected the app sets off an alarm. If the rider fails to deactivate that alarm within two minutes then the incident location and medical details, such as the rider's blood type, are then automatically sent to the nearest ambulance control room.
An emergency medical despatcher will then call the rider to offer a triage service or, if that call goes unanswered, immediately despatch paramedics to assist. Current GPS technology is typically accurate to within a few metres or less which makes it easier for emergency services to reach the scene quickly.
The REALRIDER® app also offers other handy benefits. Riders can store and share routes and points of interest with fellow bikers, together with photos, videos and commentaries. Important prompts such as service and MOT alerts can also be sent straight from the phones' calendar.
Andrew Richardson, Chief Commercial Officer of REALRIDER's parent company, Realsafe Technologies, welcomed the deal with Principal, saying: "I'm delighted to be working in partnership with Principal which, as one of the UK's fastest growing specialist insurance groups, already counts tens of thousands of bikers among its customers.
"It's a great opportunity for riders to check out a technology which could potentially save their lives and demonstrates Principal's own commitment to helping its policyholders stay safe on the road."
For further details of how to secure a free three-month subscription to REALRIDER® visit Principal Insurance's stand at the London Motorcycle Show, call 0330 024 0087 or see http://www.principalinsurance.co.uk/realrider.
The REALRIDER® promotion is available only to UK residents when they take out a new motorcycle insurance policy with Principal, or on renewal of an existing one. It cannot be offer mid-term. For details of terms and conditions please visit www.principalinsurance.co.uk/realsafe.