Now, if ever there was an image to make you want to build a two-wheeled snarling monster and take to the hills, you'll find it in the April issue of Back Street Heroes.
Far away from those back streets – and the lock-ups, the sheds, workshops and garages where all the blood, sweat and tears finally give birth to cracking custom choppers or brilliant bobbers – is the open road, beckoning furiously as the days get longer.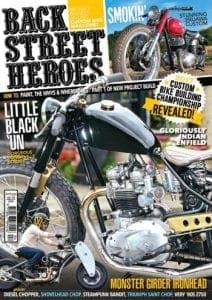 And few places are as breathtakingly beautiful as Britain's rugged Peak District, where photographer Simon Everett captured Mike Bond's award-winning diesel chopper in all its glory. Have a look at the amazing High Peaks Drifter feature in the preview below!
Simon's been busy this month capturing a host of stunning bikes, some home-built, in all their glory. Czech (sorry) out the amazing 1973 Jawa 350, gorgeous Z750 Kawasaki chopper, glorious Triumph Saint chop, monster fork 1985 HD Ironhead board tracker and superb little black Triumph bobber. He's also been diving into the deepest recesses of the mind of Ben at Hairy Bush Bike Builders and discovered PigDog, a 1976 HD Shovelhead with some, err, interesting airbrushing on the tank.
Garry Stuart finds a nickel-plated beauty – a bobber based on a Royal Enfield 500, created by Rag & Bone Customs in the sun-drenched paradise of Goa and currently on display at TTT motorcycles on Cambridge Heath Road in London. It may be the sparkling Arabian Sea that has inspired this silvery sensation – why not head to The Smoke and check it out?
Editor Nik's been road-testing the Indian Chief Dark Horse, and our Laurie reports on a visit to Nobby in Lincolnshire and his sensational steampunk smasher, a 1200cc Suzuki that revels in the name The Brooton Flash.
Article continues below…
Advert
If, after wallowing in all these creative juices, you're simmering to concoct your own delicious custom bike, then we have an added incentive for you. The BSH Bike Building Championship is back for 2017 – and this year it's even bigger and better than last year's fantastic feast of imagination.
And if that's not enough to chase away the winter blues, we've got a host of other goodies to entice you – fantastic forthcoming events, witty letters, four fun pages of Readers' Lives and our knight in shining armour, Rick Hulse, who's backing the Armed Forces Bikers this month. There's latest news from MAG, great bikes for sale, technical stuff, and loads of news and products to get your teeth into, too.
The April issue of BSH is on sale now – make sure you get your copy today! Or why not subscribe, save cash, and get it delivered to your door every month?
Article continues below…
Advert
https://issuu.com/mortons-digital/docs/bsh-april-2017-preview?e=7600234/44715864