The Young Guns Scout takes shape towards a snarling sprint machine s Nik and Fabian continue to make progress on their Scout project ahead of an exciting summer of sprint racing.
Their stock Scout has been stripped right back and they're pleased to announce some help from top brands to support the transformation, namely Ohlins, Brembo, motogadget, Akrapovič, LSL Motorcycle Parts and the Wizard of Nos.
"We are now working towards making a snarling sprint machine," Nik explains. "It will be very contemporary."
Over the past month the Young Guns have taken the Scout's fuel tank off, resized it, removed the battery and electrics from their home under the seat and relocated them to under the fuel tank.
The fuel tank won't hold fuel anymore, instead the pair are crafting two separate fuel tanks (with a fuel pump) to fit in the gap left by the electrics. While there are now many custom Scouts appearing all over the world, it has been very rare to see this level of rebuild and replacing of standard parts.
"We took off the fuel tank, cut it down smaller and welded it back together," Nik enthuses. "We made it smaller, mainly so we can grip the tank more easily with our legs while racing, but also because we wanted to relocate all of the electrics and add a lighter battery directly underneath it."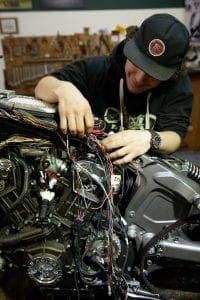 Next steps involve removing the Scout's standard radiator and replacing it with two separate units that will be half the size of the original.
"Changing the radiator will mean you will be able to see more of that V-twin engine from the front," Nik explains. "We're making very big step with this build and we think that in another four weeks we will be able to do our first test ride, which will see us on schedule to show the bike at the Art & Wheels show in May."
Nik and Fabian took time out from their workshop to attend their local SWISS-MOTO motorcycle show held earlier this month. While Fabian scoured the show for inspiration and parts, Nik accepted the keys to a second Indian Scout, this one being red and A2 licence friendly so that he can sit his motorcycle test.
"I have been riding since I was a kid," says Nik. "So I don't think I will need to take many lessons to pass. And then as well as having the Young Guns Scout project to race in the summer, we now also have this red Indian Scout to ride around on local roads."
Look out for more from the Young Guns over the coming months.
Follow on them Facebook  www.facebook.com/younggunsspeedshop/ or on their website www.ygspeedshop.com