Shine up that chrome and polish the paintwork… it's time to get out and about on two wheels, and there are plenty of shows already stacking up in the BSH diary.
The May issue is packed with places to go, things to do, the latest products and clothing – and, of course, a selection of stunning chops, cafe racers and trikes to ogle.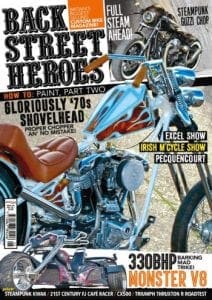 Two of our latest glorious offerings have been transformed into marvellous machines of steampunk coolness and weirdness by their owners. A diving helmet, a pocket watch, a 1900s paraffin lamp, a compass, cow horns, a barometer… all have found their places either on Chris Roberts' VN750 Kawasaki or Marius Kovaci's Moto Guzzi V65. See for yourself in our five-page feature specials where photographer Simon Everett has waved his magic lens over these incredible creations to highlight every tantalising touch in glorious sharp-focused colour.
If your taste is a little more traditional, we've covered that base too – Garry Laurence presents his ninth build, and it's a six-cylinder stunner. A modified 1960 Norton Dominator frame houses a Benelli Sei 750 engine to create a cafe racer par excellence. We've got reports from the Carole Nash Irish Motorbike & Scooter Show, Pecquencourt and the London Motorcycle Show at ExCeL.
And while we're on the subject of shows, why not show us yours? Inside the May issue of BSH you'll also find details of the 2017 BSH Custom Bike Building Champs, where you can enter your treasured two-wheeler into our heats, which will be held at six venues this spring and summer, from Devon to Derbyshire.
The first of the heats will be at BMAD (Bikers Make A Difference) in Paignton from 28-30th April, followed by Race, Rock & Ride at Santa Pod on 20-21st May.
Each round has five categories, so whether you have a cafe racer, scrambler, chopper, or want to show off your painting and engineering skills, start getting ready for some serious showing-off!
If you're thinking of heading abroad this summer, make sure you read Rick Hulse's fact-packed feature about European Health Insurance Cards and what you need to take with you to ride safely sur le continent.
Closer to home, MAG National Chair Selina Lavender discusses motorcycle theft, road injunctions and the new penalties for using mobile phones while driving.
Mr Bridges is busy with the latest BSH project and making a success of painting a fuel tank, while editor Nik climbs aboard Triumph's Thruxton R cafe racer.
All your other regular favourites are there too, including Readers' Lives, which has a bit of an international theme going on. And who is the mystery man on the Letters page? It might be you, your mate… or your other half! Check out the mag to see him in all his glory… and see our sneak preview of the latest issue below: