In the latest magazine we're going country-hopping with visits to Portugal, Scotland, Australia, Germany, Denmark, Wales, New Zealand and Sardinia… all in the name of research for the mag, you understand!
We've not actually set foot (or foot rest) in all of these locations, but the June issue of BSH certainly has that much-travelled feel, as some featured bikes have been born and raised in foreign climes or, in the case of Fenland Choppers' Shovel, will be ignoring the onset of Brexit and making its home in Spain in the foreseeable future.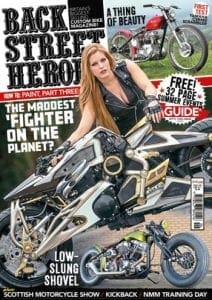 It's possible that columnist extraordinaire Rick Hulse inspired this globe-trotting bonanza, as he rounds off his two-part rundown on planning a riding holiday in Europe with some health and safety tips to prevent burns, dehydration and a host of other holiday spoilers.
So, what bike-building features can we tempt you with this time round? An amazing V8 trike, in a bold shade of thistle purple (for those who like to study the colour as well as the design) and an H-D Evo bobber that's travelled from the valleys of Wales to the flatlands of Suffolk. But it's not as well travelled as a super-stylish Revtech chopper which started life in New South Wales, Australia, and is now resident in Southampton, having spent some time wowing the customers at a cafe and clothing shop in Bristol. That is, until some keen buyer snaps it up!
We've also got a stunning little red Triumph bobber, an Indian Chout, an MZ chopper and a GSX-R streetfighter, plus reports from events that've happened already this year – the Scottish Motorcycle Show, National Motorcycle Museum Training Day, Kickback and Unwanted MCC's Ride-In Weekend. Plus there are all your regular favourites, including Readers' Lives, MAG news, Mr Bridges' motorcycle diaries and loads of news, products and kit to enjoy.
The new Yamaha SCR950 Scrambler gets an outing in the Sardinian sunshine and the XSR Evolution gets … well, rained on and taken to a few tea bars and cafes in the English countryside.
Article continues below…
Advert
And if that's not enough to blow your socks off, if you're picking up your copy in the UK you'll also get a super, FREE 32-page pocket-sized Events Guide detailing all the shows and rallies going on across the country between now and New Year's Eve. So you won't miss a thing!