High flow intake and exhaust for the HD Street and Street Rod now available at Drag Specialties dealers!
The Street and new Street Rod present a new take on the v-twin market and a solid platform for performance. Naturally, S&S Cycle saw the opportunity and created a tunable slip-on that fits both models.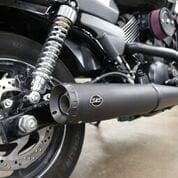 The Grand National muffler (pictured, retail price £313 including VAT) wakes up the Street (and Street Rod) with a genuine v-twin exhaust note and includes a removable stainless steel dB reducer that allows the user to tune the sound and performance. Also new is the Stealth intake system for the Street (price £142 including VAT) .
Easy to install, Stealth high flow air filter and Grand National Muffler are the trifecta of power, sound and looks: up to 6.7% more horsepower and 11.6% more torque (with AC and Grand National Muffler). S&S products are available at Drag Specialties dealers. You will find your stores in your area easily online: https://www.partseurope.eu/dealer-search.
Stealth air cleaner covers are available in different styles. Please ask your dealer.