… this journey would surely be on it!
Picture the scene… a 300-mile stretch of open road, with iconic landmarks including the Grand Canyon, Painted Desert and the Petrified Forest. Picture perfect, panoramic scenery; you are on Route 66, the bucket list destination for any biker.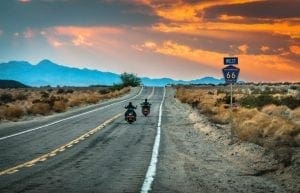 What won't be on your bucket list is riding the road on an unfamiliar hog of a motorcycle; you'll want to experience the mother of all roads on your own pride and joy, anticipating every curve and bump in the road with the familiarity of your own machine.
Why not start your journey in the windy city of Chicago and ride all the way through to LA? Stop to refuel your tank at Gary's Gay Parita Gas Station, a recreation of a station that burned down in the 1950s and is now one of Route 66's most eclectic stops. You can refuel your own tank at Lou Mitchell's Diner, the very first stop on the Mother Road.
Feeling sleepy? Rejuvenate yourself at the Wigwam Motel, part of a chain set up in the 1930s, where the rooms are shaped like tipis and not wigwams!
Feeling refreshed?
Article continues below…
Advert
Now let us transport you (and your bike) there for real…
Imorex, based in Felixstowe, Suffolk, specialises in the transportation of motorcyles, prestige and classic vehicles to the destinations of your choice, and is proud of its family-friendly approach to customer service and its competitive rates.
With more than 20 years' experience, Imorex offers an end-to-end, hassle-free service, which will ensure that not only will your pride and joy reach your desired destination and home again, but also will be in safe hands from start to finish.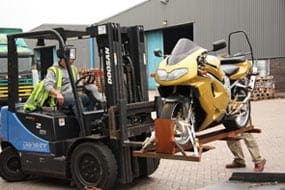 Article continues below…
Advert
The company prides itself on carrying out full and thorough assessments prior to loading and unloading, using specialist equipment and operatives with a depth of knowledge and experience in this very specialised field. So the only thing you'll have to worry about is what to pack for the journey of a lifetime!
Call 01394 799029 or email [email protected] for more information.