We've gone globetrotting again to bring you the finest custom bikes and the brightest sunshine the world can offer.
Yep, the October issue of Back Street Heroes, on sale from Thursday, September 7, is packed with stylish two-wheeled transport from the Atlantic to the antipodes.
So as we've done all the legwork, the research, the interviews and the photography for you, why not settle back with a cuppa and find out just what we've been up to!
Editor Nik made his annual pilgrimage to the Moto Clube de Faro's Concentracion, his 21st anniversary outing to this jam-packed jamboree in Portugal. Combining work and pleasure, he's sent in five pages of images summing up this amazing event, and there's not a cloud in the sky…
Likewise on the sparkling jewel that is the island of Malta, where the sun shines 320 days of the year, we've unearthed a diamond of a bike created by Shovel Phil, who's now based in the Med with his lovely wife Princess Sandi. And this is a bike fit for a princess…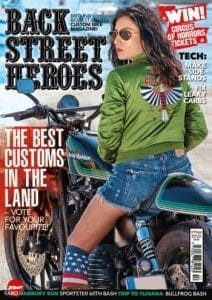 The incredibly named Huxflux Nettermalm from Stockholm shows off his Norton Atlas 750 bobber and, heading south across the globe, we discover Money Pit, a Triumph in more ways than one and eight years in the making, enjoying life in the Brisbane heat.
But we've not neglected good old Blighty, dear me no. There are reports from the Banbury Run (more sunshine), the 'Sportstar at 60' event at the National Motor Museum, the Tone Vale Tea Rally (tea, cake, beer and sunshine) and the A Trip to Tijuana Chopper Show – not in Mexico but on Brighton's (yes, you've guessed it) sunny seafront. And if you went to the Bullfrog Bash at Sleaford in Lincolnshire, you may also feature in our pages… especially if you suspended yourself by a couple of hooks through the skin in your back…
Mr Bridges keeps bike builders happy with his techy pages, there's an update from Selina of MAG and some seaside-themed artwork from Louise Limb.
If you prefer the darker side of life, there are 10 pairs of tickets to be won for the latest Circus of Horrors incarnation, 'Voodoo'.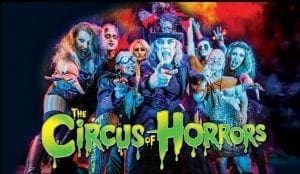 And now it's over to you, after a summer series of events that saw a total of 30 top bikes being chosen for the BSH Custom Bike Championships, to select the overall winners in each of our five categories – Best Chopper, Paint, Custom, Engineering and New School – which will appear on our Custom Xtreme stand at Motorcycle Live at the NEC in November. So get voting!
Your letters, latest news and products, more stunning bike builds and a host of events, plus an update on the XSR long-termer and a thought-provoking piece from Rick Hulse… there's so much in this issue that offers food for thought.
For a preview of the October mag, check out the link below; and don't forget, if you subscribe, you'll save money and get BSH delivered to your door before it goes on sale in the shops:
https://issuu.com/mortons-digital/docs/bshero_05-09-2017?e=7600234/52746579