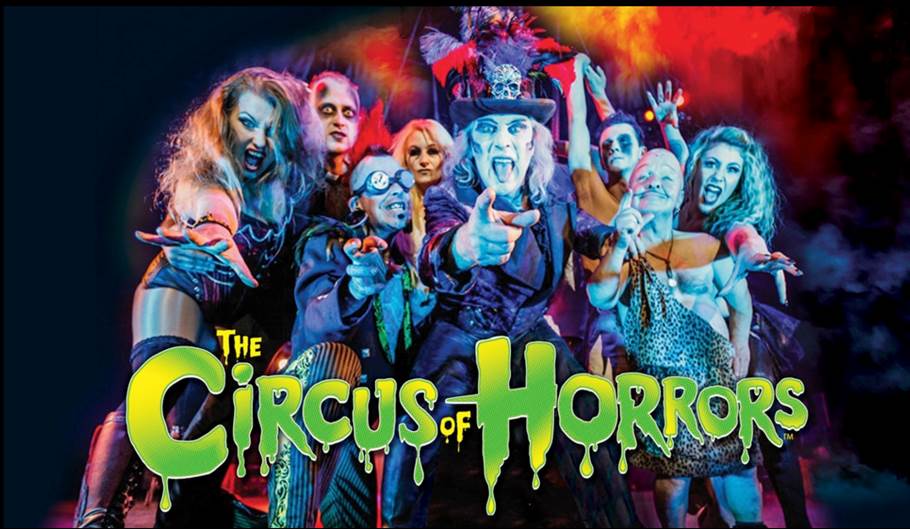 After being on the road and touring the world for more than 22 years, the newest incarnation of The Circus of Horrors, Voodoo, is set to take centre stage.
During the Halloween period two spectacular units from the circus will be operating at big tops and theatres, and will feature an amazing amalgamation of bizarre and fantastic circus acts – all woven into a sensational shock / horror story.
It's all performed to a devil-driven soundtrack and with forked tongue firmly in each cheek… so you'll die laughing.
Annually the Circus of Horrors plays more than 100 UK theatres and this tour has expanded to take in festivals throughout the world including The Fuji Rock Festival in Japan (twice), the Wacken Festival in Germany plus shows in Chile, Uruguay, Holland, Belgium, Argentina, France, Italy, Ireland, Finland, Hong Kong, while it  became the first UK circus ever to perform in Russia.
The show also played an astounding 10 nights at London's O2.
This is not the first time The Circus of Horrors has created history, as it became the only circus to reach the finals of Britain's Got Talent and the first to perform in London's West End for more than 100 years.
The Circus Of Horrors' appearances on various subsequent TV shows have turned what started as a cult show into a household name – taking the extreme to the mainstream. TV credits now also include The X Factor, The Slammer, Daybreak, Fairground Attractions, Who Wants to be a Millionaire, Body Shockers, Fake Reaction, This Morning, Ant & Dec, The One Show  plus A Royal Variety Performance.
The Circus of Horrors started its gruesome beginnings at Glastonbury in 1995 and has since included festival appearances with Alice Cooper, Oasis, Iron Maiden, The Manic Street Preachers, Foo Fighters and many more.
To check them out visit: www.circusofhorrors.co.uk
What they've said:
'I loved it.'  Simon Cowell.
'Fantastic, that's what I call entertainment.'  David Hasselhoff.
'That was incredible.'  Ant or Dec.
'Totally Unbelievable.'  Scott Mills, Radio 1
'You have to go and see this. One day something will go wrong and you will be able to say 'I was there'. Graham Norton.
'The Circus of Horrors completely WOWED the audience.'  The Daily Mail.
'A Bloody Great Night Out.'  The Times
'Freaking Awesome.'  The Sun
'Bloody Good Fun – Barnum would be proud'  Time Out