"I'm not the tallest guy in the world, 
only 170cm, so that's why I have always stuck with English bikes – they tend to be small and compact," says Huxflux Nettermalm from Stockholm.
Huxflux, what the heck kind of name is that, even for a Swede? "I was at a really wild party some years ago and made a bet with a friend that I would officially change my name from Ricard to Huxflux. And I ain't about to lose a bet so I went ahead with it. The new name is in my passport and driver's licence and everything. My friends usually just call me Hux, and when I'm out playing music I use the stage name Huxflux Deluxe…"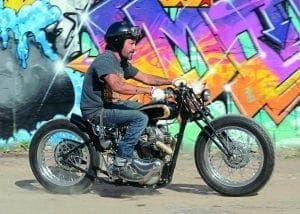 Forty-five-year-old Hux makes his daily bread as a carpenter in the construction business, but is also a part-time professional drummer who's played with many of the major names in the Swedish music business. That's why he couldn't pick up his first prize at the Norrtälje show in 2014 – he was on tour and a friend had to bring the bike there. It was a classic Triton with all the right parts; Featherbed frame, Roadholder forks, Thruxton exhaust etc. – it was a true gentleman's bike that would've looked right in any ritzy concours d'elegance, even in England. Unfortunately he's not the owner of the Triton any more. "I had to sell it to raise some cash for an Egli Vincent for sale right here in Stockholm, but once I had the money, the seller had decided to keep it. What a bummer!"
Anyway, after a whole bunch of Triumphs, Hux finally decided to try an old 1960s Norton Atlas. It showed up for sale as a basket case for a decent price, so he bought the pile of assorted parts. He didn't plan to turn it into a flashy custom bike at first, just a simple daily transport scooter, but then he fell in love with the engine, which he suspects has been tuned. Riding a Norton was also a very different experience from the Triumphs he was used to, as he explains with rare eloquence: "A Triumph feels crisp like a wild horse, while a Norton is more sedate, more grounded in its character."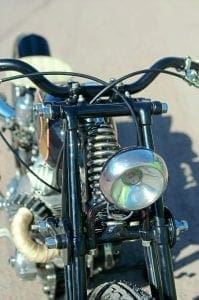 Unfortunately, or luckily, Hux's new toy wasn't a complete original Atlas, but a mix of parts from different years. That's why it was turned into this cool little thing. For example the frame was a swingarm frame from a 1950s ES2. "It was horrible, I've never seen an uglier frame in my life! The first step was to change it for this rigid Norton frame with a rear section from BSA." If it'd been a complete Atlas it would've had the legendary Featherbed frame, designed by the McCandless brothers to become a winner at the Isle of Man, but Hux hardly loses any sleep over not having the proper frame. "With this ol' rigid it feels like you're going a lot faster!"
Composing this project, Hux let himself be inspired by his two favourite countries when it comes to custom culture; Finland and Japan. "I've been a Japan freak ever since I was a kid. Everything in Japan looks great! I've toured there and visited Tokyo, Kyoto and Osaka and have even learned some Japanese." In homage to his idol Shinya Kimura, Huxflux first planned to keep his bike strictly in bare metal, but then he decided on this neat gold leaf paint job.

The whole bike is a testament to not buying stuff off the shelf; the carb is an SU HIF8 from an old Volvo Amazon car, the open belt primary came from an Australian classic racing guy, the tank is from an obscure Swedish bike, a Nymans Verkstäder, the oil tank is an old British alloy one that's been shrunk in size to fit, the fuel filter is from an old tractor (and the brand name is, believe it or not, S&M!), the front light's a Robo bicycle one, suitably modified to work on the bike, and the rear is a position light from an aeroplane.
The bike runs great and is not for sale because Hux's garage buddies won't allow it! He has a couple of new projects on the way even though he's totally happy with his Atlas.
And his guide to bike building, the 'pancake principle', applies to them in the same way as it applies to this bike: "It's just like when you're frying some pancakes – one side always looks great, and the other looks not so good, no matter what you do.
"Even on symmetrical bikes like Guzzis or BMWs, the right side always looks best…"