Way back in 2013, Back Street Heroes organised the first BSH Xtreme Custom Show, held in the exhibition halls at Donington Park. At the time, the editorial team of Stu and Blue had the idea of doing some kind of 'Build Off' at the event, whereby two builders'd create a couple of bespoke bikes in front of the appreciative punters.
The plan was to bring in a couple of up-and-coming builders (someone who wasn't, at that point, fully established) and, after some thought and consideration, the chosen builders were Grub of Blackmarket Customs and Graham Butler of Hard Up Choppers. A meeting at Battle (appropriately enough) was arranged, and a plan was hatched.
The machine you see here was that built by Grub. Somewhat fortuitously, he'd recently purchased an unfinished project from Sumo of Vintage Chop in Huddersfield – a Sportster engine in a hardtail frame built by Briz of Custom Cycle Developments.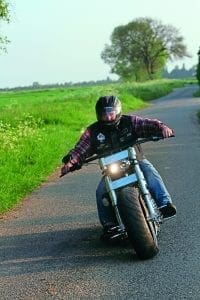 Knowing that Butler would be doing something sports-oriented, he was keen to go for something inspired by the original streetfighters – cut-down, minimalistic and, most importantly, hardtailed! He stripped off anything unsuitable (not that there was much) and was left with the wheels, forks, frame and engine mounts. He and his father-in-law, Calipers of NCC Sussex, then went into the 'parts store' (read, big shed) to see what could be used.
While the style was somewhat dictated by the chunky wheels (built by Sumo) and tyres that came with the CCD frame, a fuel tank and mudguards play a large part in the overall look of a bike. So a 'normal' Sportster tank was plucked from the pile, along with an aftermarket streetfighter-type headlight and an old Ford rear light and, while the requested look didn't require a front mudguard, the rear was going to have to be something bespoke and minimal…
Staying away from the popular sprung seat and big mudguard style, and keeping in vogue with the streetfighter thing, a number of hours were spent bending 5mm bar to create a tail unit outline, and time spent messing around with gaffer tape and cardboard and then expanding foam and fibreglass finally resulted in a shape and style that could be made properly! The end result is the sleek and sharply styled one-piece seat-cum-mudguard, with its seat pad made from 5mm ultra-comfy thick race foam. Who needs a sprung seat on a hardtail?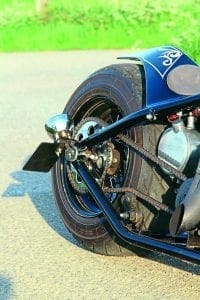 With the Sportster fuel tank in hand, Grub went to see Nick Larkin of V-Twin Customs, who suggested making a tank with holes! Not a job for the faint hearted, that passing comment from Nick turned into an afternoon of measuring, not cutting, more measuring, more not cutting, even more measuring and finally some cutting, followed by some careful welding.
The initial paint idea came via Nick Larkin – a chrome-effect silver was laid down in a handful of days, and a pre-show build could then be undertaken. This done, the bike was stripped into its constituent parts (only the engine remained in one piece) for the full build over the weekend of the show. (Although, while the wiring had been partly done in advance, it couldn't be completed as it was going to be fed through the frame during the final build.)
The original Sportster engine had needed a bit of work, so it'd been stripped, at which point Grub encountered Tony the Engraver who, after some subtle cajoling, minor abuse and threats of lollipops through the post (an in-joke there I fear), agreed to "hit the engine cases pretty". It was the first of Tony's work that appeared in the UK (although a Brit, he now lives in Spain), and he actually flew to East Midlands airport to deliver the engraved cases on the weekend of the show! In case you're wondering why the bike you see hasn't got engraved cases, that 1200 Sporty lump is now in Grub's current ride – his big-wheeled chop that won Best Engineering at 
RR&R – although the ignition cover does remain.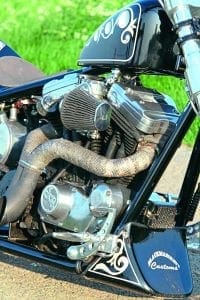 After the show (won, after a public vote, by Butler's more restrained Savage-framed cafe racer) the bike was used, as you'd expect from a club bike. It's since covered numerous Euro runs, and won shows in Holland and Belgium, but after a couple of years it started to get a bit tired, so a refresh was required, coinciding with Grub's move to Lincolnshire, which brings it to the spec it stands in now.
As mentioned, the Sporty powerplant went into his new build, replaced by a Buell M2 Cyclone lump, with a new lithium battery fitted into a fibreglass chin spoiler, which was found hanging in the workshop and cut, shut, abused and told to fit.
A new paint job, in black and white, adorns the frame and bodywork. The stylish filigree scrollwork is down to Stig (formerly of Sickboyz, now of Stig's Custom Paint), as is the 'Diamond Girl' on the tank which, aside from being a nod to his club, was an image that Grub saw online, as drawn by a tattooist in Kent ("If you're reading this, thank you sir!").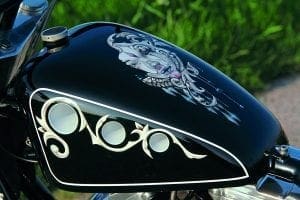 While the original paint was nice, this second iteration really works – not only has it got Stig's attention to detail in the filigree and tank motif, the way that the tank holes are painted white make them initially appear to be just painted, and it's only when you stand square on to the bike, and can actually see right the way through, do you clock that they're actually real holes!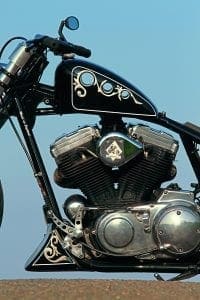 Back on the road for the run season, it's since seen another couple of years in action, and still picks up silverware, and although it's been retired by Grub after he finished his big wheeler, it's being used by Calipers as a club bike. Although it's being loaned out, Grub'll never sell it as it has far too much 'provenance' (neither of us really knows what that means, but we decided it sounds good, and Fiona Bruce says it a lot). It's clear that it's a bike that means a lot to him – the history it has, why it first came to be, the miles that it's carried him and, perhaps above all that, just how much fun it is to ride!