This bike really started when I bought a billet rear wheel from Krazy Horse Customs in far-away (well, from me anyway) Bury St Edmunds to 
do a fat back end conversion on my Harley, explains Kev Donald.
I put it in and it looked great, but after six months of Portsmouth weather I was fed up to the back teeth with always polishing it so I took it out again, and put it to one side ready to do something else with at some point in the future.
A while later I moved back to my native Wiltshire, and I wanted to find a use for the (bloody expensive) billet back wheel and that's when Comfortably Numb was created.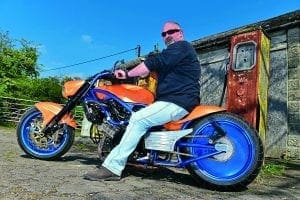 I knew roughly what I wanted – it had to be low and fast, and it had to have a v-twin engine. I looked at the Ultima 140ci (2300cc) lump, but it was far too much to spend in one go, and besides, I already had a Harley. Something else then!
I did a bit of searching on the internet and found a few people (a very few!) out there had built chops out of Suzuki's infamous TL1000S. I say 'infamous' because the S (there were two models, the S and the R) has gained a reputation among internet warriors who, generally, have never even cocked a leg over one, let alone owned and ridden one at speed, as a bit of a widowmaker – a reputation that it really doesn't deserve. Yeah, they're fast. Yeah, they're powerful (125bhp). Yeah, they're light. And, yeah, they have a steeper steering head angle than many bikes, but the instances of them actually misbehaving terminally are (very) few and far between. Still, having a bike with such a reputation, deserved or not, increases your main points, doesn't it?
That wasn't why I wanted one though (okay, it may have been a bit, but…). No, I wanted one because I liked the look of the motor, and the fact that it was fast. I bought a 1999 S, one owner from new and less than 3k miles on the clock, and me and my mate Phil Goodenough stripped it down in my garage.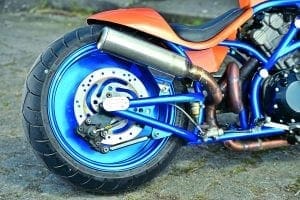 Then I went and saw Maf at Expressive Motorcycles, and told him what I wanted and gave him the front end from the TL, the engine and the billet rear wheel.
Maf made the frame, a rigid naturally, using his creativity – it's a very Ducatiesque trellis-style affair that uses the engine as a stressed member (no frame cradle), and looks at first glance as though it has a swingarm and, hence, a shock. It doesn't.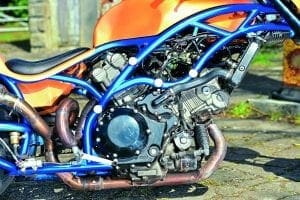 I couldn't be happier with it – it's exactly what I wanted, but more so… if you see what I mean.
The next port of call was to Lamb Engineering where their resident sheet metal wizard, Tony Taysom, was given the task of making the bodywork. It wasn't quite as easy as making 'normal' bodywork as the fuel tank has to incorporate the TL's fuel pump (which it won't run without as it's a fuel-injected motor) and still look good, and there're a lot of electrical components to do with the injection system and the ignition (as well as the water-cooling system) that need to be found homes for too. He did his usual beautiful job of the tank, tucked all the ugly gizmos into a neat little box under the seat, and handmade the rear mudguard and the headlamp cowl too.
Once that was all done, I brought it all home, dry built the bike and wired it, and rode it unpainted complete with cable ties all that summer. It was scruffy, yeah, but it was great! Then, over winter, I stripped it all down and had it painted by Alan Boxall at Elite Panel Craft. He did the frame and wheels in a lovely bright candy apple pearl blue that really stands out, and a candy Ford Focus pearl orange on the bodywork to contrast with it. It's bright and lairy, and I love it.
Article continues below…
Advert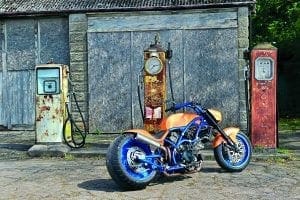 When it was all painted, it came home and all the painted parts were put on the bed in the spare room and covered up with the duvet. When the weather got a bit better, I rebuilt it all so it was ready for summer. I put a new O-ring chain on it and started riding it.
As I was coming home one day from a 200-mile ride, the chain broke and gave me a bloody painful chain whip up my back and over my shoulder. After I'd figured out what'd happened, and soothed my chain whip marks a bit, I thought about the good advice I'd been given by several people over the last month, good advice that I'd smiled at and ignored: "You want a chainguard on that."
So I went back
 to see Tony Taysom and explained to him what had happened and, after he'd finished telling me to think about what he'd said earlier in the year about a chainguard, he agreed to make one. So I bought another chain, this time an X-ring, and fitted it under the hunk of a chainguard.
Article continues below…
Advert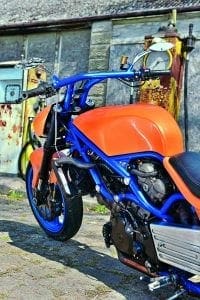 I've now done more than 5,000 miles on it since it was all sprayed and put on the road properly, and have had a big fat grin on my face all the time I'm riding it. It gets the looks and compliments wherever it goes and people always ask: "Do you show it?"
My reply? "No, I haven't got time to keep cleaning and polishing it to show it – when I've got time, I ride it!"