For some folk, building 
a custom bike is a compulsive pastime – spending each winter building a new bike for the forthcoming riding season.
Paul Robson is one such man. For the last five winters he's built bikes, not just to keep him out of the pub, but also because he found the process very relaxing. The winter of 2015-16 was no different, but for the fact that this time he wasn't just going to buy a bike, modify it and put it back on the road – this time he was going to build a bike from the ground up.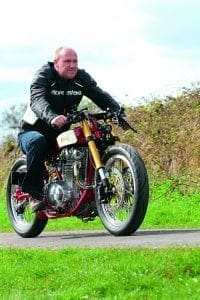 As a competent engineer, he wanted to try something different, not only from a fabrication perspective but also from an engine perspective too. Conveniently, he knew what kind of overall style he wanted to go for, a board-tracker, but unlike other folk who've built such a machine, he wanted to add a modern twist to it, using upside-down forks and modern brakes. And it was to be as minimalist as possible, with no visible wiring or electrical parts.
Having previously used Yamaha's popular parallel twin, the XS650, in projects, he liked the engine's aesthetics and relative simplicity. He'd also read about people rephasing the engines (setting the con-rod positions at 277 degrees rather than the normal 360 degrees, in which the pistons rise and fall together) but, rather than buying the required parts, he wanted to do the work himself. It takes more than a little determination to split the crank and the cams in half, and re-weld them back together at precisely the right position! But why go through the trauma and stress of rephasing what is already a good engine? Well, a 277 engine vibrates less at high revs, potentially has more torque through the midrange, and has the rather pleasant side-effect of sounding different too – more like an air-cooled Ducati 'L' twin than a parallel twin.
The Pamco ignition he'd bought also had to be rephased, while the motor was treated to a 750cc big bore kit from Heiden in Germany, and a pair of 38mm Mikuni carbs, with Ramair filters to prevent the ingestion of dirt, gravel and road smeg, plus a bespoke two-into-one mild steel exhaust (subsequently chromed) allow the power-plant to breathe.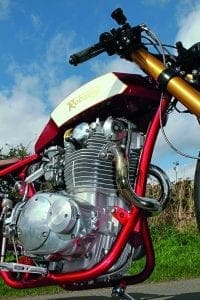 The frame originally came from Voodoo Vintage in Austin, Texas (the XS has a large following in the States, as you may have guessed!), as evidenced by the 'VV' logos at the bottom of the frame front downtube and the chain adjuster 'snails', although Paul has modified it to suit the look he was going for.
In order to attain the minimalist board-tracker appearance, Paul was keen to hide as much stuff as possible, so he didn't want an electrics box, nor did he want anything filling the space below the seat or around the rear frame downtube and rear engine mounts (made, ingeniously, using rose joints). So, as the fuel tank is split into two, with each half either side of the curving frame backbone, the left-hand side was designated as being purely for fuel storage, while the right-hand side was split into two compartments, the front of which holds all the electrical gubbins, and the rear holds some more fuel. As a self-confessed perfectionist, he found that even tasks like mounting the tanks took far longer than anticipated. After all, if it wasn't just right, it'd be playing on his mind and annoying him every time he looked at the bike – do it right, or don't do it at all is the phrase that springs to mind here. Consequently, each and every job was mocked up, checked, looked at from every angle with a cup of tea, changed if necessary, the tea-drinking process repeated, and finally the part was made properly.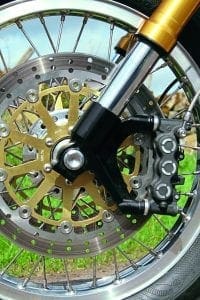 The modern twist to the board-tracker look was brought in with a pair of Yamaha R1 USD forks, yokes and calipers, and some FZR discs at the front, with a Brembo caliper and Ducati disc at the rear. Holding the frame off the floor is a pair of spoked wheels, both matching 19-inch with skinny Avon tyres for the right look.
By now, he was fast approaching the time for his annual pilgrimage to Stormin' the Castle, in which he has traditionally entered his bike in the show (and often been rather successful!). With a mere fortnight to go, the tins came back from Tommy Judd with a luscious coating of candy red and cream inlays, detailed with gold pinstriping. Because the paint was fresh (and still a bit soft), he was petrified of marking it, so everything was masked up, padded and protected for the final build. This led to some very late nights until he was ready to fuel and fire it but, comfortingly, the build that'd fought hard all the way, fired on just the second kick and ran beautifully!
Paul had time for about 100 miles of short shakedown runs before Stormin', which is only a 60-mile trip anyway. This bike was built to look good, though, and not for touring, so after a mere 20 miles his arse'd gone to sleep (conveniently, that meant it didn't ache any more!).
Arse-ache aside, the show was great and, despite some other stunning entries, he came away with a deserved Best in Show, Best Engineering and Exhibitors' Choice! And his homeward journey was completely free of posterior pain too… mainly because he had to get a lift home from the AA after the rear inner tube burst. Ho hum.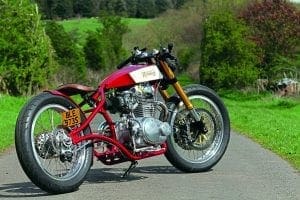 While it's highly unlikely that Paul will sell the Yam, he has treated himself (as a 40th birthday present) to a return to sports bikes, with an Aprilia RSV to use for track days, trips to the Isle of Man and countryside hoons. Don't bet against him again indulging his bike building bug, though, and making 
the annual trip to Witton Castle…
For more great bikes, make sure you get your copy of Back Street Heroes every month! November 2017 issue on sale Thursday, October 5.