Don't forget you've still got time to vote on this website for your best builds in the BSH Bike Building Champs 2017 – there are five categories to cast your votes in, should you wish to.
Best Chopper, Best Custom, Best Engineering, Best Paint and Best New School… there are six gobsmacking bikes in each category, but only one from each will go through to be displayed on our BSH Custom Xtreme stand at Motorcycle Live at the NEC from 18-26th November.
You can also see all the finalists in their glory in the November issue of Back Street Heroes, now on sale! For much less than even the cheapest Ryanair flight you can take off to Home Built Heaven in our 116-page mag, packed with the most amazing bikes, pictures from a host of summer rallies and festivals, latest news and products, forthcoming events – and loads more.
If over the summer you rocked up at any of the following events – Rock & Bike Fest, Lincoln Bike Fest, Chaos, Herts Day, Attitude Day, Tomintoul Motorcycle Gathering, Chinnor Bike Dayz or The Malle Mile – you might see yourself, your partner, your bike – maybe even your dog! – in our glossy, picture-packed homage to the custom bike lifestyle.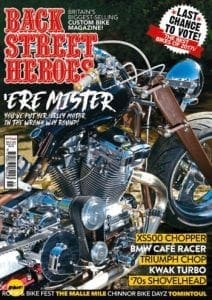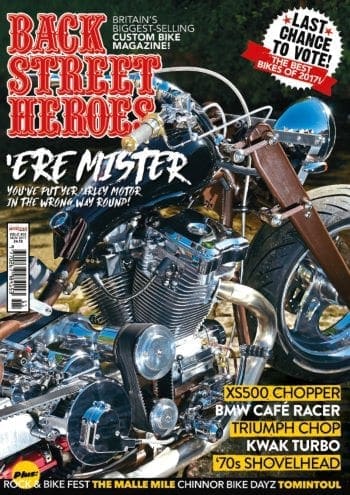 There's plenty of tech stuff to get your teeth into over the coming winter months as Mr Bridges presses on with the project build and takes an in-depth look at wheel bearings.
Columnist Rick Hulse reports on his road trip to Spain and France, while MAG supremo Selina Lavender brings us up to speed with Motorcycle Action Group news.
Editor Nik and divisional ad manager Billy Manning took time out from the office to check out the new Moto Guzzi V9 Roamer; find out what they thought to its price and performance.
And then of course, as it's Britain's best-selling custom bike mag, we've got a stunning selection of brilliant bikes. Want to know and see more? Then you'd better get down to the shops and pick up your November issue! Or better still, why not buy yourself an early Christmas present and take up our excellent subscription offer, which will save you more than 15% off the cover price… you'll get the mag delivered direct to your door, too!
Check out a preview of the November issue here: