Ger Merrigan'd become sick of modifying cars, as he had been for a few years, and came up with the idea of building a bobber, writes Ian Shipley.
He managed to find a donor bike, a 1979 Yamaha XS500 that an old buddy of his had, which was duly swapped for a few Euros. This was back in 2010, and he and a good friend, Martin Quigley, set to… well, in a very Irish way of doing things – often at times the bike'd sit for 12 months without a single thing happening to it but, as you know, some things take time to mature.
Ger has a background in panel beating and painting, and over the years he's created a whole host of weird and wonderful creations, and Martin's gained himself a nickname, 'the Magician', for his ability to bring to life any sketches of parts that anyone can come up with. The real secret to this build (as with many others) though was gallons and gallons of tea – over innumerate cups of tea, Ger would show a sketch or two to Martin, who would duly either dismiss some or set about making the part.
The first thing they did was to chop up the original frame, one that had itself been chopped in a very haphazard way, and get rid of almost everything. Then they set about fabricating a frame to hold the twin-cylinder 500 motor – a clean, simple, uncluttered rigid. The engine they mostly left alone; the main block was cleaned up and then painted, and the cases and head polished, and the carbs fitted with bellmouth filters and jetted to suit. A one-off exhaust was created, and its entirety wrapped, and a pair of heat-shields made to stop the burning of inner leg tender bits.
A pair of spoked wheels, a 19-inch front Harley and 17-inch Triumph rear, were pressed into service, and the forks are custom-built springers. Noticeable is the omission of a front brake; this was to retain a nice, clean look to the bike. The handlebars've been custom bent, and fitted with old-style stitched leather grips, and a nice touch is the inverted clutch lever. The Bates-style headlight sits upon a one-off twisted bracket – one of the many little things that add up to make this build so nice. At the rear, there's a front caliper from a Fazer 600 that sits very unobtrusively, and drive is via a 530 chain on custom-made sprockets. The handmade tyre-hugging rear mudguard has a lovely rib running centrally, and matches the one that's been added to the top of the Sportster tank (more on that in a moment), and protects that stunning hand-tooled custom seat that bears the bike's name, and the false oil tank that's actually the electrics box and has a push-button ignition switch.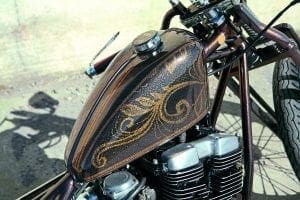 The aforementioned Sporty tank to which the rib was added was a birthday gift from Ger's wife Deidre, and the fuel cap carries the name Bróg Lane Motorcycle Co – it's the old street name from where they live.
When all that was left was the assembly of the bike, Ger did the only logical thing and took a long, long, break… about a year! No, I don't really understand why either. Inevitably though a call came from Martin, whose garage the bike was inhabiting, to say he wanted his garage back. This was to be the catalyst to get the bike finished, so they decided to give themselves a deadline; the Dublin AMD Custom Show in March this year. Personally I think he was building up to doing the paint – paint that would have over 30 (yes, 30) layers by the time he'd finished. Prior to the actual laying on of any pigment, he spent a huge amount of effort in prepping the parts (no point in rushing this aspect of the build), before starting to do the old school metal flake paint – not a light metal flake, but full-on big flake gold with copper pearl and pin-striping running full length from the headlight to tailpiece.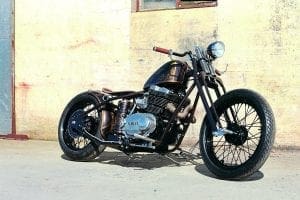 Article continues below…
Advert
The finished effect is stunning – even in the relative darkness of the RDF in Dublin, it still stood out brightly in the gloom.
The bike was finally finished with about a week to go, so time to just relax and enjoy the show? Err, no. Just before the show Ger was struck down with the dreaded man flu – real, serious man flu. They soldiered on though and loaded the bike, along with suitable provisions (packets of Nurofen and Lemsip, and plenty of whiskey), dropping it off on the Thursday, before turning back for home, feeling  completely shite. Still feeling sick as a dog on the Sunday, they returned to pick the bike up. The trip felt like hell, and all Ger wanted to do was pick it up and find a corner to curl up in and die. The PA system microphone was deafening to his ears, each word feeling like an explosion, and it didn't really register with him when his name was called as the winner of 'Best Japanese' – he needed to be told at least twice, and he went up to get it with a distinct feeling of unreality.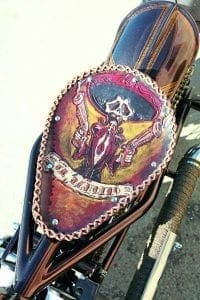 There's always a huge amount of respect at these shows among the builders, and most people were very impressed with the fact that Ger and Martin had built the XS on a budget of just 2,500 Euros (a little over £2,100 at the time of writing), especially given the high standard of the build. The ethos of the build is "don't throw money at something, just learn to use your hands". Amen to that.
Article continues below…
Advert
The bike is now for sale, ring Ger on 00 353 87 2222 540.