As regular followers of my BSH column will know, I went on a two-week road trip through Spain, Andorra and France, in July with my lovely girlfriend Mandy as my pillion on a Yamaha XVS950 'Midnight Star' trike. We were accompanied by my brother Bill (on his Yamaha XVS950 'Midnight Star' motorcycle) and four friends, (one on a trike, the others on bikes).
As is my way with such things I'd done many hours of research and planning to ensure that our basic route would be an eclectic mix of lush green countryside, arid beige and ochre plains, rolling hills and rugged mountains, with at least one sandy beach and several gorgeous lakes, and I'd even produced daily routes and maps with fuel stations, supermarkets and points of possible interest detailed on them. This may seem a little 'OTT' to some but, if my 14 years on the BSH Run to the Sun had taught me anything, it was that 80% of the success of any trip is in the planning.
Though I'd contacted each of our proposed campsites to check the prices and availability, I didn't actually book any in advance, knowing from previous experience that, in the rare likelihood of one not having room for us on the day, there was no shortage 
of alternative sites to be had along 
the way.
As you can almost guarantee, our ride from Manchester to Portsmouth was a pretty wet one… well, it was the height of summer after all. What we didn't expect was that, after a fairly pleasant crossing to Santander, the weather in northern Spain would be even wetter. In fact, it seemed to barely stop raining for the first three days!
The edge was definitely taken off our first day with rain of biblical proportions and though our first night's camping was on a lovely and very welcoming campsite (Camping Monte Royal), the evening's festivities were somewhat subdued due to the shitty weather. The next morning we were lulled into a false sense of security by a blue sky and breakfast in the little medieval town of Aguilar de Campoo, where some of the cathedral windows seemed to feature the Yamaha logo (we took this to be a good sign…) but, by early afternoon, after a fuel stop at Palencia, we were riding into dark skies and lashing rain once again, and Salamanca seemed much further away than it had been on my previous trips.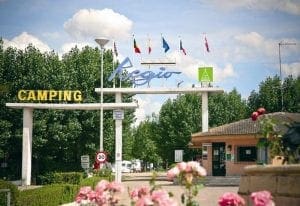 Still, a well-planned two-night stopover at Camping Regio at Santa Marta De Tormes meant we didn't have to ride in the sporadically torrential rain that marked our third day, and I did finally get to see the fabulous cathedral at Salamanca close-up. That magnificent edifice to greed, corruption and hypocritical religion, literally drips history, though I did notice that many of the people sculpted into its facia had their hands missing, which led me to wonder if a large proportion of Catholic saints had also been convicted shoplifters on their days off?
Thankfully our ride from Santa Marta to Camping El Greco at Toledo (via Avia and El Tiemblo) was in joyously hot weather under an unbroken blue sky. We really began to feel like we were on holiday now! After an hour or so of climbing into the mountains above Avila, with mile after mile of superb twisty roads, we stopped for lunch at a little cantina above a superb mountain-ringed expanse of turquoise water called 'Embalse Del Burguillo'.
If there's one sound that reminds me of hot hedonistic days in Spain, it's the ubiquitous almost-electrical chirruping of cicadas (a type of bug that lives in the trees) and, as we returned to our rides, the whole valley seemed alive with the sound of randy cicadas, and my mood went from 'happy as a pig in shit' to 'exultant!'
As we once again headed out on to the N-403 (a broad open road that winds its way across Sierra de Gredos to the west of Madrid), I caught sight of Mandy's expansive smile in my mirrors and saw that it was as jubilant as my own, and though I could not see them at the time, I instinctively knew that each of our travelling companions wore similar expressions of joy.
This is what the dream is all about; the winding road, the stunning scenery, the roar of the engines, and the camaraderie that seems to be all but unique to bikers. That ride to Toledo, over the next couple of hours, was everything that a summer road trip should be, and the joy of it remains tangible in my memory more than two months later.
When we began to set up our pitches at Camping El Greco on the banks of the river Tagus just outside the impressive city walls of Toledo, several Spanish teenagers came across from another pitch to offer us several plates of food, explaining that they had more than they needed. How lovely was that! I can't imagine a similar scenario happening on a British campsite when a group of hot, sweaty, dust-covered bikers arrive, can you?
After reciprocating the generosity of the pleasant young folk with a bottle of wine, we headed for the pool, and the first outing of my obscenely gaudy 'swimming shorts' – this may come as a shock to those BSH Faro Run regulars who never once in 14 years saw me wearing shorts or going anywhere near a swimming pool, but that's what the love of a good woman can do for you.
Drinking chilled bottles of the 'vino blanco de la casa' in the sparse shade of a few trees by the pool after a very refreshing splash-about, the memories of the first few rainy days of our holiday were washed away, along with the dust of 300km of cruising through sun-drenched mountains and across tinder dry plains where the occasional breeze proved to be incongruously hotter than the still air we were riding through.
And to think we were only four days into our trip… (to be continued)

Enjoy more Back Street Heroes reading in the monthly magazine.
Click here
to subscribe.