In much the same way as there are now reckoned to be more of the legendary Manx Norton race bikes today than were ever built by the Bracebridge factory in the model's 16-year (1946-1962) history, there do seem to be a suspiciously large number of hardtail frames allegedly 
built by John Reed, the legendary Uncle Bunt.
Pictures: Simon Everett
Now I'm not privy to information on exactly how many frames Mr Reed fashioned in his time but, given the number of bikes that've appeared over the last few years that claim to run frames crafted by Our John's fair hand, it would seem that he must've been cracking them out in his sleep…
There are some genuine ones though obviously, and the bike you see here in front of you bears one of them. It belongs to a gentleman by the name of Ian Dallison who, you may remember, had a Z900 chop in issue 400, the chopper issue we ran a few months ago. Having already rebuilt a V12 Jaguar engine, he was looking for another project to do so, as we all do, he had a trawl through the ads on eBay and came across a part-finished Triumph TR6 project which looked just perfect. The lines of the bike were amazing, and it was from his preferred era of the 1970s-80s.
After a lot of research on the frame, it turned out to be a genuine Bunt and, heartened by this, he decided to bid. In a nail-biting race against other bidders he finally won it in the end, and then it was time to go and pick up his purchase.
Promising his wife a day out at the seaside, they travelled to Minehead in Somerset to collect it. The bike belonged to a guy named Graham Williams who had, sadly, recently passed away, and Linda, his wife, was selling the bike. She didn't really know that much about it, but a friend of theirs told Ian that Graham'd owned the bike for 35 years and had been hoping to restore it. He promised to do it in such a way that Graham'd be pleased with, loaded it up and headed back home.
Once it was back at his gaff, he set to and began to give it a proper looking-at. It had a lot of potential, but required a lot of engine work (as you can probably imagine), some parts making, a complete rewire, and repainting. As standard with a Triumph it had oil feed problems, and solving these took Ian and his friend Pete, a man who knows a hell of a lot about old Triumph engines, a lot of exasperated hours to solve. They decided that the best course of action would be to return the TR6SS motor, a US model made from 1962 to 1966, to standard trim in an effort to keep it tickety-boo, and to do this required the purchase of a new cylinder head (which had to be obtained all the way from America), new barrels, a new carb and new cases. This returned the engine to TR6SS spec, and with that done they set about bringing the rest of the bike up to standard.
The frame was stripped and checked, and so were the single cap Mustang tank and both mudguards, and all of them were smoothed and prepped ready for Pete to drown them in a gorgeous metallic blue. All the chrome and stainless parts were repolished, new stainless steel forward controls were made, and a new wiring loom constructed and hidden away from view as best they could. That wonderfully mad seat is a Highway Hawk item, and those springer forks are lo-oo-ong!
Article continues below…
Advert
With the Triumph completely rebuilt and looking as though it'd been built back in the Eighties only yesterday, the next job was to take it to get it through the dreaded MSVA (the Motorcycle Single Vehicle Approval scheme that the Government set up, basically, to make life piggin' difficult). As you can probably imagine if you've ever tried to get a bike through it, or spoken to anyone who has, it wasn't at all easy to get the Trumpet past the legality Nazis but, after three different visits to the office at Southampton and myriad adjustments, the bike was finally passed.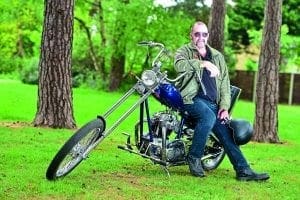 Riding it, Ian says, is an interesting experience. It's a proper chopper – six foot six between the wheel centres, and eight foot eight overall – and so not for the faint hearted; "mini roundabouts are definitely a test for the rider!" but, 
he says, it's well worth the effort to be riding a genuine '80s Uncle Bunt chopper.
Graham's wife and friends are really pleased with the completed bike, and are happy that his vision from all those years ago is now on the road, even if it's not under Graham.
So that's the story of the build of Ian's TR6 – a story of toil, of sweat, of curses, of skinned knuckles and trapped fingers. He's more than happy with the way it came out, and the journey that he and it went through along the way. His wife though has one regret; despite what he promised on that first and fateful day, she never even got to see the sea.
Article continues below…
Advert