With just a few days to go until Motorcycle Live, the UK's biggest bike show at the NEC, Birmingham from 18-26th November, we can announce that the line-up for the BSH Custom Xtreme stand is an absolute cracker!
We will have (deep breath) Mooster's two mega rats Genocide and Fugly, Burtz' Bonneville bobber (issue 401), Outlaw Customs' shotgun-framed Harley (yes, really), APE 7/11's incredible Vincent cafe racer, the BSH project bike that Mr Bridges has been building in his project articles,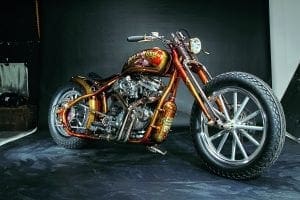 Destiny Cycles' stunning 'Gold Rush' (pictured left, that you can see in all its glory in the January mag), Grub's BSH Build-Off bike (issue 402), Shaun Barley's new Brightona-winning cafe racer, and a stonking little bobber from Sledhead Bobbers.
As well as that there will be the five winners of the BSH Bike Building Champs, and the lovely little Herald 250 that we built last year and Herald donated to the NABD (National Association of Bikers with a Disability) which is being raffled off to raise money for the charity – tickets cost just £1 and you can buy them at the show.
A new range of BSH merchandise is being launched there too. Come up and say hello!
Advance tickets cost just £19.50 adults (£12 seniors, £1 for 11-16 year olds, FREE for children aged ten and under), or there's also a £25 advance ticket, which includes entry to the show and a Spada bag worth £29.99. And visitors who buy on-site car parking in advance will receive a voucher for half-price admission to the National Motorcycle Museum, which is adjacent to the NEC.
This year, the ticket price remains all-inclusive and advance buyers will not only benefit from significant savings in comparison to the on-the-door price, they will also be in with a chance of winning one of hundreds of on-the-spot prizes in the show's 2017 Golden Ticket promotion.
Article continues below…
Advert
They've also announced that there will be the biggest and best freestyle motocross (FMX) show they've ever done, featuring the best athletes in the sport, and, of course, it's free. Performances will take place twice daily on weekdays (noon and 2.30pm) and three times a day at the weekend (11.30am, 2pm and 3.30pm).
To book call 0844 581 2345 or visit www.motorcyclelive.co.uk
Article continues below…
Advert