Anyone who's been to any of the bigger events this year (and a fair few of the smaller ones too) will no doubt have seen the two gentlemen responsible for the creation of this bike; Roy Gilby from Stondon Choppers, the builder, and Dave Harvey, the owner. They're quite easy to spot as, usually, they look so rough they'd give bears' arses a bad name, says Nik Samson…
The pair of them have turned up at custom events the length and breadth of the country, Roy on his black goose-necked bike, and Dave on the machine you see in front of you, and between them they usually managed to come away with a fair amount of silverware – no mean feat for a pair of radical chops that've been ridden everywhere. (They've usually made a good attempt at drinking the various events' bars dry too, hence the above statement.)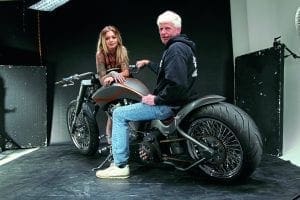 I first met them at the Bum In The Mud rally in a cold and windswept Essex back in April. The following weekend they arrived at a very damp BMAD Paignton Bike Fest, and a week later they rolled through the gate at the NABD rally in Cheshire too – all three events a good trek from their native Bedfordshire. Especially on hardtails. In the rain.
Rather than me witter on about the bike, I'll let them tell you the story in their own words. First up, Dave, the owner: "I had an idea for a custom I wanted built. It had to be long and low, so I set about getting a frame built along those lines, and in the meantime I started collecting all the bits and pieces needed to build the bike. After a couple of months'd passed I went to collect the frame and the idea was to drop it, along with all the other bits and pieces, off at Roy's workshop (well, double garage) – aka Stondon Choppers – and get him to build it up. Unfortunately he was busy with his own bike (the long goose-neck chop) at that time so I had to take it all back to my garage, and wait for him to be free. As the weeks passed I kept looking at the frame I'd had built and came to the conclusion it didn't look right… in fact, more than that, it looked shite – the whole back end and seat position was wrong, and the more I looked at it the uglier it became. I got Roy on the blower and said to him 'come and get this frame before I take a grinder to it and chop the f**ker up'. He did, and what you see before you is the result of his hard work, done in just six weeks before the first show of the year!"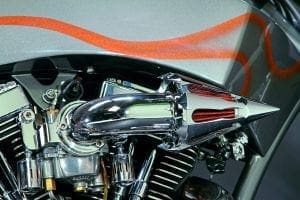 Okay, Roy, you're up: "Once I'd got the frame back at my place, I could see what needed to be done with it. It was actually very nicely made, but he was right – the back end didn't sit right, and the tank needed to flow into the seat somehow. I set about cutting off the rear end, and replacing the rear spindle brackets with enclosed ones. Then I cut off the seat loop, and remade that section, carrying on the frame over the rear wheel to try and make it flow a bit better. Once the tubing was done over the wheel, he could see what I meant and was happy with it so I continued and plated in the sides with metal to keep the flow and shape with the tank. The built-in oil tank was a challenge to get it looking cool, but I added a sight tube and drain plug just to make it easy to change the oil, and modified it to let the chain clear it. I'm not a lover of messy-looking welds so on 99% of my builds all the welds are ground and filled – a bit anal I know, but I just think it looks cleaner, and I can't do cable-ties so all the wires are hidden in the frame where possible.
"The front and back ends didn't need much looking at as they were bought in as is from the States, but the 'bars were just two bits of bent tube so I added enough metal to get some idiot lights between them. Dave bought the master-cylinders and hand controls from the USA, as well as the two-inch primary, the RevTech six-speed gearbox and hydraulic clutch, and of course the 1340cc S&S Evo engine. He already had the billet forwards, also from the USA, from an earlier shopping spree.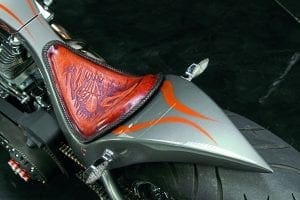 "The seat is by Rawhide Originals in Essex, and is hand-carved with a design based on the tattoo on Dave's arm. Most people comment on how cool it is, that's why you see him with his arm out trying to show people where the design came from… just in case you thought he was doing a monkey impression. The wiring is all custom-made with a Motogadget control unit and a few LEDs, and the headlight was picked up from an autojumble somewhere on our travels.
"I asked Dave to come over several times during the build to make sure he felt comfy on it, but we didn't really take into account how wide the handlebars were on full lock. Luckily his arms are longer than mine so he can handle it – I can't even ride it in a straight line as they almost instantly go out of my reach… or is it my midriff getting bigger?
"Once the rest of the bike looked cool, it was time for paint. I had a colour in mind, but when I told him about the pearl metallic grey I could see the look on his face – he wasn't convinced.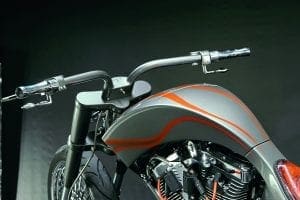 I talked him into it, though, saying 'trust me', and he did. I did say that I'd only ghost in the flames in burnt orange, but f**ked that up when I started painting them – bit too heavy… Anyway, I continued, using 'normal' orange with a coarse silver added, and I think it looks good. Mind you, I wish I'd paid more attention in art at school as I can see what I want, but just don't have the skills with an airbrush to do anything fancy.
"I'd mocked the whole build up before paint so the final assembly was almost a breeze – I just had to call Dave back over to help me lift the engine in for the final time. After that was done, I told him to piss off and not get in my way… well, he has hammer hands!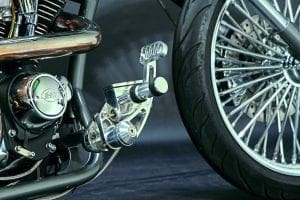 "All the test runs were okay and it performed flawlessly… until it was time to go to Belgium in the pissing rain – the carb filled with water and the bike died on the A1 at Hatfield. After stopping to get it running again, we came off at the next slip road and stopped to find our mates Will and Steve. Well, I managed to stop… Dave didn't. His choices were to hit me or go for the grass where the lads were standing – he chose the grass, and the bike went flying past me on its side, cutting the grass with the primary. From that day onwards, it's had a new nickname – Flymo!"