Remember those inline fours built in Great Britain under the Indian name a couple of decades ago? This is the guy who started the whole project back in the early 1990s under the name Wiking, with bikes based on 2000cc Volvo engines.
Word and pictures: Charley Charles
Sture Torngren of Stockholm, Sweden, is 71 years of age and was the editor and owner of Wheels magazine (featuring mostly V8 cars and a few custom bikes) from 1977 until 2003 when he sold the magazine and retired. Today he spends most of his time tinkering with his home-built engines based on car parts and specially cast engine cases, cylinders and heads.
During his time as editor, he was always starting new car and bike projects for his magazine. One was a Volkswagen-based motorcycle he named the 'Folkhojen' (People's Bike) that he still owns and rides. "I've always liked to do things differently from everybody else, and besides, I thought Harley parts were ridiculously expensive. Also four-cylinder engines don't vibrate as much as twins do."

The VW bike project continued for a few months in Wheels until it was ready for the legal inspection. Sture was also an energetic spokesman for more lenient bike and car customising laws, and had several meetings with the Swedish government to protest against lots of stupid rules. He butted heads with four different Ministers of Transport until he finally won the battle and founded the SFRO (Sveriges Fordonsbyggares Riksorganisation), the association for Swedish amateur car and bike builders, in 1982. Finally Swedish chopper riders could cruise around in complete calm without the earlier constant fear of the police, and long-fork bikes suddenly started showing up on the main highways instead of trying to hide on remote back roads – all thanks to this guy!
After the Volkswagen bike project, he started planning for a bike powered by Gothenburg's finest; Volvo. (Bonus fact: The word 'volvo' is Latin for 'I am rolling'!)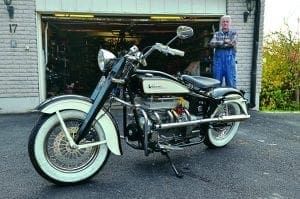 "I dragged home an old two-litre B20 four that they gave me for free at the local junkyard and took it apart. Those old Volvo engines were incredibly solid, at least as ruggedly built as Chevy V8s. I've ripped apart at least 15 of them and it doesn't matter if they have run a million miles and the oil looks like asphalt, all you have to do is clean them out and you're ready to go."

He cut off the cylinder part of the engine block, bolted air-cooled VW cylinders to an adapter plate, and had an aluminium head milled by the father of one of his friends. He then bolted the engine to a BMW motorcycle gearbox, and was ready to go. The frame was built by a couple of guys in the south of Sweden with a little business called Trike & Chopper who had also fabricated the frame for the VW bike. The Volvo motorcycle turned out so good that Sture and the Trike & Chopper guys thought it would be a good idea to put it into mass production.
"We wanted to cast our own aluminium engine cases, cylinders and heads with lots of cooling fins. Liquid cooling was never an option because I don't like the look – a real motorcycle is air-cooled! We produced a first series of five engines with innards from Volvo B20 (crankshaft, con-rods, pistons, cam, oil pump etc.), and a guy up north who worked with rally transmissions made special gearboxes for us."

Sture and the other guys registered a company that they planned to call Viking, but there were already lots of other products registered by that name so they called it Wiking instead. "We thought it sounded cool, but later some American guys told us that if you try to pronounce it in English, it sounds like you have some kind of speech impediment. Oh well…" The carbs are 25mm single-port Webers, and have made 74 horsepower on the dyno, while fuel-injected versions have reached 99bhp.
If you're about to launch a fantastic new motorcycle brand, you might as well do it in the mecca of the custom bike world – Daytona Bike Week! "Me and the other two guys took two Wikings to Daytona in 1997 and totally stole the show. All the major customisers told us the concept would have a great potential. Everyone cheered and applauded when we cruised by on Main Street, and Arlen Ness wanted to buy one of our Wikings. Complete hysteria!"

Back home in Sweden, reality caught up with the guys and they started having second thoughts. The job as editor at Wheels demanded lots of time and energy, and Sture was also a family man with no less than five kids, while the frame guys already had plenty of customers. Starting mass production of the straight fours would demand total commitment and lots of money. The guys agreed that it would be unwise to launch such an enormous project. "We let a guy in Scotland take over the whole Wiking project – an Englishman and former punk rock star who ran an Indian shop in Edinburgh. He bought three of the bikes and ordered engines and frames for another 15, and patented the Indian name in Britain, so now the bikes went under the name Indian instead of Wiking. But the guy never managed to make a profit. The bikes probably became too expensive to produce, so he had to ask unrealistic prices that very few were prepared to pay."

Today Sture is retired and tinkers with his straight fours simply for his own pleasure. He has three bikes ready to ride at the moment, and the last one he built is actually a flathead! "Just to find out if it'd be possible to construct your own totally unique side-valve straight four!" The flathead has the valves angled six degrees towards the cylinder in order not to make the combustion chambers too large, still compression is only 5.5:1 which gives typical flathead characteristics.
And as you're reading this, another quartet of Wiking bikes are being put together in southern Sweden, he reveals. "My buddies at Trike & Chopper have sons in their 20s, so they have used the last remaining parts to build four bikes for themselves and their sons."
In a corner of his workshop is another half-secret project covered by a blanket. "It's just one of those senior citizen projects," Sture says, and finally lets himself be talked into removing the blanket. What the f*** – a V4! "Yeah, I bought a cast iron engine case from a 1970s Saab V4 at the junkyard, fired up my angle grinder right here in my garden, and chopped off the cylinders in a shower of sparks… while my neighbours called the psychiatric ward emergency team.
The cylinders and heads are from a Volkswagen, and I've had the camshaft custom made after my own design. I really believe in this concept. It's one of those things I just have to try before they put me six feet under…"