Back in March this year I was contacted by a good friend who asked if I'd be interested in doing a Grand Moped Tour of southern Spain in October? Of course, the answer was 'yes' and so the hunt for a suitable bike to do it on began.
Words: Ben Dyer; Pics: Simon Everett
I knew I wanted something custom and unusual so that it'd stand out from the crowd, as in all my mates' bikes, which are primarily custom Honda C90s. After spending days and nights trawling the internet, I chanced on a guy named Karl Elliot and his son from Redcar, near Middlesbrough, who were selling their newly built custom 2003 Honda Solo. Not heard of the Honda Solo? Well, it's not that surprising – it's a fairly obscure, import-only version of Honda's venerable Cub that has an almost conventional frame with a cantilever-style monoshock, and a 'proper' fuel tank, rather than one that looks suspiciously like that which you sit on a couple of times a day to relieve yourself of your dinner.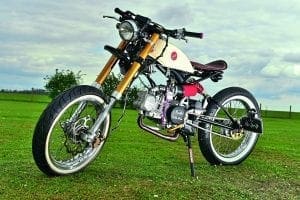 The bike they'd built was both crazy and cool enough to meet all my needs, having been fitted with a Daytona Anima 190cc race-spec engine, and the front end from a Rieju SMX 50 Pro, a small Spanish supermoto-style bike that has some rather nice bits, including a rather sexy upside-down fork ensemble. I really liked the look of it, and so began a ten-hour road trip which resulted in the bike coming home with me. I'd say that the bike was 95% complete when I got it, and was a credit to Karl and his son who'd built it this far to date.
There were a few odd jobs that had to be done before it was up for hitting the open road, mainly some electrical work and suspension set up, and the engine needed tuning. The engine is an aftermarket, four-valve, full-race version of the venerable old Honda Super Cub motor first created way back in 1958, and available in various sizes from 49cc to 124cc, and puts out a quite staggering 20-25bhp (a stock C90 makes about 8bhp…), and runs a 33mm Keihin carb with a Marchald air-filter, a programmable CDI with four selectable timing settings and five selectable rev-limiter settings right up to a 12,900rpm rev limit (no, honestly, 13,000rpm out of a four-stroke single!), a Yoshimura tuned length exhaust, and a Daytona Dyna Head oil cooler with braided lines.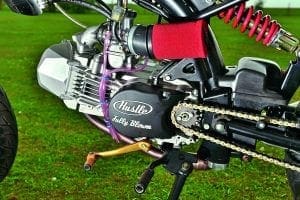 With all this extra power you can see why Karl and his son made sure they upped the power of the Solo's front brake too. There's a 260mm Galfer wavy disc from a Derbi Senda, and a much more powerful twin-pot caliper from the Rieju, and there's a billet Apico master-cylinder top to deal with the increased brake pressure. Renthal 'bars replace the stock ones and are lighter and stronger, and there's a Daytona quick-action throttle, and a Koso Street Style LCD dash.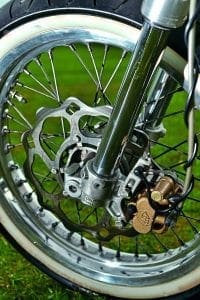 Article continues below…
Advert
It also needed a new front mudguard, and so I got hold of a carbon fibre one from a Triumph Bonneville Scrambler that I cut down to fit, and there's a neat little leather solo seat from the USA, and a Gazi Suspension universal adjustable monoshock unit, while the tyres are whitewalls (Continental ContiGo 100/80/17" front, Avon Road Rider 110/90/18" rear). Once completed it was MoT time, and once the tester'd spent a good 45 minutes walking around staring at the bike, it passed straight away, as you'd expect really.
As you can imagine the bike is just as crazy to ride as it looks; it pulls through every gear, wanting to wheelie as it goes, and tries to throw you off the back of the seat. The 190cc race engine produces unbelievable power and noise for its size, and the bike weighs next to nothing. I'm not a small chap and it goes like stink even with me on. And, surprisingly, it's actually quite comfortable too. I'm actually writing this before we head off to Spain, and so I'm going to fit a digital oil temperature sensor before we go, as the Daytona motor has a very fine tolerance at operating temperature of around 90C. I'm also thinking of sitting a set of seat springs to the seat too, just to further the cushioning on the old rear end for racking up all those kilometres. Wish me luck!
Article continues below…
Advert