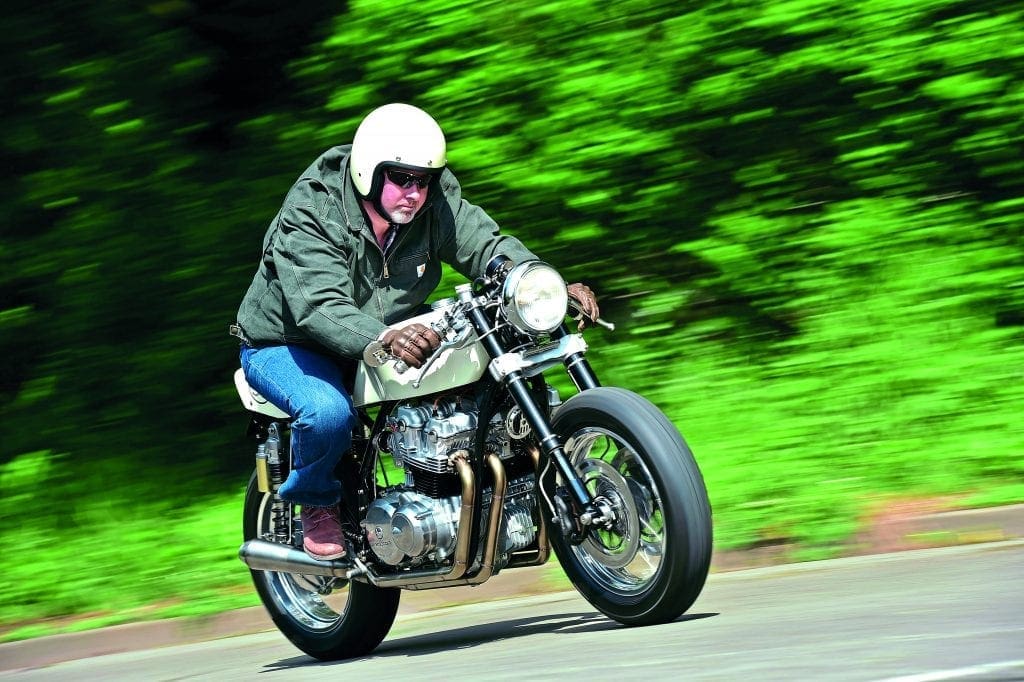 For years I'd been reading magazines and trawling the internet for cafe racers and found that with almost all of them I thought things like "I'd've done that like that" or "I wouldn't've done it that way", and so on and so on. We all do it, don't we? There comes a time though when you have to walk the walk and not just talk the talk and so began the creation of CB Cafe Racer 54.
Words: Dave Lawes; Pics: Simon Everett
I bought the base bike, a 1979 DOHC Honda CB750, a number of years ago from eBay as a non-runner – £281 it cost me, and I had to go to Kesgrave in Ipswich to pick it up. I knew what I was going to do, I had a number of requirements in my head…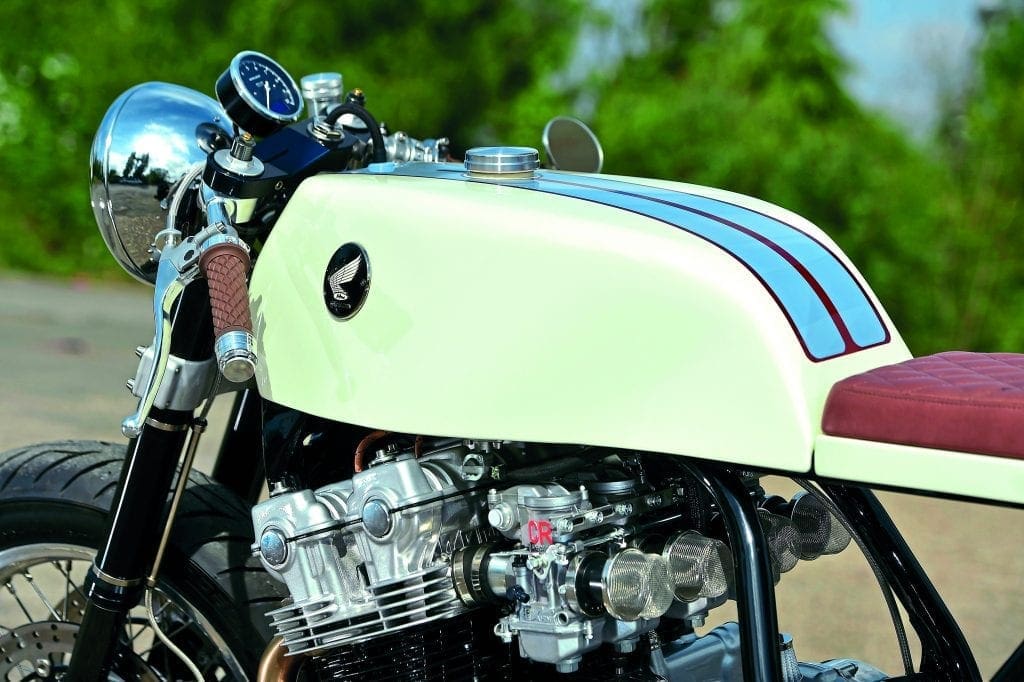 Firstly, it had to be minimalistic – anything that didn't need to be there had to go! I spent many hours chasing this goal as there was a lot of superfluous crap that needed to be cut away, while still making it look as though it was 'factory'. This involved cutting and shutting three perfectly good cam covers to get rid of the original rev-counter cable boss, to name just one thing, and modifying the frame cradle to name another as I hate the way Honda'd decided to make one side of the engine cradle removable – great for taking the engine out, but crap for frame rigidity and, let's face it, these old Hondas needed as much help as possible on the handling front. I'm sure having frame tubes joined together with a couple of flat steel plates and a couple of bolts isn't conducive to helping to cut down on those 1970s/80s weaves I remember so well. The wiring and electrics needed hiding, of course, and there are so many small things that've been done that I've almost lost count of them – most people don't notice, but what they do notice is the clean, minimalistic look of the bike, which I'm pleased about as that was what I was going for.
I wanted to incorporate certain predetermined motorcycle styles that were in my head; huge headlight, long '60s-style race tank, short narrow rear seat/seat unit, drop bars, up-to-date forks/brakes/rear shocks, wider wheels and up-to-date tyres, but also wanted it to still have a flavour of the old school too – equal-sized wheels 'n' tyres, minimal electrics (but reliable), everything possible made from stainless steel, the list just went on and on.
One of the most important things to me on this build is that I made, welded, painted and designed just about everything myself, and even parts that were from Honda have my mark on them. Sure, I had some help here and there, but 95% of the build is from me, made by me, fabricated by me, and painted by me. I think if you build bikes it needs to come from a desire to make/own something that you know is right for you; it takes drive, but it can be done at home in your own garage.
Riding the bike, I was surprised how well it handles – it's a bit top heavy compared with today's stuff, and a bit slow steering, but actually it's really quite nice. And, yes, it's still heavy even though I've thrown away maybe 50% of the original bike – the guys who ride the original stuff must be made of sterner stuff than me! The front brakes are great but then they would be, coming from a new ZX10R Kawasaki, and the riding position is okay for a cafe racer… but I wouldn't want to tour on the old girl! And the exhaust note? Mmm, shall we just say true to form? It's loud, but oh so cool, and pops and bangs on the over-run, just as a real '70s/80s race bike should.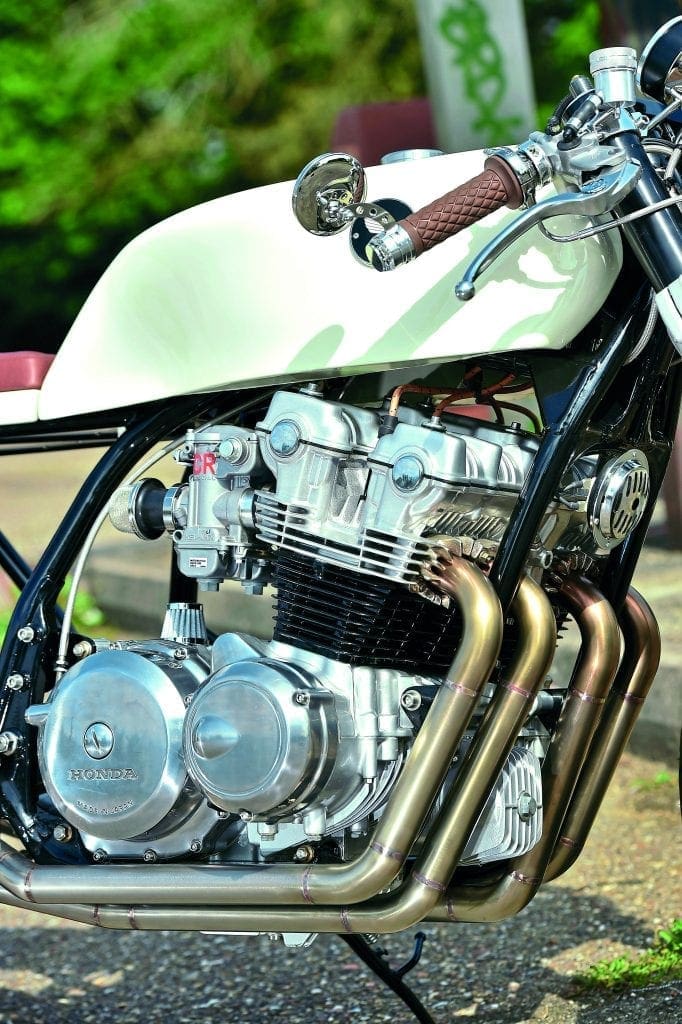 It's been well received at the custom shows and the people (well, most of them anyway) who come and chat are very complimentary and lovely people. Yeah, you do get "I don't like that" or "I could've done that better", and that's all fair enough – everybody is entitled to their opinions, but some go further and want to criticise which, again, is fine as long as they could do better, but it usually goes something like this: "So, is your bike here today?"
"Err, well, no, I'm still building it…"
"Oh, do you have any pictures of it? I'd love to see your work, your ideas. How did you make your exhausts? What welder do you have? Oh, you don't have a welder? Okay, tell me again how I should have done my exhausts?" It seems you will always get them – I talk to them and I'm polite, but I much prefer to talk to the guys and girls who really appreciate what's involved, you know? The guy who has something in his shed that he's had for years and years and loves to death, has tried to do stuff to it to make it his own – I love that kind of proper person, who just loves bikes and doing what they can with what they've got.
One thing that has come from the shows is the same questions over and over again: "Do you do this for a living? Where are you based? Can you build me a bike?" Maybe I should think about it – I loved building this one. If there's anyone out there who's serious, drop me an email to [email protected]