Rick cheers up gloomy post-holiday January days with memories of his sun-drenched trip to Spain, and offers a few pointers to BSH readers who might like to try the journey this summer!
Being the sort of person who likes to plan ahead whenever possible, I did a lot of research into possible points of natural or historical interest within easy reach of the campsites we would be staying at.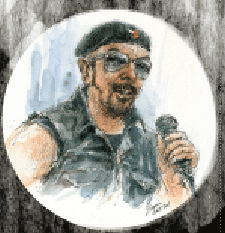 In the case of Camping Torre de la Mora on the Costa Daurada, near Tarragona, there's an ancient Roman amphitheatre that's still used to host open-air theatrical productions and live music concerts within easy walking distance. And, just to add to its appeal, it's situated on the edge of an exquisite sandy beach overlooking the beautifully azure Mediterranean. Surely, this was a sight that we must not miss! Still, despite our best intentions, we missed it!
After setting up our tents we headed straight for the pool, which just happened to be right next to the bar. Being a tad thirsty, and hating all forms of lager, I opted for a pint of vodka and lemon (anything smaller would have been superfluous to my genetically enhanced thirst), and this seemed to strike a chord with Mandy and several of our companions who decided to have the same. Before long, all thoughts of sightseeing were forgotten in a haze of drunken revelry!
It took a while to get us all moving the following morning. In amongst the dealing with industrial-strength hangovers and several cases of painful sunburn, my first-aid duties also included cleansing and dressing a rather nasty gash on the underside of my brother Bill's foot, which had been caused when he tumbled backwards down a rather steep embankment while taking an emergency shit in the undergrowth as he returned to our encampment in the early hours. Unfortunately explosive diarrhoea doesn't suddenly stop just because the host begins to do a series of backward somersaults… Thankfully he had showered before asking me to sort out his foot!
By the time we were all packed and fit to leave, there was no time left for any local sight-seeing. I made a vow that our next road trip would involve more two-night stopovers so we could enjoy a little more of local culture and history between our nightly Olympian sessions of binge drinking! Perhaps I'm just getting old, but it seems a shame to travel so far without taking time out to visit a few places of interest?
Our next planned stop was in Andorra, which is a little independent principality situated high in the Pyrenees mountains between Spain and France. It was to prove a somewhat challenging day! Our first problem began when we found that the road we'd planned to use to take us across Catalonia was closed. Not just 'temporarily closed for roadworks' but really 'Closed!' with four great concrete blocks across it! I can only assume that this was where the Euro-Loans money ran out!
The only viable alternative route had us heading back up the wonderfully steep and twisty roads over the Tossal Gros de Miramar and all the way back to the little town of Montblanc.
It took three or four circuits of Montblanc before I spotted a sign that put us on the right track, and it was with a certain amount of elation that we finally settled back into enjoying the scenery as we cruised along the C-14 for Tarrega. We had covered another 12 miles or so before Bill waved me over to say we had lost Dorian, our back-marker! As it transpired, he had actually broken down during one of our circuitous explorations of Montblanc, then the fairly twisty nature of the first stretch of the C-14 meant we'd covered quite a distance before anybody realised he was missing. The problem was further compounded by the lack of telephone signal because we had no idea where to start looking for him!
Eventually we found a small village with a sporadic phone signal and made contact. He'd already contacted his breakdown service and they were on the way to him so it was agreed that we would continue on to Andorra in the hope that he'd catch up with us there before dark. As it transpired, it was not possible for them to repair the fault so that proved to be the end of Dorian's trip. (He was the only one riding a Harley, so the breakdown didn't come as a complete shock.)
With each few miles we travelled toward them, the true grandeur of the Pyrenees began to show itself more clearly. By mid-afternoon we'd entered the foothills of this spectacular mountain range and every bend in the road opened up ever more breathtaking views. I have long been annoyed by the casual misuse of the term 'awesome' by people who will use it to describe anything from a mobile phone app to a night out with friends, but while riding into the Pyrenees mountains there's no other word that can truly encompass the beauty, the exhilarating grandeur, and the immeasurable timelessness of such scenery. Truly awesome, in every correct definition of the term!
As we approached the Spain/Andorra border there were small queues of vehicles at the three passport-control lodges. As our previous experiences of travelling through Europe had led us to expect the only active border control to be at Portsmouth, we had to pull into a lay-by and dig out our passports from deep within our luggage. Then, as we remounted our respective machines, the Andorran police and customs people opened all of the barriers and wandered off for lunch, leaving us to ride straight through with nought but a cheery wave!
We only had one night in Andorra and it simply wasn't enough. Mandy and I made ourselves a promise that come hell or high water, we would be back there one day. I really wish I had the descriptive skill to adequately illustrate the beauty and magnificence of the scenery around Andorra but, sadly, it's beyond me. All I can say is that if you ever have the opportunity to go there, just do it – you certainly won't be disappointed!