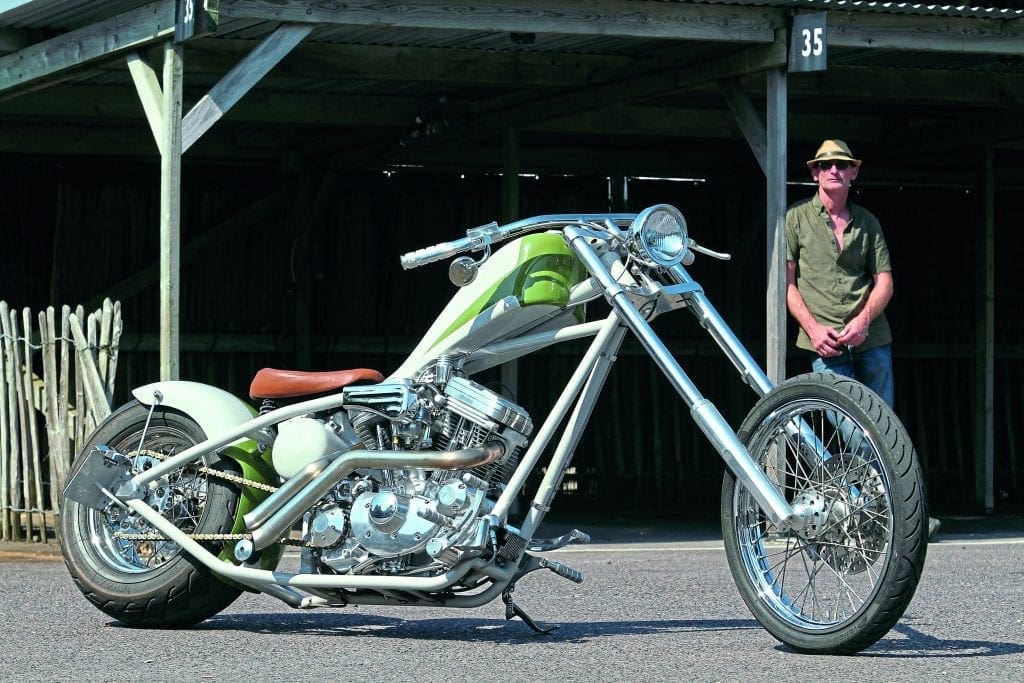 While buying an already-built custom bike has some advantages – not having to spend endless hours making/fitting parts, waiting for suppliers or trying to understand the dark art of wiring or any of the other endless headaches involved in bike building – there's one huge disadvantage; it'll never truly be your bike!
Words and pictures: Dave M
No, no matter how much work you've done since buying it, wherever you go, someone'll say "That's the bike that so-and-so built". Soul-destroying. And, as you haven't built the bike yourself, if there are problems then you'll not know it as intimately as if you'd built it yourself. However, there is a way to solve both of these problems, as Nigel Penn has worked out…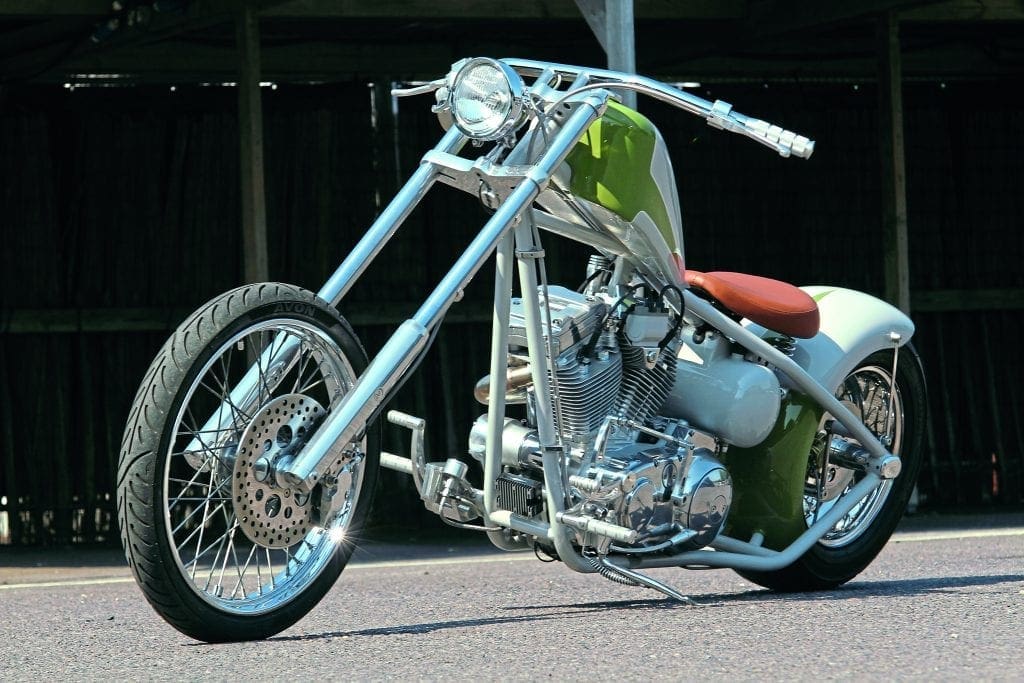 After he'd sold the hardtailed Honda chop that he'd owned for nine years, he started looking for something powered by a vee-twin, eventually coming across a Sportster-engined chop with a frame built by the well-respected John Parry at Cobra Engineering. It'd been on the road for a couple of years, so it had the potential to be just what he wanted; a chop that'd go round corners easily, look clean and simple, be aesthetically proportioned and be easy to keep clean and maintain. He doesn't want much, does he!
While he paid a bit more for it than he'd originally intended, he was confident that it'd save him time and money in the long run. He rode it for a few months, scrutinising various areas and deciding what he might change, before stripping the whole lot down, much to the consternation of his wife, Gina. You see, she didn't understand why a bike that'd cost several times more than their family car'd need to be stripped down and half of it thrown away. No, she didn't understand, but we do…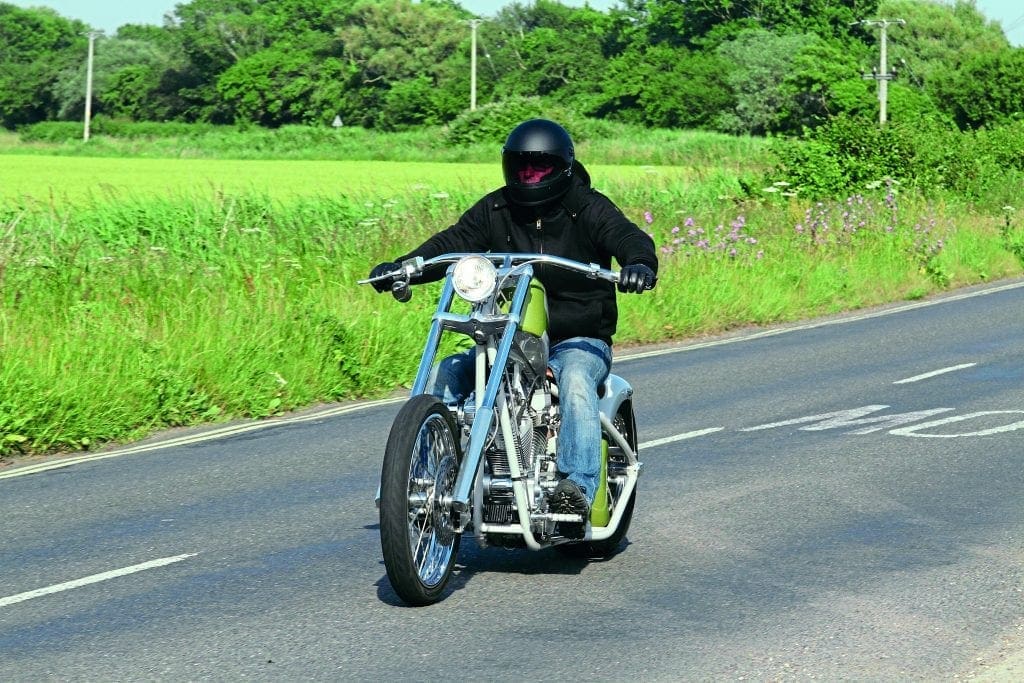 Nigel has some workshop experience, but he knew from the start that he required some machine shop experience, so he turned to his long-term friend Trev, who owns a precision engineering business in Worthing, for some help. He'd turn up with cakes and biscuits in hand (top bribery tip), and Trev's lads'd sort out various bits and pieces, including the badly scratched SJP forks that were on the bike, the yokes, and various other parts.
While the bike was in bits, he had a carpenter round to do some work (not on the bike, obviously). He happened to pop his head round the garage door, saw the bike and made a comment that his brother-in-law plays with strange-looking bikes: "He gets hold of a scrapper and then makes it look like a weird fish…" For regular readers, this will be ringing a bell and, indeed, some time later Nigel was introduced to the chap in question – yep, Paul Milbourn – and it wasn't long before he was enlisted to help with the project.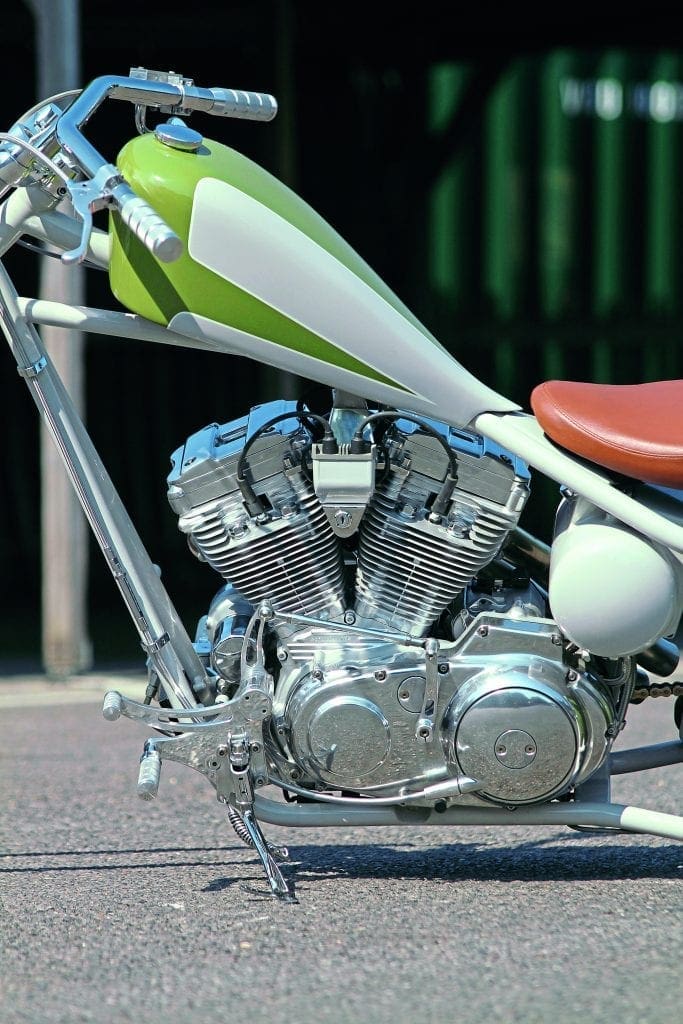 Aside from making the long swoopy fuel tank, with its fishtailed tail end, Paul also remade various other bits, and his long-term buddy, Steve, yet another south coast machine shop wizard, made the gearbox breather, the conical drive sprocket shroud, and the bar grips and matching foot pegs. The mild steel oil tank has spun ends, and rather neatly incorporates the battery and the majority of the wiring. Being rubber mounted, it also has a service tube underneath, through which the wiring is routed. Also bespoke are the handlebars, made in inch-and-a-quarter tube; bent on Paul's pipe bender, and fitted with an internal throttle, they're mild steel and subsequently chromed (along with a few other parts) by London & Brighton Chromers. The funky little mirror was actually found in the Europa kitcar catalogue, at a significantly lower price that those found in specialist H-D aftermarket catalogues, although it did need a bit of work on the mounting to make it work properly. While the major components were being made/modified/refreshed, the Sportster powerplant was sent to Grizzly's in Kent for a dose of Looking Over. It was originally an 883cc lump that'd been converted to 1200cc, but new valves were fitted along with new engine bolts. A one-off engine breather (which sits on the right-hand side of the coil mount) was made, along with an adaptor to make the S&S carb sit one inch further to the right just to give it, and the Paughco air filter, a different look to the norm.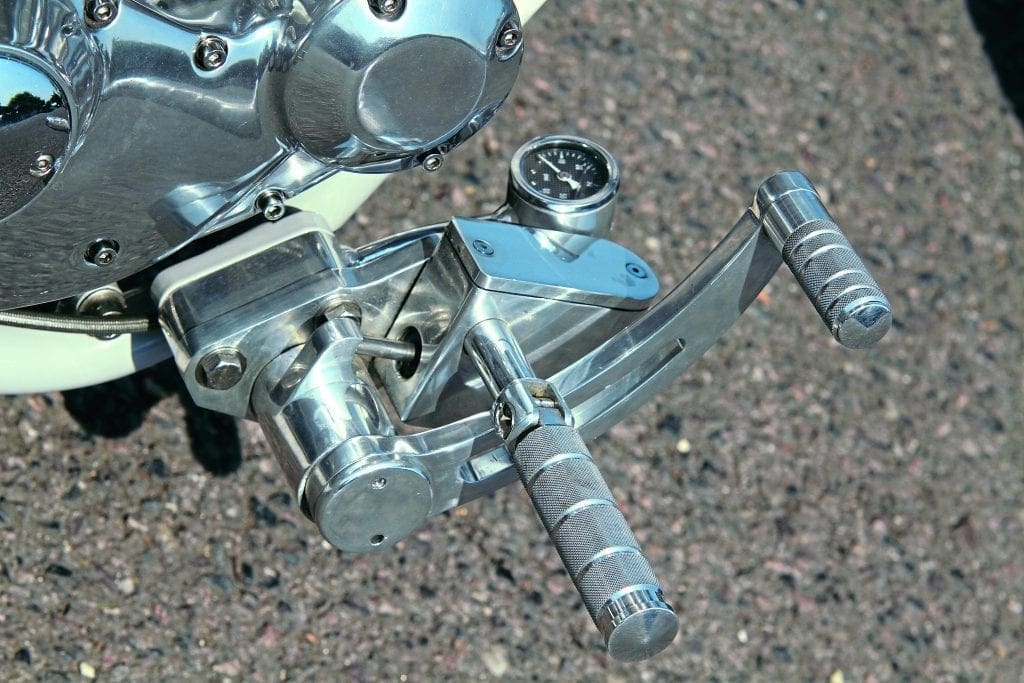 The body panels were passed to Clive at Total Paintworks in Littlehampton – Nigel suggested Olive Green as a main colour, and while Clive wasn't certain at first, when in collaboration with the Flint Grey it all works really well, and makes a refreshing change from black frames and oil tanks! The seat is a LePera, subsequently reshaped and recovered, although Nigel now thinks that, maybe, it should've had a bit more detailing… and maybe a slightly darker dye. While it took about two-and-a-half years to build in total, this did include times when he didn't go in the garage for weeks – when things went wrong, he'd walk away and have a good, long think about how to resolve whatever the problem was before returning. There's little doubt that this's helped the end result, as the chop's been problem-free since it was finished (with the exception of a minor weep on the gearbox selector shaft). And it's proved very popular when out and about too: "It attracts a lot of attention from young and old so I keep my helmet on and visor down, which does help to stop the conversations which usually follow."
But did it work out easier or cheaper than building from scratch? Well, there was some time and money saved sourcing parts, but there was a lot of graft involved. "I'm scared to add it up, but in my opinion it's the kids' inheritance invested wisely!"