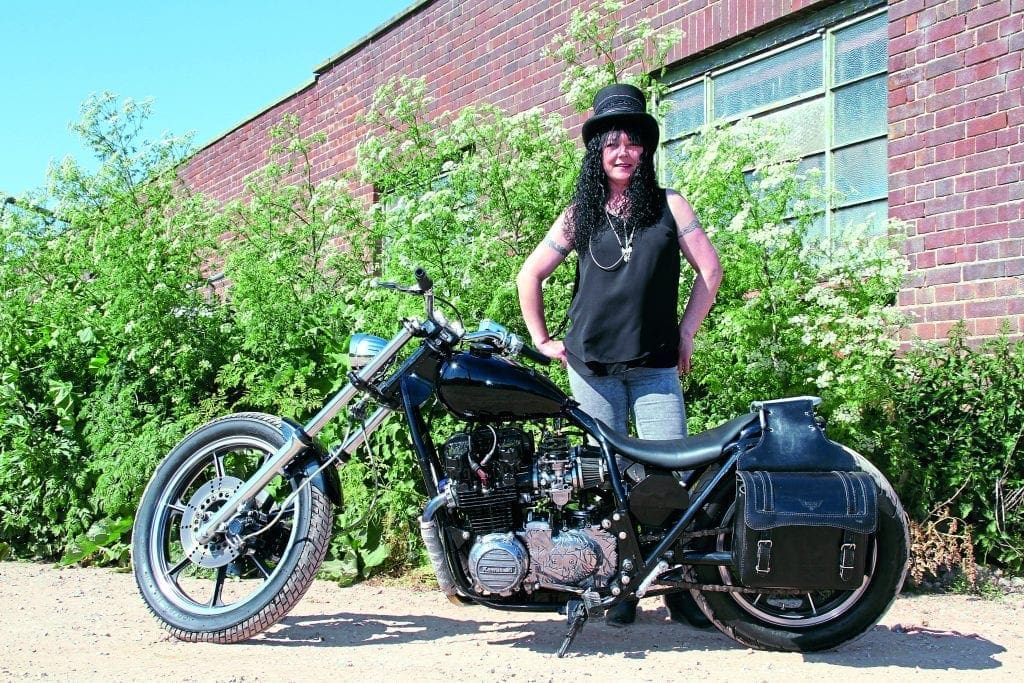 My bike, Mr Hardy, was built to be a 'Rescue Remedy'. I work in crisis and chaos in social services, and the impact takes its toll at times, but 2016 was the toughest to date – not just through dealing with others' trauma; I had my own personal share of relentless bombshells and almost broke under the pressure.
Words: Viki   Pics: Nik
Instead of going to the quack's for happy pills though, I went to the Copdock Motorcycle Show with my big brother Jay. I'd decided to get a long overdue prescription for reintroducing myself back into the biking world as I'd been without a bike for a couple of years, and'd kind o' lost my mojo. Being somewhat vertically challenged, my past bikes've been ridiculously too big (such as my MT350 – what was I thinking!?!), and I wanted something I wouldn't have to struggle on tip-toes on for once. While there I saw the BSH rat rod that Jim and Luke at Smiley Monkey Custom Cycles'd built, and went over to talk to them and, it turned out, they were just the tonic I was looking for.
I told them kinda what I was after, and they said they knew of a 750 LTD Kawasaki that they could adapt, and invited me to their workshop for a chat. To their surprise, I was knocking on their door the very next morning. I was in such dire need of a distraction to keep me sane and, ironically, ended up meeting two of the most insane fellas on the planet! During one rare serious moment, I suggested a rough idea of what I was after but, ultimately, gave them artistic licence to go create. The build journey was nonetheless epic! Laughter, tears and sheer disbelief were among many emotions experienced at my regular sessions in the workshop.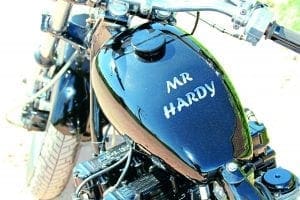 The fellas fell in with the naming of Mr Hardy as my tongue-in-cheek reference to the very accomplished actor Tom Hardy, not just because he's very fit, but also in homage to a film in which he starred – a true story called 'Stuart – A Life Backwards'. He plays a very dysfunctional character who battles addiction due to trauma, and although very fragile, keeps a sense of humour despite such adversity. Like the character in the film I too'd found a campaign to keep me focused, and at Smiley's, trust me, you need a sense of humour to keep up! Tasha, Jim's missus, helped me to decide on the finished look; we agreed on black purely as it coordinates with any colour I'd wear (daaaahling), and really contrasts with the creative camo design that Luke came up with for the casings (done with a 4.5-inch grinder… no seriously!).
One thing I did like about the MT350 was its gun/wine carrier. The fellas took this on board, and came up with a one-off rack design which lends itself well to a pannier being fitted. So, wine supply is no longer an issue – it even holds more bottles than the gun box did so I consider it an upgrade. I just strap the AK47 on my back these days – it's all about adapting and overcoming really.
Jim is quite particular with the flow and lines of a bike, and it was agreed less is more so I have no mirrors, indicators or speedo. However, I have devised a cunning mental speedo – I count the lines in the road to various song lyrics and tempos to establish what pace I'm at. Okay, so I'm not sure I'll get away with it when the plod pulls me over and I say "I was only doing 'Three Blind Mice' (30mph), officer", but we'll see…
Now I don't profess to know all about the mechanics involved in motorcycles but I do know and admire creative genius when I see it. I think that putting your trust in people to deliver a good outcome means that sometimes you just have to bite the bullet, go for it and invest in the process every step of the way. I've had to take the advice I dish out to others on a daily basis and apply it to myself, and bugger me it actually works! This particular distraction technique should be made available on the NHS; bike workshops across the country should be funded to offer Motorcycle Mindfulness to devastated and disillusioned folk in need of grounding… and, in my case, the lower to the ground the better.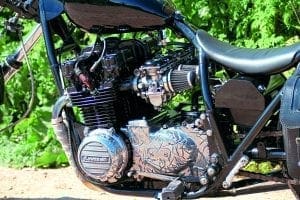 All jokes aside though, the creation of Mr Hardy has done me no end of good. I've met and continue to meet the most amazing people within the biking community, which I'd long been away from. Jim and Luke certainly have put the smile back on my face, and in turn I see others smiling when I roar up somewhere and dismount safely… rather than trying to fall off in style like I previously used to.
In conclusion, I can honestly say this is the best bike I've owned so far, and nothing beats knowing that I can ride Mr Hardy whenever I want (cheeky wink), with the added medicinal benefits of blowing away those complex cobwebs in life come rain or shine. For anyone contemplating a return to two wheels, my advice is don't delay, do it today – life's too short, and so am I.