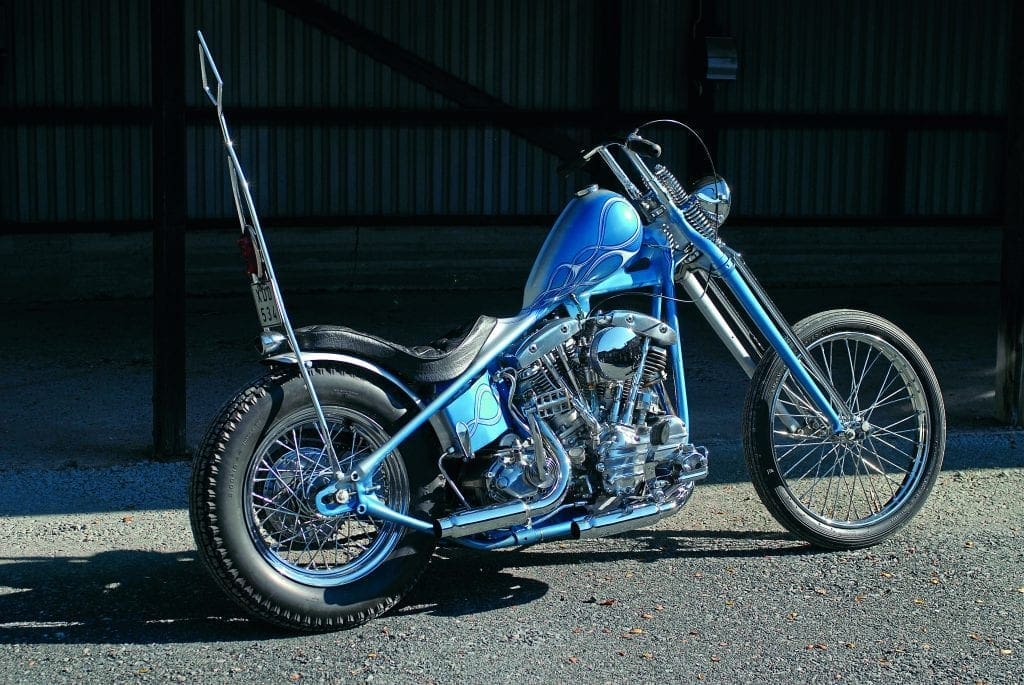 The '70s style may be hot among a lot of bike builders, but friends and colleagues Mike Gustafsson and Jörgen Hases from Sweden claim not to care about what's fashionable: "We're so uncool that we've built in this style for 15 years by now, and only lately have the younger guys started doing the same…"
Words: Charley Charles   Pictures: Siwer Ohlsson
We found these awesome bikes in a parking lot outside the show, rather than on display for the audience. What the f**k? "We got there so late there was no point in entering the bikes in the show," Mike says. "We had been riding 200 kilometres and had to stop at every single gas station – our range is only 80 kilometres (50 miles) or something, but making lots of stops is okay when your bike makes your ass hurt like hell after a while…"
Mike is 53 years old and rides the green chopper, and Jörgen is 50 and owns the blue one.
They both work as travelling carpenters (the world's second oldest profession, they say…) for construction companies, building structures for new houses, and spend their free time with their club Ghetto Choppers, which is them plus just one more guy known as 'Corner' ever since he once lived in an apartment in a corner. "He's a fantastic asset to our hobby 'cos he's a total collector who keeps visiting lots of American swap meets. His basement is full of hard-to-find custom parts and he can usually be convinced to sell some of his stuff."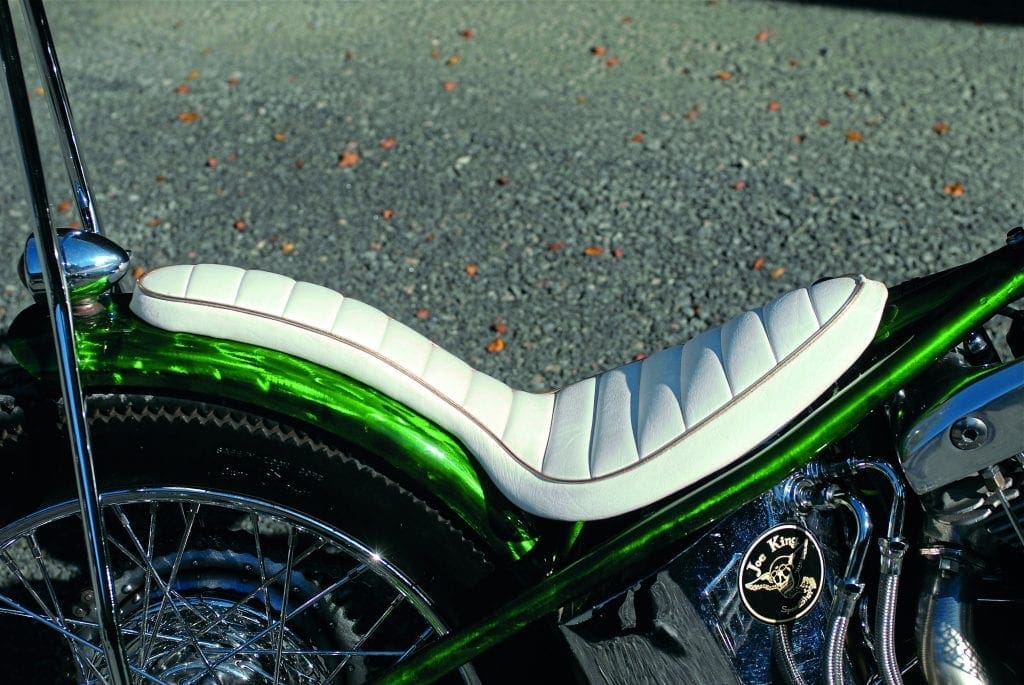 The philosophy among these guys is obviously a narrow and pretty tall style. They eyeball lots of old custom magazines and, of course, the internet, for inspiration, and their favourite time period is the late '60s and early '70s. "69 is a cool number, don'tcha think? Everything from those years is totally awesome except those really thick King & Queen seats – they will probably never make a comeback. We are aiming for an aggressive style with the sissy bar pointing straight up."
Mike calls his green chopper Bank Robber because it's so slim you can easily white-line it between the cars. He bought it in Stockholm a lot of years ago when it looked completely different.
"To begin with, all I was going to do was swap the forks, but today only the cylinder heads and frame remain from the original version," he admits.
One of the first changes was when he shortened the rear of the frame an inch and stretched the front downtubes two, to match his 184cm (a smidge over six foot) height. The gas tank was narrowed quite a bit to match the guys' mantra: "The slimmer, the better!" But things don't always get as slim as they want. "I'd've liked to have a real skinny Avon Speedmaster 2.75×21″ front tyre, but those are out of production and cost a fortune if you should find one, so I had to compromise with a three-inch Avon instead."
The unusual paint job is one of the Bank Robber bike's most eye-catching features. It's simply transparent candy apple right on naked metal – a classic old custom trick from the 1950s according to Mike. "Me and Corner sanded the frame and other parts all nice and shiny, then torched it with acetylene gas to get some interesting patterns from soot. Then, three layers of green candy. The pinstriping flame job was made by the travelling Italian custom artist Blaster on both bikes, he usually visits our home every summer."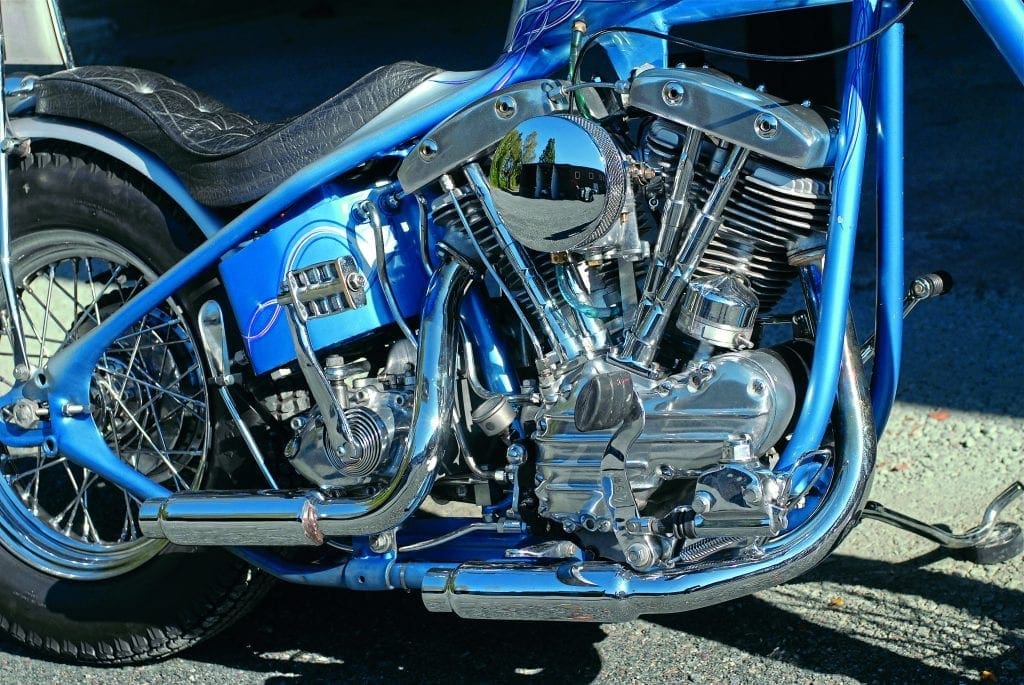 Jörgen bought his bike in Stockholm in 2010. It was ready to ride except the frame was bit banana-shaped, causing the previous owner to trash a few primary drive belts. "It's an old suspension frame with a hardtail. Guess they didn't get it welded on completely straight…" He straightened the frame and put the steering head angle back to stock, and he also binned the front brake, "front brakes are for chickens". This did have a drawback though: "Unfortunately it meant I couldn't use a beautiful SU carb like I'd planned. They stick out so far to the right side, and when you only have a rear brake to rely on in tricky situations, you better be able to reach the brake pedal fast…"
An S&S Super E was chosen instead, and the gas tank was welded to the frame with lots of filler to smooth it, according to the old ideals from around 1969. The paint job was made with simple rattle cans and covered in matt clearcoat.
Both guys are pretty much satisfied with their retro choppers, even if Jörgen says there are minor details that may end up getting changed. "If I had built my bike today, I probably would've used an 18-inch rear wheel. Maybe I'll get one next winter. But hey, that's the way with custom creations – they never get really finished!"