WE'VE got the best of the best for you this month as we unveil, in all their glory, the five winners of the 2017 BSH custom bike building championships!
If you didn't make it to the finals at Motorcycle Live at the NEC in Birmingham back in November, you can drool over the amazing creations – Best Chopper, Best Custom, Best New Skool Custom, Best Paint and Best Engineering – that got the most votes.
Be prepared to be scared (well, if you hid behind the sofa when Hammer horror films were in their 1970s heyday) by Nick Hailes' V-Rod, winner of Best Paint. Christopher Lee, Bela Lugosi, Boris Karloff, Lon Chaney… their nightmarish portrayals of Dracula, Frankenstein's monster and the Phantom of the Opera, together with other fearful beings (including Dave Vanian of The Damned!), will live for ever more on this phantasmagorical bike.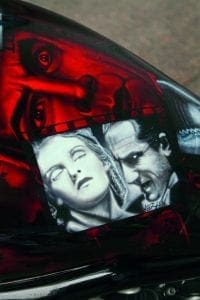 And if you think you can do better… well, look in the mag for details of how to enter this year's competition.
Talking of competitions, and horror, there's also the chance to win tickets to the latest Circus of Horrors show, Voodoo.
Editor Nik keeps the pot boiling on the subject of what to do with rally virgins (and no, putting them in a boiling pot is not one of his options) while Rick Hulse reports on the 2016 BSH project bike's new home, and the incredible amount of cash it raised when it was raffled in aid of the NABD (National Association for Bikers with a Disability).
Cover bike for March issue is a one-off Buell cafe racer from the creative mind and hands of Shaun Barley, the renowned Lincolnshire custom builder. But we've plenty more to tempt you with inside… check out a preview here:
https://issuu.com/mortons-digital/docs/bshero_30-01-2018?e=7600234/57761935
It can't have slipped your notice (unless you have spent the entire winter in the shed) that spring is on the way – so if you're looking for events to attend this year, there are pages of shows, rallies, parties and get-togethers already in the BSH diary, as well as reports from some of the top events from last year's rally season… maybe your picture's in this issue. This month there are two pages of readers' letters… anyone remember Kung Fu, starring David Carradine? Prepare to refresh your memory, Grasshopper…
If you're not already a subscriber to Back Street Heroes, why not sign up for a great deal today? By taking up our excellent subscription offer, you will save more than 15% off the cover price… you'll get the mag delivered direct to your door, too, before it hits the newsagents' shelves.