Planning a big biking adventure this year? Take Geoff Hill with you for a fascinating look at the world through his observant eyes.
Not strictly a biking travel book, although it does have bikes in it, the third of Geoff Hill's excellent travel books is a kind of a roundup of his many years as a travel writer, and is guaranteed to bring out the wanderlust in even the most hard-hearted reader.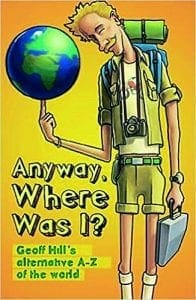 Taking in all four corners (err…) of the globe, he finds beauty and humour everywhere he goes, and the stories vary from rock 'n' roll, almost gonzo, to more traditional travelogues. He definitely has a way with words, a keen eye for what's going on around him, and an engaging and wry way of writing about it.
Anyway, Where Was I? – Geoff Hill's Alternative A-Z of the World is available from all good bookshops, and Amazon and other online retailers. One Amazon reviewer wrote: "As in his previous books, political comment, historical reference and general observation may be dispensed with a spoonful of the author's quirky and irreverent sense of humour, but they aren't diluted by it. So: `..the amazing thing about China, as Mao found, is that there are so many people in it you can remove millions of them without anyone noticing.' Or a typically Hill observation on the habits of Italian motorists: `Simultaneously engaged in a stormy marriage with the throttle pedal and a passionate affair with the brake, Italian drivers view pedestrians with the same sort of hungry scorn that lions view three-legged wildebeest. Hardly worth the effort, but may as well kill them anyway.'"
Another buyer of this book wrote: "A cracking read, makes Bill Bryson seem almost boring!
Biker or traveller, I defy you not to love this book."
Geoff's written a series of entertaining books, including In Clancy's Boots: the Greatest Ever Round-the-World Motorbike Adventure and the intriguingly named The Road to Gobblers Knob: From Chile to Alaska on a Motorbike. If you're stuck for a gift for a pal or partner, here's an option to keep that smile on their face.