There are people out there, strange, twisted people, who believe that colours other than black are eminently suitable for the painting of custom motorcycles. They are, of course, quite, quite wrong…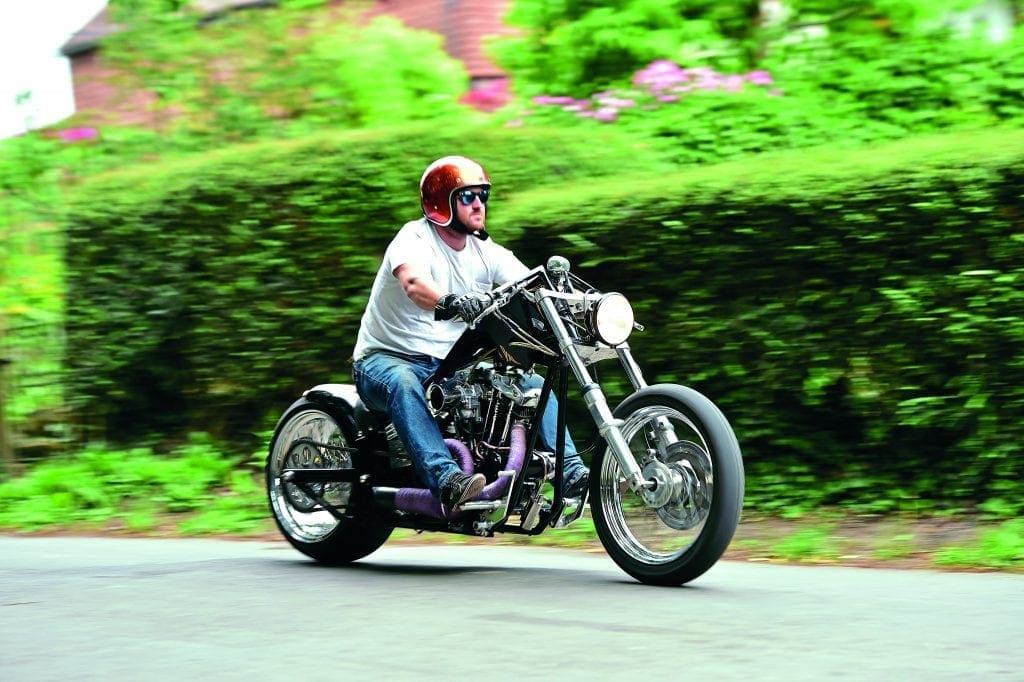 Pictures: Simon Everett
For Billy Perks, the owner and builder of this 'ere Ironhead Sportster, there could be only one colour for him to paint his newly rebuilt softail chopper, and doubly so when you realise where he lives; the medieval Kent hamlet of Ebony. I mean, how could you possibly live in a place called Ebony and ride a motorcycle that was, for argument's sake, yellow? Or orange? Or, ferfuxake, pink? Naa, his bike was always going to be black, wasn't it? Stands to reason really.
We are jumping ahead a little though, aren't we, talking about a process that traditionally comes towards the end of a build. Let's start at the beginning, shall we?
Back in 2008 (or possibly 2009, he can't quite remember), Billy was idly scanning through the small ads in the back of this very magazine (well, not this very magazine obviously as it's only just come out and wasn't actually on sale in 2008), keeping an eye out for anything that might grab his fancy, when he spotted a Harley-Davidson Ironhead chopper based around an SCS drag-style softail frame. It had exactly the lines he was looking for, and the price was within his grasp too, so he bit the bullet and, once he'd got the cordite out of his teeth, went along to see the seller and pressed an appropriate amount of the folding into their hand.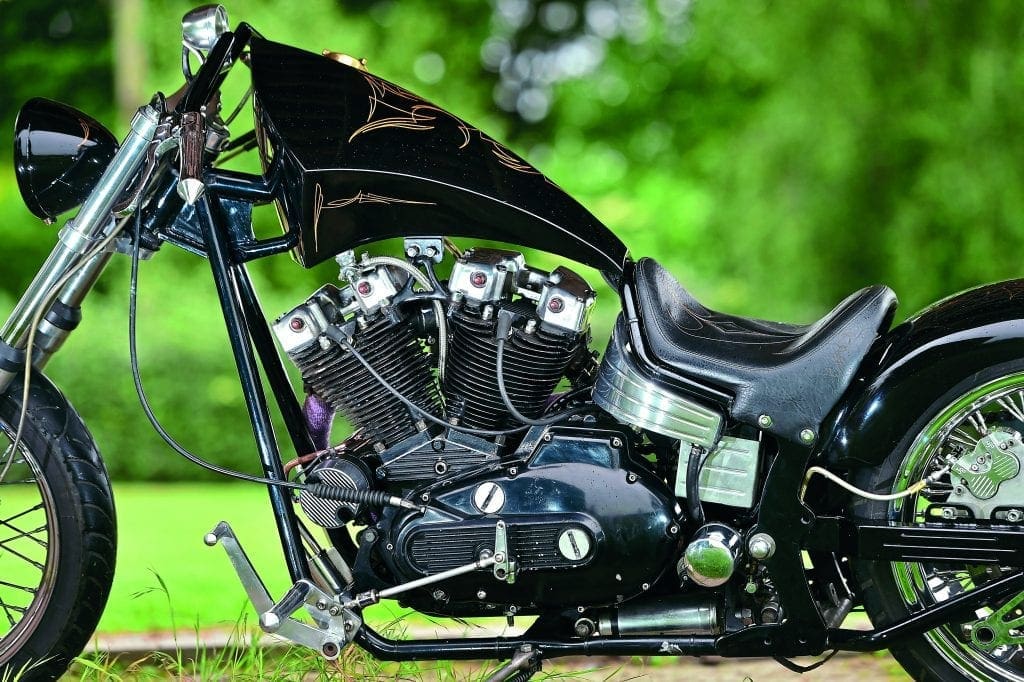 An unspecified time later, after he'd had a few issues with wiring (hateful stuff – the Devil's pubic hair…) and the beautifully sculpted tank starting to crack down its very centre, he decided to strip it down, fabricate a new tank and replace the loom. One thing led to another, though, and before he knew it, he'd somehow stripped the whole bike down to its basic components and was looking at a very comprehensive jigsaw spread all over his garage floor.
What was important, though, was that he didn't change the actual shape of the bike because… well, that's what made him buy it in the first place, wasn't it? All he really wanted to do was make it a bit more his own, and sort out any contentious issues that'd make his chances of getting to, or home from, anywhere a less than pleasant experience. That was the plan anyway – the fact that, by the by, just about every constituent part was to come under his scrutiny was just part of the process really.
He started by making, by hand, a new petrol tank that matched the old one perfectly (except for the crack, of course), and fitting a beautifully olde-worlde brass petrol cap from back in the day. This was done by bending and folding sheet steel, and then exquisitely welding the pieces into what is, it has to be said, quite a tricky shape, especially when it came to making the section that allows the twin throttle cables to pass through it, tidying up the run of the cables no end.
He then reshaped the rear mudguard into a more pleasing on the eye form, made new foot controls from aluminium alloy, and hand-crafted the two-into-one exhaust system using bends cut from the original 'pipes, and then wrapped it in the very purple exhaust wrap that gives the bike its only splash of non-monochromatic colour.
Next he made up a new loom to replace the slightly suspect one the Ironhead came with and since doing this, he says (frantically looking round for something wooden to knock on), he's not had any problems with it – the smoke, as they say, now stays firmly on the inside.
The last job in the rebuild was, as we've already mentioned, the paint; after much, much laborious preparation, he laid down the flawless black with its red metallic tint, and polished it until it achieved the deep, lustrous finish that it wears and which makes it a bloody nightmare to photograph due to its extreme reflectiveness. He also did the pin-striping himself too… the clever sod.
And the name subtly emblazoned on the bottom leading edge of the right-hand side of the tank – Ebony Hillbilly? Well, it's something that his father came up with as Billy was putting the finishing touches to the bike, and apparently describes him perfectly – he's from Ebony and he's a bit of a hillbilly… when compared with the other slightly posh folk from the Garden of England anyway. Now some people may look down their noses at anyone who they, often mistakenly, consider to be of a lower class, but I don't know about you, but personally I'd be quite proud of such an epithet, wouldn't you?