While many folk think that the opposite ends of the motorcycling world are road racing and custom biking, and that there is absolutely zero crossover, they're actually deceiving themselves in that opinion, writes Dave M…
Aside from the fact that bikes like those ridden by Marc Marquez and Valentino Rossi are among the most extreme custom bikes on the planet (ever thought how much of a MotoGP bike is one-off?), there are a fair few people in the racing world – and not just racers but team owners, mechanics, stewards, marshals, spectators, commentators – who are fans of each and every kind of motorcycling fun.
One such is Chris Edwards at Liberty Motorcycles in Blackpool. He's an ex-race mechanic, although these days he doesn't do much race-orientated work as the workshop at Liberty is too busy. Now, aside from retailing new and second-hand production bikes, he is also one of the enlightened; he builds custom bikes.
Rather than use a bike that he's very much used to stripping and rebuilding (either in a maintenance programme or due to race development and/or damage repair), such as one of BMW's S1000RR race rep missiles, he chose a more proletariat product of Bayerische Motoren Werke, an old airhead Boxer twin from 1985 for this project. It was bought, bog stock, and taken to Liberty HQ, just a spit from the flashing lights and stag do and hen night fleshpots of Blackpool sea front. While it was complete and running, it was in need of some serious restoration… well, either that or a brief and exciting meeting with an angle grinder.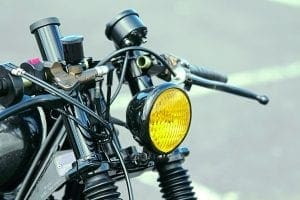 With all the usual BMW clutter removed (and old airheads come apart pretty easily), he could see the potential of the bike beneath and, with inspiration coming from a Confederate Hellcat and a Harley Night Rod that were sat in the Liberty showroom at the time, a process of heavy minimalisation got under way.
Most noticeably, he made up a single seat subframe that consists of a single loop, and little more. The seat is racing foam (a nod to his racing background there), while the battery is now underneath the gearbox, and the rear light and 'plate were relocated to the side of the swinging arm. If a subframe were any more minimal it'd be ethereal…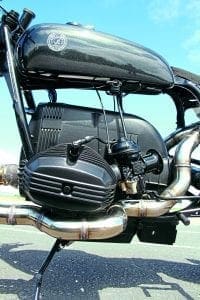 By simply removing the standard subframe and airbox, the flat twin starts to look much better, giving some open space above and behind the engine – an effect that's exaggerated by replacing the original (massive) fuel tank with something sleeker and more svelte. In this case, a fuel tank from a Yamaha RD200 two-stroke, which is just about exactly the same width as the R80's crankcases! This really emphasises the Boxer twin's sticky-out heads and cylinders, a look that's given greater significance by the one-off exhausts tucking under, and behind, the open bellmouthed carbs to end beneath the seat.
And, no, the pipes aren't as offensively loud as you might expect, given that there are no silencer cans, but give out a healthy, burbly thump that sounds unlike most Beemer twins!

Thanks to the shaft drive, the single-sided swinging arm was retained, as were the original bike's forks and yokes, although the original flat-plate top yoke was machined to rid it of any clutter, and to allow the forks to be dropped through, with just a neat Daytona speedo sitting between the RSD clip-on bars. One of the front calipers and discs was removed, and a huge amount of weight saved; Chris felt that the single two-pot Brembo, and the ZX-6R master-cylinder that operates it, would more than suffice.
With the Liberty workshop being big enough to allow him to have the bike on the work bench and still be able to stand some distance away to see what it looked like from a distance, it was felt that it still needed something a little different – something to give it more substance and character. Then, while watching speedway on the TV, he had an epiphany; solid wheels! Not wanting to actually fit new wheels, he took the original hoops and made aluminium covers to give the look of solid wheels, but have the convenience of ease of fitment of the standard rims and hardware. At first, you'd think this was an easy fix, yet it proved to be far more time-consuming than expected; in order to get the wheels perfectly balanced, he had to fix the covers on to the rims in the wheel balancer machine, carefully ensuring that the aluminium discs were positioned in perfect alignment before being permanently attached.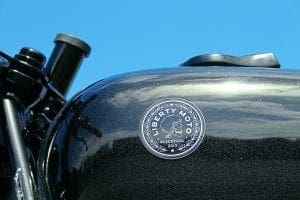 And then it was time to turn to paint. The plan'd always been to have something blacker than Satan's stools (both the ones in his kitchen and…), but he wanted something other than just a 'standard' black. There's a lot of high gloss powder coat and gloss black engine paint, but also plenty of very subtle metal flake as well – something that probably doesn't show in the pictures, unfortunately.
While the gent you see with the bike in these pics is, indeed, Chris, the Beemer has actually now been sold to his old mate, Blake, who moved from the 'Pool down to Poole in Dorset! That wasn't the end of Chris's Bavarian bike capers though as, after he showed this bike at the Bike Shed show in London, he had a number of orders for something similar. He's been out and bought a further five airhead Beemers, which are in the process of being converted, and one thing's for certain – however they turn out, we can be certain that there'll be racing influences applied to all of them…