It's been a few years since Sandy, the owner and driving force behind Triumph'ant Motorcycles in Wales, last had a bike in Back Street Heroes.
Pictures: Simon Everett
Back in the '90s and early 2000s, bikes he'd built featured quite regularly among these pages, but as his business, specialising in spares for Hinckley Triumphs, flourished the time he had available to create one-off bikes got less and less. He hadn't lost his old love of custom bikes though so when they got in a new Thunderbird 1700 with a badly damaged frame, but untouched engine, this was a perfect opportunity to create something along those lines again.
They had, lying around in the workshop, an old 1968 Thunderbird frame that'd been there for years. Sandy did a few measurements and realised that, with a bit of to-ing and fro-ing and the judicious application of a big 'ammer, the nearly three-times-as-large, capacity-wise, Hinckley-made twin would go into the space designed for the Meriden-made twin. Such a job though was a little much for his engineering skills, so he took the old frame and the remains of the new bike to his old mate Hank at Trike Design/Hank's Chop Shop in Caerphilly to see what, if they put their heads together, they could come up with.
In order to help the project advance he called in a favour from a mate, Dylan, at Longshore Engineering in Cornwall to make some svelte billet yokes to mount the modern front end to the old frame, and contacted All Bike Engineering in London to make a set of six-inch over stock fork tubes for it. The lads at Trike Design chopped, widened and generally reworked the old Trumpet trellis to get the later T-Bird back end and complete bodywork set on, goose-necking the frame to suit the look better, and once the bike was a roller, Sandy went and collected it and took it to Pete Sutton in Bath who made the kicked-up stainless exhausts.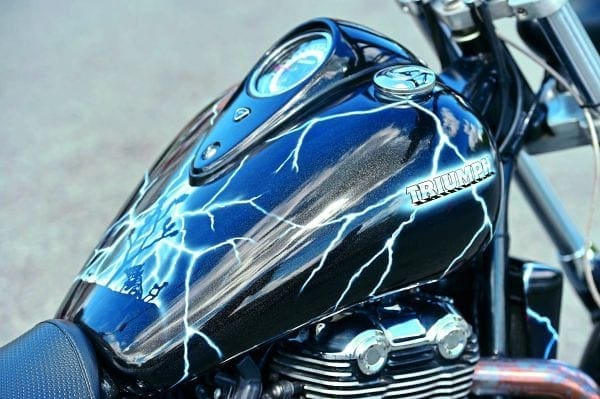 Once it was back at Pentre Bach, the dual-century Thunderbird was stripped down, and the frame and a few other choice parts (tank, dash, mudguard struts etc.) taken to motorcycle powdercoat specialists Griff's Reality Workshops in Bristol who offered a very clever metallic black powdercoat that looks like it's been painted. As soon as they had it all back, all the bodywork was taken to the hirsute and hairy Wolfie at Wolfie's Workshop to get him to work his airbrush magic over it. Wolfie made a lovely job of the lightning inspired by a trip Sandy'd made across the Arizona desert and through the Joshua Tree National Park, giving the bike a simple but striking look. The 'pipes went to Paul at Caerphilly Metal Polishers to be made as shiny as the paint, and a new seat was made by Diggers Custom Motorcycle Seats.
When it was all reassembled, MoT'd and test-ridden Sandy decided to take it to one of Trike Design's annual open days. From the moment he pulled up, loads of people crowded around the bike, taking pics. One of them was a gentleman by the name of Shades from the Valley Commandos MC; he took one look at it, and decided he had to have it. "How much, Sandy?" he asked, only to be told it wasn't for sale. "Everything is for sale with you for enough money," he said, "so how much?"
A deal was reached and, as you've probably guessed, the bike is now owned by Shades.
Last words to Sandy: "It's probably the fastest, best handling, best braking, and most comfortable 1968 Triumph Thunderbird there is… and it's tax exempt too!"
Triumph'ant Motorcycles are at A6/D2 Venture Wales, Merthyr Industrial Park, Pentre Bach, Mid Glamorgan (CF48 4DR), and their phone number is 01443 691666. Check them out online 
at www.triumph-ant.co.uk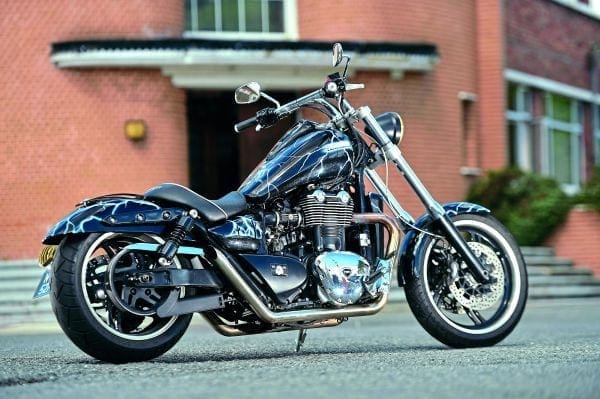 SPEC
Engine: Triumph Thunderbird 1700, one-off stainless exhaust by Pete Sutton, aftermarket radiator grille
Frame: Modified 1968 Triumph Thunderbird, goose-necked, stock foot rest hangers/foot rests/controls
Front End: Stock 19" alloy wheel/discs/calipers/master-cylinders/switchgear/clocks/instrument surround/grips, 6" over forks by All Bike Engineering, one-off yokes by Longshore Engineering, Goodridge brake lines, pullback t-'bars
Rear End: Modified stock mudguard struts, stock swingarm/wheel/brake/torque arm/master-cylinder, 10" black custom shocks, 200/17 tyre
Bodywork: Stock Triumph Thunderbird 1700 front mudguard/petrol tank/side panels/rear mudguard (modified), one-off seat by Digger Custom Motorcycle Seats
Electrics: Modified stock loom, black/copper Bates headlight, side-mount tail-light
Paint: Metallic black/lightning/Joshua Trees by Wolfie's Workshop (07799 573381 or Facebook)
Powdercoating: Frame/tank/dash/mudguard struts by Griff's Reality Motorworks (0117 904 2339 or www.realitymotorworks.co.uk)
Polishing: Caerphilly Metal Polishers (029 2086 7837)
Engineering: Frame mods by Trike Design/Hank's Chop Shop (029 2088 0885 or www.trike-design.co.uk, bike built by Triumph'ant Motorcycles
Thanks To: "Trike Design/Hank's Chop Shop; Pete Sutton; All Bike Engineering (0208 858 9052 or www.allbikeengineering.co.uk); Longshore Engineering (01840 212122 or www.longshore.engineering); Digger Custom Motorcycle Seats (01633 216360 or www.diggerseats.co.uk); Wolfie's Workshop; Griff's Reality Motorworks; & Caerphilly Metal Polishers…"