I hate writing articles, although I'm reasonably erudite and inventive. I can never really think of any decent opening sentences, or 'hooks' as Mr Samson puts it. I could write "this bike began…" or "it all started when…" but it's all a bit tedious, isn't it?
Words: Jim Ord       Pics: Nik
Anyway, once upon a time (oops, wrong story), my mate Buzz had a frame, this frame, in his garage. He'd got it off eBay and didn't know quite what he was going to do with it, but being Buzz was loath to get rid of it cos it was a bargain. I hassled him for about three years to sell it, but he was having none of it.
Time passed and, unfortunately, he got liver cancer. I sat with him every night and one night he brought up the subject of the frame, which I'd actually forgotten about (well, it'd been five years). "You might as well have it, man, I don't think I can do anything with it," he said, "after all, it'd be a bit of a job from the afterlife, wouldn't it?" I said I'd make it into a bike to remember him by, and after the funeral went to his unit and picked up the frame, got it home, and mocked it up to see what'd fit in it.
The top tube is only 20 inches from the bottom rails, and runs more or less parallel to them and this, coupled with the small diameter of the frame tubes, left me with very limited engine choices. I had an XS400 lump that fitted and, using a pair of GS550 wheels, got it up and rolling. It wasn't the shape I wanted, but I could see where I was going to go with it; where the seat was going to be, the 'bar shape, tank position etc., etc. I tried 21-inch wheels front and rear, but would've had to modify the rear so much to get them in that I might as well've made a new one – something that wasn't going to happen cos I wanted to keep it exactly as it was when Buzz gave it to me.
That was how it stayed for a while, as other projects came and went, and Luke and I started Smiley Monkey Customs, so it sat for nearly another year before I could get back to it. By this time, I'd gathered a few more bits together, including a set of AJS Daytona 125 cast multi-spoke wheels. Obviously I had to give them a go and, amazingly, using all the original spindles, spacers and speedo drive, they went straight in. No mods, no nothing!
I wasn't very happy with the XS engine and the way it sat, and when I found out the price of spares, especially for a set of carbs, it was time for a change of plan. I'd thought about using a 400 Super Dream lump as, after all, they're reliable, on par with the 400/4 of the time, and, most importantly, every man and his dog'd owned at least one which meant that there'd be millions of the f**kers out there… or so you'd think. Trawling through eBay revealed a major flaw in my plan – every man and his dog HAD owned one, and every one of them'd blown them up or given them away or simply left them to rot. Engine-only deals were non-existent, and a complete bike was only slightly less than Theresa May's settlement bill for coming out of Europe! Some time later, I was at a local show when my eager for a bargain eyes spotted… the Super Dream Owners' Club! After chatting to some really excellent gentlemen for a short while, I walked away with a deal consisting of a fully rebuilt 400 lump, a set of 250 carbs, a reg/rec, and two downpipes, for £200! Nice!
The next morning, within an hour of getting into work, we had the engine in with new mounts, a carb steady, and new 'pipes courtesy of a stainless foot-rail from the clubhouse. I needed a tank with a really low tunnel cos the rocker cover's just under the top tube and, fortunately (again), someone'd dropped a load of bits in for a project and then never come back, and in the pile was a tank made for the job.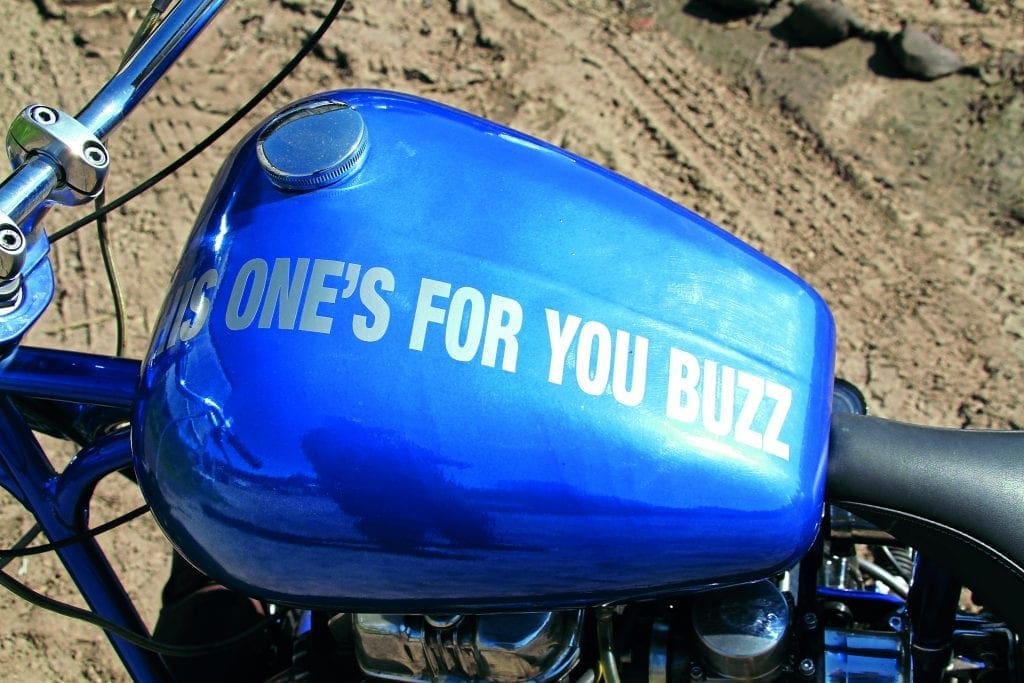 The rest of the bits flowed along quite nicely; 'bars, controls, hydraulic clutch conversion and a load more from Geek (the Chinese online supermarket app for your 'phone – it's ace!), a Harley rear 'guard from Knocker (adapted by us), and a new seat base (covered by our usual guy Mick Slysnake), an offset front sprocket bearing, and all the other bits of engineering were done in-house.
The lovely Tash, my good lady, wearer of towering heels, and our colour consultant, fancied the bike in chrome with a black motor, so off to the powder-coaters it went and came back all shiny and sparkly. Job done… or so you'd think. We got it all built up for the final time, and were just about to turn the key, when we noticed what we thought were tiny scratches in the lacquer. It turned out it was crazing in front of us, and within half an hour the frame was covered in it. Cursing, we stripped it right down again, and took it all back to the man. It was all re-done and, once again, came back all shiny. Excellent. Well, you'd think so, wouldn't you? F**k me if it didn't do exactly the same thing – at exactly the same point in the proceedings. We stripped it down again (again!), and took it back to the powder-coat man, "Hello Steve, can I have it in blue this time, please?" We put it all back together again, for the third time, and since then it's been brilliant. Somebody (Buzz, I reckon) didn't want that bike to be silver…
Well that's the story really. After finding a set of 400 carbs, it's got great performance for a little engine, brilliant mpg (55 at just over 80mph), and it'll touch 110mph carrying a fat fugger like me! Unfortunately last year, on the way to a Chopper Club run, I ploughed into an Audi on the M25 at about 70mph, trashing it, but since then I've been paid out, and bought the wreck back, and it's well on its way to a second incarnation. Watch this space…