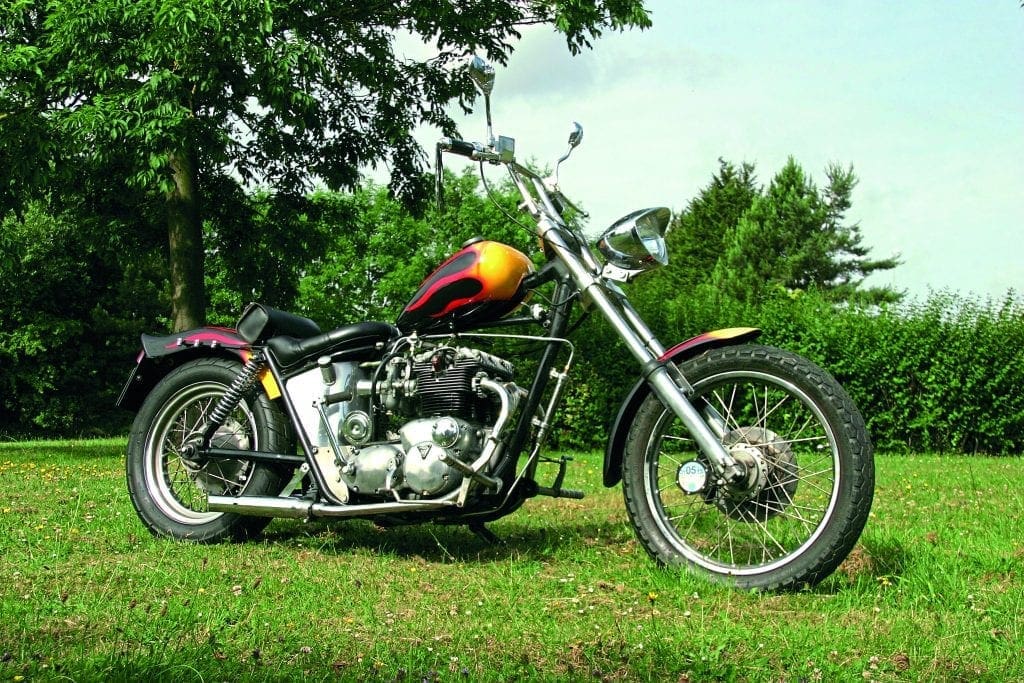 Taking on a project bike build that someone else has already started can, but not always, be a little like taking on a rescue animal… no, no, really, it can.
Pictures: Nik
Stop looking at me like I've finally (finally?) gone mad, and let me explain. Taking on a rescue, be it a dog, a cat or a bike, is an experience that's not for all – it takes resolve, dedication, strength, determination, and, obviously, a lot of love. It can be trying, even difficult, heart-breaking at times but, ultimately, infinitely rewarding; okay, so custom bikes don't perhaps give you back the same actual love that an animal that you've coaxed back from a bad place will do, but restoring or finishing a project that someone else's started and then fallen out of love with does give you a warm, fuzzy feeling inside that never really leaves you.
Jim Martin, the owner of this rather glorious old-skool Trident chop, says that if he'd known how much blood, sweat and tears were going to be involved in getting this bike up to the standard it is now, he probably would've walked away and bought a normal bike instead… probably.
He bought the already chopped, but very, very tatty 1971 Triumph Trident T150V some 30 years ago, back in 1987, for the princely sum of just £600. It was, back then, painted in a black and blue paint scheme that didn't really suit it, and there were a number of parts, quite significant parts, that'd been bodged during the original build, and almost from the moment he got it home, Jim had to start trying to sort out the three-cylinder Triumph's foibles.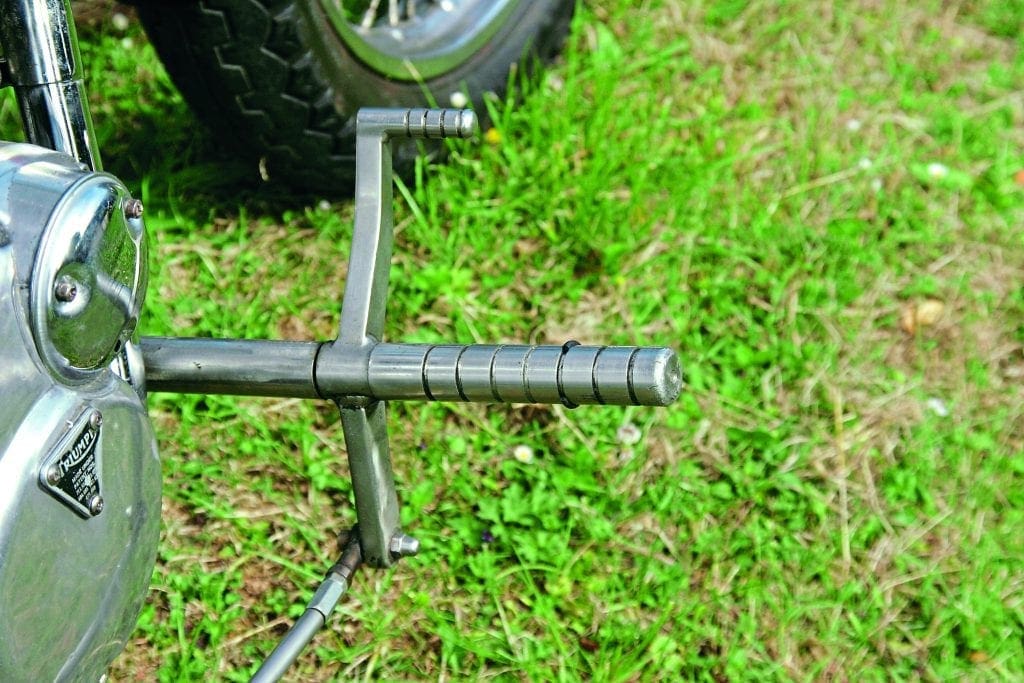 Aligning the gearbox correctly was the first job that needed doing, and sorting out the carburation issues that meant that, almost every time the engine started, it spat back through the carbs and set fire to the wiring which, itself, was hanging out untidily and unsafely. That, though, was easily solved – he took the bike to Ferret at Ferret's Custom Electrickery, a gentleman who, as you may have surmised from his company name, knows far more about the dark arts of motorcycle wiring than any sane man perhaps should. He worked his other-worldly magic over it and, not long after, the Trident no longer suffered from the cursed electrical gremlins that'd previously plagued it. Jim was very pleased, and he didn't even need to sign over his soul either.
Over the next few years he did bits to it as and when they were needed, and he could afford to, including fitting a set of very nice billet yokes made specially for it by the renowned engineering firm, Izax in Derbyshire. He also had it repainted in a traditional black and flames scheme by a guy named Dewey Franklin who appears not only to be quite a good painter of motorcycles, but also an artist of some repute too – check out his website at www.deweyfranklin.com to see his other work.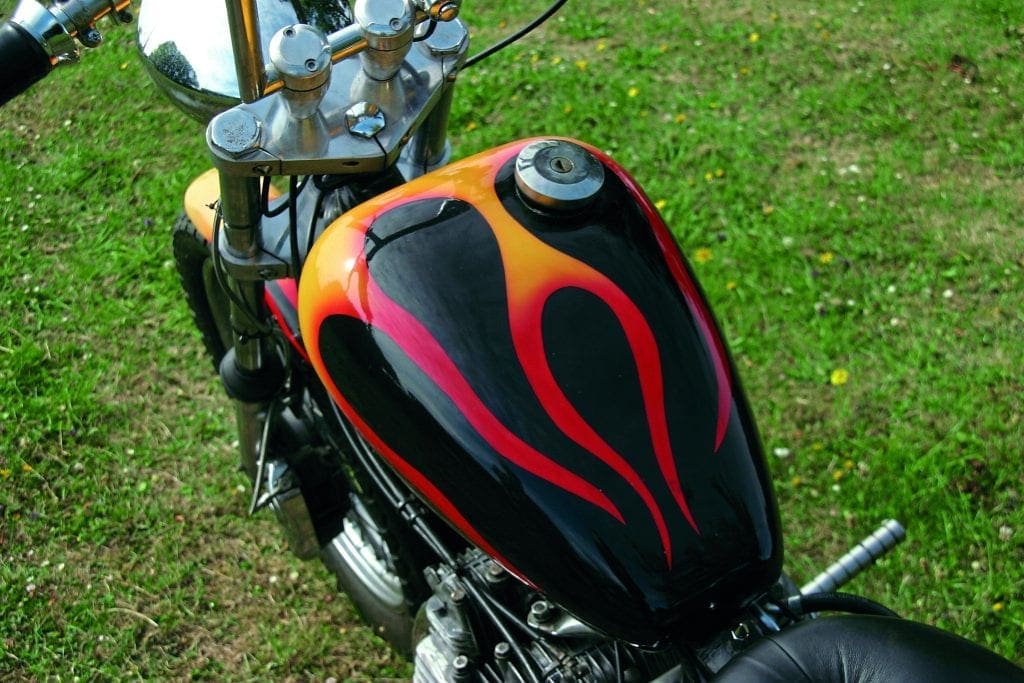 Then, in 1999, the venerable old three-lung Trumpet motor finally gave up the ghost in a fairly terminal way. He was at a bit of a crossroads with the bike at this point, unsure whether to rebuild it or sell it on. He spoke to Trevor Gleadall at LP Williams – just about the most respected builders of Meriden triples around – and, after a long conversation, the decision was made to rebuild it. The work was actually done by ex-factory engineer Arthur Jakeman, who'd worked on the design of the original engine back in the late Sixties. The engine got the full works – new liners, new pistons, new con-rods, re-ground crankshaft, new journals – not cheap, but worth every penny.
The rebuilt motor was slotted back into the refreshed chassis, and Jim was blown away by the difference. It now went like a Trident should, sounded like a Trident should, and didn't leak like it used to, and that rekindled the love affair.
Jim says that owning the bike has been a real journey; he's met some great people over the years, and learnt a lot about human nature too. And, apart from nearly bankrupting him on a number of occasions, the Triumph's been great fun to own, and has taught him a lot about bikes and engineering. It's also, perhaps, made him a better rider as, as anyone who's owned a chop will know, they're not the easiest of bikes to ride.
Mind you, after 30 years of ownership, he's decided that the time has come for him to pass it on to someone else, so it's up for sale. Ring him on 07846 473521 if you fancy, not so much taking on a rescue, but rehoming a perfectly mannered creation. Just bear in mind, though, that as it's a 47-year-old engine, you will need to keep an eye out for little spots on the floor, okay?