For many custom bike builders, it's their life's dream to open a custom bike shop, building bikes and getting paid for it. The reality, though, is that if you do ever attain that dream, you'll always be building bikes for customers, and you'll never get another chance to build one for yourself again…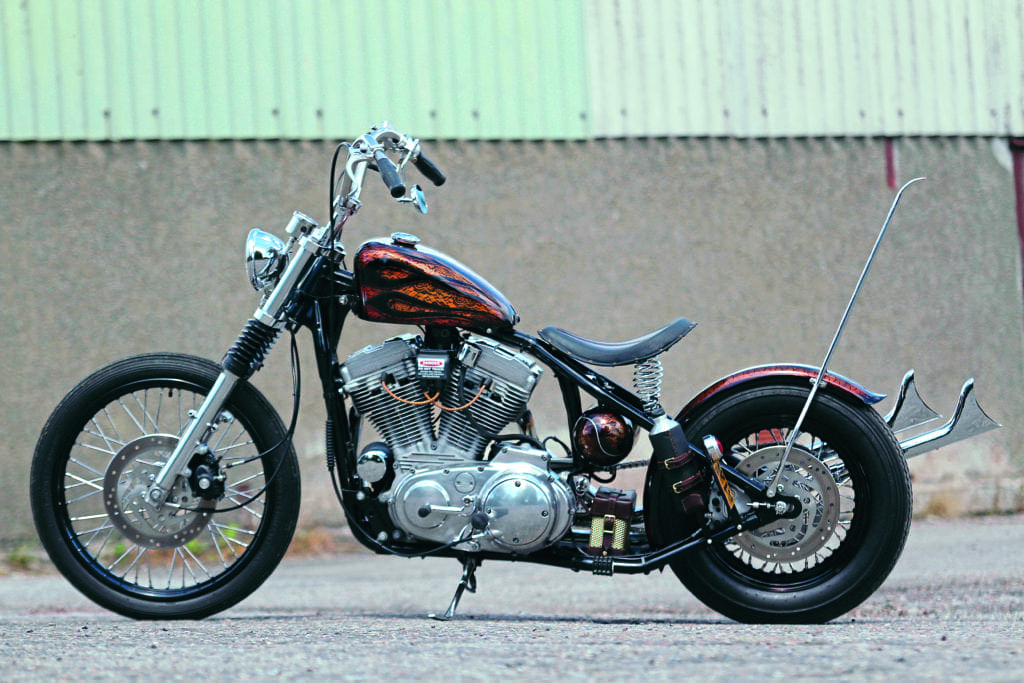 Words and pics: Dave
Such was the position that Colin Rutherford, of Glasgow-based custom builders, House of Custom, found himself in, right up until the point that he realised that enough was enough, he just had to build something for himself. He promptly went out and bought a 2002 Sportster 883.
Somewhat conveniently, there was a 
weld-on hardtail that'd been sat in the HoC workshop for about four years, so he figured it'd be rude not to use that. A friend donated an oil tank, and so began the build of a 1970s-style 
'Frisco-inspired chopper.
Wanting to keep the front end wide, but low, the Sporty forks were shortened by two inches, and bolted into Zodiac Wide Glide yokes, using a 21-inch front wheel from a Dyna Softail, wrapped in an Avon Speedmaster tyre. Standard discs and calipers were used all round, with a standard wheel and Shinko rubber at the back.
A rear mudguard blank was cut 'n' shut to fit tight to the tyre, while a Zodiac fuel tank was plonked on the top tube to see if it looked okay. It did, so it stayed. That freebie oil tank required rather more work though as, with it being originally intended for a Twin Cam, the front section had to be cut about to fit (and it needed new mounting brackets too), so although it cost nowt, it ended up being perhaps the biggest hassle of the build!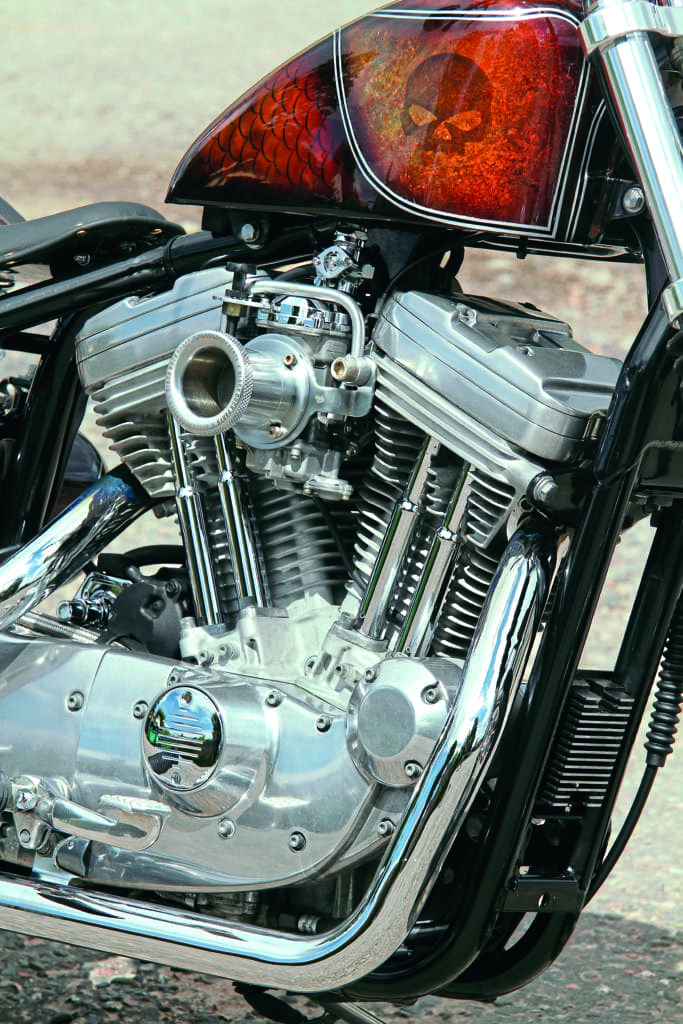 Naturally, Colin wanted the bike to be as clean, basic and uncluttered as possible, as any custom bike should be, so rather than a chaotic medley of wiring or switchgear on the 'bars, a one-off wiring loom was made consisting of no more than eight wires (essentially, just enough to run the standard ignition), with a single toggle switch on the headlamp for high and low beam, and the starter button fitted directly on top of the starter motor. Initially, those handlebars were narrow 'Frisco-stylers, which looked cooler than the other side of the pillow, but turned out to be the most uncomfortable things on the planet. Those that're fitted now are Sportster buckhorns that've been splayed out for comfort.
The sissy-bar was made in-house, as was the side-mount 'plate, as a suitable aftermarket one couldn't be found, and although the exhaust system was originally a pair of Paughcos, they were a bit understated and didn't really suit the bike. Well, not until Colin added a pair of 12-inch fishtails, which not only improve the look, but make it sound like the raddest, most aggressive-sounding Sportster north of the Border!
With Colin's business partner, Stuart Baillie, being an experienced automotive upholsterer, it was up to him to make, and cover, the seat. This is one of House of Custom's specialist services – designing and making bespoke seats (and tool rolls and other leatherwork) for any make and model of bike. Also, because the plain black battery looked a bit crap, Stuart made a battery cover, in leather and brass, as well as a neat matching cover for the auxiliary fuel bottle strapped to the left-hand side.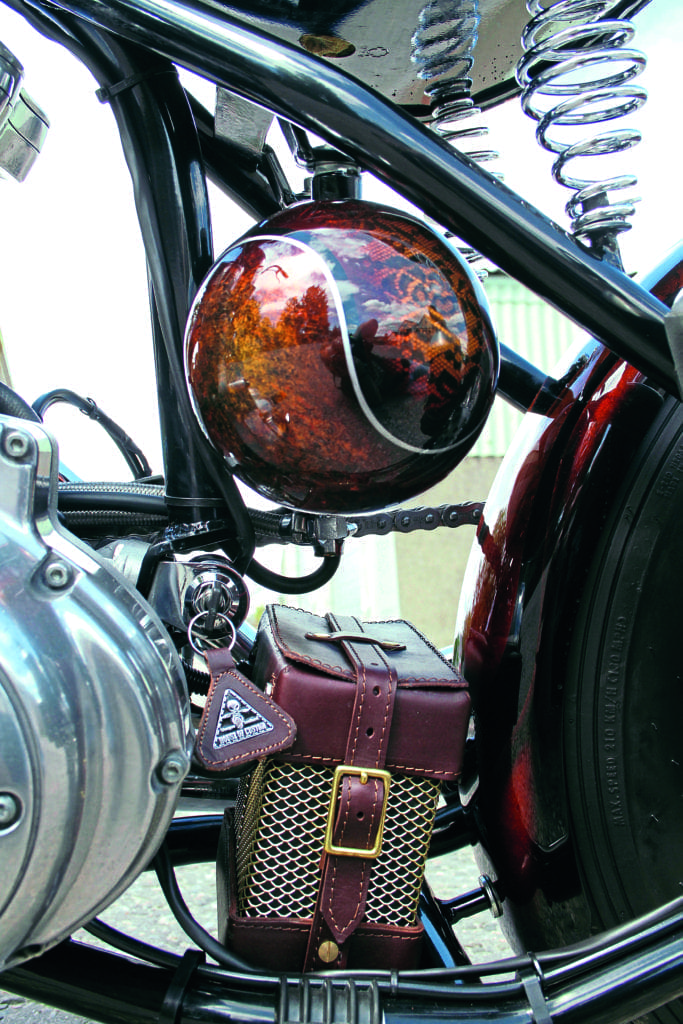 And then thoughts turned to paint. It had to be old school, matching the Seventies style of the bike, and Colin turned to his good mate, Gus at Muddy Beach Customs in Bo'ness (actually Borrowstounness, but everyone calls it Bo'ness), near Falkirk, letting him loose with his creative flair and ideas. The end result speaks for itself, although the pics here probably don't do it justice – as with any truly good paint, you need to see it in the flesh to notice the intricacies and the way that it changes in different light conditions.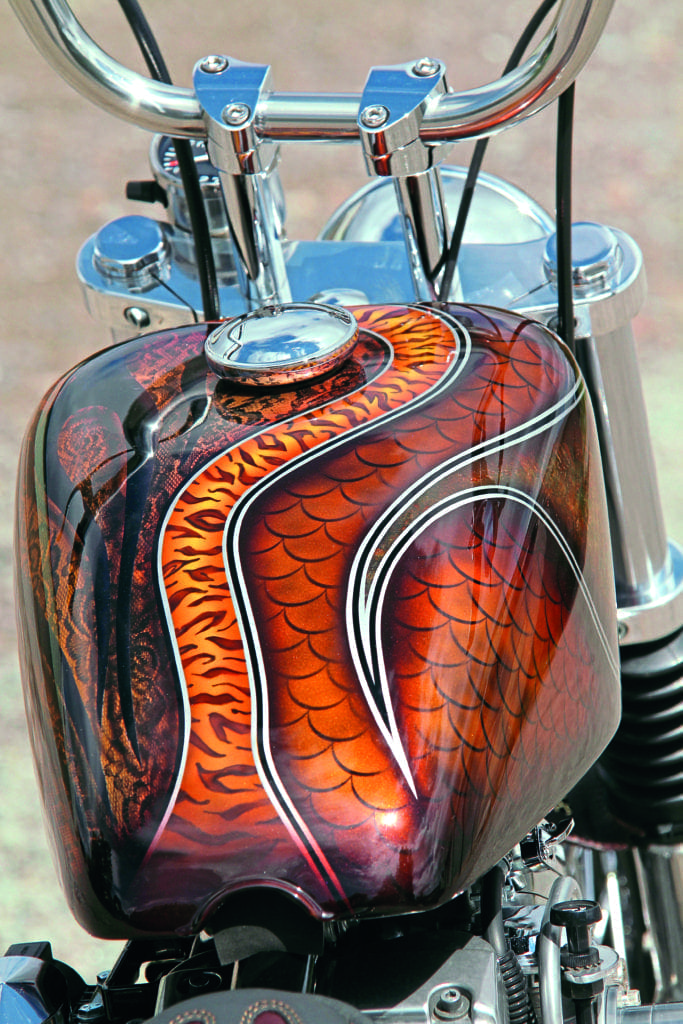 Talking about the paint brought forth an anecdote from Colin: "When I asked Gus how he had achieved the lace effect on the left-hand side of the tank, he replied, in his broad Bo'ness accent, 'It was my wife's new knickers!' This thought always puts a smile on my face whenever I take the bike out for a spin.
"When I glance down all I can think of is Gus' wife's knickers!"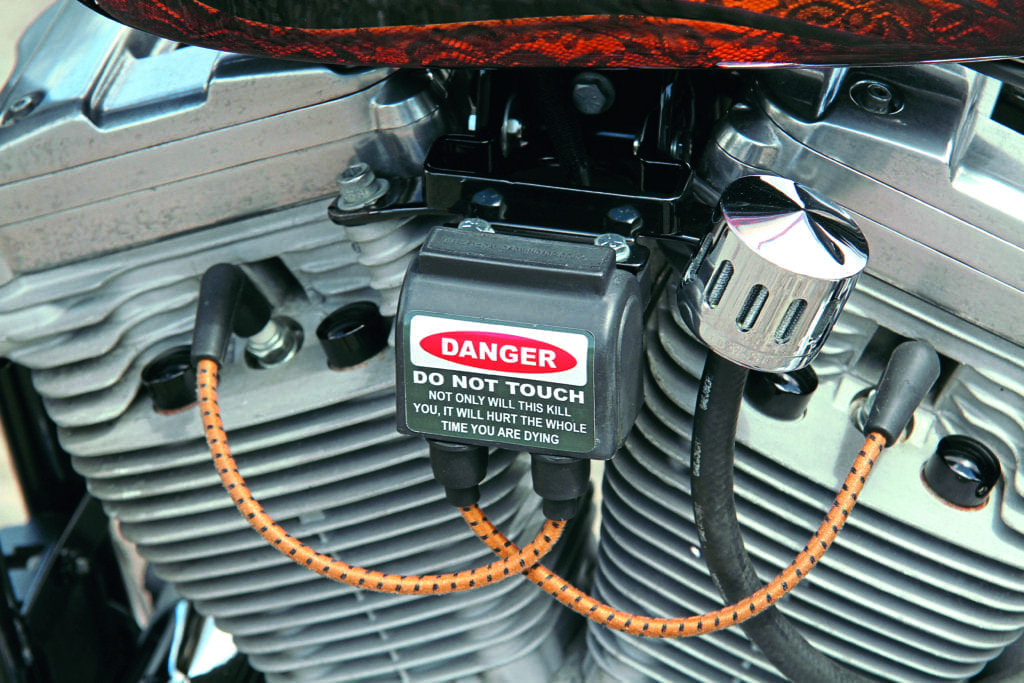 The finished Sporty is regularly taken out for a spin, including a trip to Edinburgh H-D's 60 Years of Sportsters Anniversary show where it won Best Sportster and, most notably, on a House of Custom 'works jolly' away from the workshop for a couple of days – the guys planned a mini tour of the Highlands, but only got as far as Glen Coe, from Glasgow, in the hammering rain, pitched up their tents, and stayed there for a couple of days as Scotland's famous liquid sunshine fell in sheets over them, the tents and bikes. After a couple of soggy nights, they gave up and went home, hoping to return to the Highlands in drier weather…

Now that he's been riding it, on and off, for over a year, it's time to move it on and start a new project, so this little baby is up for sale. All enquiries to House of Custom on 0141 952 7877 – ask for Colin.